Richmond Holiday Traditions
| December 8th, 2016
Looking back to old favorites
---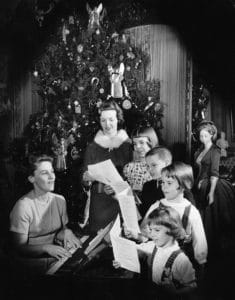 The annual repetition of traditions helps ingrain the rituals in our memories, joining them with thoughts of family, friends and spiritual sustenance. In our colorful American culture, the season embraces Christmas and Hanukkah. In the 1960s, Kwanzaa arose to celebrate African heritage, observed from Dec. 26 to Jan. 1.
"When I was a kid, Hanukkah was a big deal for my Bubbe (Yiddish for 'grandmother')," recalls Richmond writer and performer Erin Mahone. "She made everything in our lives special – she loved a holiday – but when the whole world was wrapped up in other December holidays she was making sure ours were very special, too. Every holiday was centered around food for our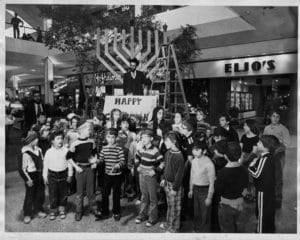 family. Hanukkah was no different! From crispy fried potato latkes with sides of apple sauce or sour cream to her delicious sugar cookies shapes like menorahs, Jewish stars, or dreidels covered in rainbow sprinkles, these are traditions I share now with my own children. Some years Bubbe would get so excited that she wouldn't be able to wait until Hanukkah to give us our gifts. She would pull them out on a random Saturday and let us open them early. Then she would go out and buy us more gifts to open during Hanukkah. Her life was challenging in other ways, but she got so much joy out of her grandchildren that she worked really hard to make our holidays special."
From "A Charlie Brown Christmas"
Linus: I never thought it was such a little bad tree. It's not bad at all, really. Maybe it just needs a little love.
Barbara Wright recalls going into a nearby forest with her brother to fetch a Christmas tree. They found the very best tree in the woods and cut it down. On the way home, they got completely lost, dragging the tree behind them. By the time they found their way, the beautiful tree was bare on one side. The family put it up anyway, its good side showing, and had a perfect Christmas.
Caroling and Christmas parades, favorite TV specials and albums, performances such as Handel's "Messiah" and "The Nutcracker" – such memories make our hearts sing.
BOOMER's Favorite Songs
"Winter Wonderland" by the Ray Charles Singers "got me in the mood for Christmas and carried me through the cold and snowy days of winter," recalls Carolyn Parrish Comerford.
BOOMER's Brian Donohue fondly recalls many holiday songs, including "A Charlie Brown Christmas" characters singing "Hark the Herald Angels Sing" and "Christmastime Is Here"; "Little Drummer Boy"; "You're a Mean One, Mr. Grinch"; The Kinks, "Father Christmas"; and John Lennon's "Happy Xmas (War Is Over)." Donohue also admits to a "guilty pleasure": Glen Campbell's "That Christmas Feeling."
"My parents' collection of classic holiday songs got much of my early attention," recalls BOOMER editor Annie Tobey, "but the 'Babes in Toyland' album and book was a perennial favorite"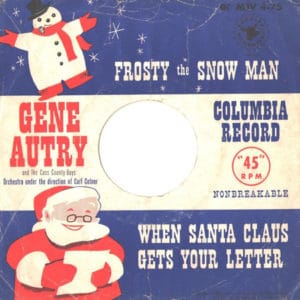 "My childhood recollections are mostly radio based (I don't remember albums as a child, just a few scratchy 78s!)," admits BOOMER columnist Randy Fitzgerald. "A lot of Bing Crosby ('White Christmas,' of course), and Bing Crosby and the Andrews Sisters: 'Here Comes Santa Claus,' 'Santa Claus Is Comin' to Town,' (see a theme developing here?) and 'Jingle Bells.' Also Gene Autry's 'Frosty the Snowman' and 'Rudolph the Red-Nosed Reindeer.' As a teenager, my favorite was Elvis' 'Blue Christmas.' I was walked into a darkened basement with that song playing on the stereo for a surprise 16th birthday party (I was born on Dec. 23). I still love Elvis' version of that song. In our very early days of marriage, Barb and I purchased Johnny Mathis' first Christmas album, 'Merry Christmas,' and it's the first one we play each Christmas. 'Winter Wonderland' and 'Sleigh Ride' always get me in the mood."
The favorite song of writer Paula Neely? "I Want a Hippopotamus for Christmas." The silly holiday song was sung by Gayla Peevey in 1953, when the singer was a mere 10 years old.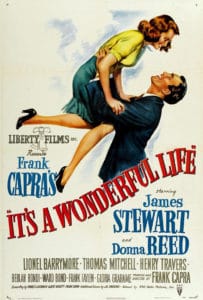 Movies and TV, too!
Says writer Constance Whitney, "For me, Christmas isn't Christmas until I watch 'Christmas in Connecticut' for the umpteenth time."
Ray McAllister remembers, "TV, that's easy. 'A Charlie Brown Christmas'  every year. 'Rudolph the Red-Nosed Reindeer.' Both, made a million years ago with virtually no special effects, still stand up. 'Frosty the Snowman,' too. Better still were Christmas movies: Any version of 'A Christmas Carol.' 'Miracle on 34th Street,' definitely. At the very top, though, had to be 'It's a Wonderful Life.'"
Food
Steaming drinks – hot mulled cider, chocolate and Irish coffee – warming your hands and filling your body with a cozy comfort; family cookie recipes passed down through the generations; and feasts with turkey, roast beef and the fixin's, or latkes and doughnuts, all consumed with family chattering gaily along both sides of the table. Perhaps nothing stirs our memories like the aromas and tastes of traditional foods.
From "A Christmas Story"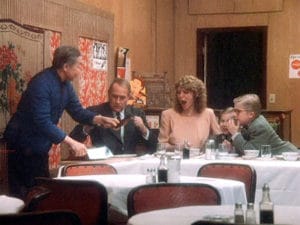 Ralphie as an adult, after the neighbor dogs make off with the turkey: The heavenly aroma still hung in the house. but it was gone, all gone! No turkey! No turkey sandwiches! No turkey salad! No turkey gravy! Turkey hash! Turkey a la king!Or gallons of turkey soup! Gone, ALL GONE! 
Ralphie's dad in the Chinese restaurant where the family went for dinner, after the waiter brings out the cooked duck, which still has its head on: Yes, it's a beautiful duck. It really is. But you see … it's smiling at me.
Restaurant owner: Ooohh! [He chops off the duck's head.]
Ralph as an adult: That Christmas would live in our memories as the year we were introduced to Chinese turkey.
Richmonders have also shared their memories of snow fun and what gets them into the spirit of the season.