I Am Tourism, You Are, Too!
| July 12th, 2016
Long-time Richmonders and transplants alike can get to know their city in a different away with the I Am Tourism Ambassador classes. BOOMER Editor Annie Tobey tells us how.
---
You and I help make up the Richmond Region's greatest cheerleading squad. Though we may not dance around chanting, "Rah-rah-ree, Richmond is the key!" we often promote our area's events and high points on Facebook or when visiting elsewhere, and we even invite friends and family to visit our fair city. In recognition of the power of its people, Richmond Region Tourism hosts regular I Am Tourism Ambassador classes, teaching interested participants more about the area so that we can take our lessons to the masses – formally and in our everyday lives.
At the recent I Am Tourism presentation I attended, my classmates included concierges and similar hotel staff, employees of local businesses, museums and other attractions and citizen cheerleaders like me. The morning class included quick facts on Richmond, an overview of the impact of tourism and a fast-paced and fact-filled look at the history and tourist attractions, all of which provided eye-opening surprises even to long-term residents like me.
For instance, did you know that the region boasts nearly 18,000 hotel rooms and more than 2,000 restaurants or that visitors spend approximately $6 million a day, contributing $61 million dollars in taxes and supporting 22,000 local jobs? Or that the 204 meetings, conventions and tournaments held in the region in 2014 had an economic impact of over $116 million?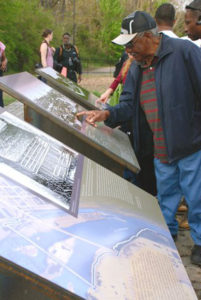 Of course, the stats were astounding but not as fascinating as the attraction insights we learned, including that our top three most-visited sights are the James River Park System, Maymont and the Virginia Museum of Fine Arts. We also learned about some off-the-grid attractions, including Henricus, Ashton Creek Vineyard and Eppington.
The highlight of the class was a bus tour around the city, full of facts and anecdotes that meant so much more as we peered directly at these significant Richmond sites.
However, the purpose of the I Am Tourism presentations extend deeper than simply generating warm fuzzies about our River City. For those who work in the hospitality industry – lodging, restaurants and other attractions, for example – the new knowledge can add depth to interactions with visitors. The rest of us can apply the lessons to friends and family that we invite to town as well as through targeted local volunteer opportunities.
Recent volunteer opportunities have included shifts at the Washington Redskins training camp, national youth sports tournaments in lacrosse and baseball, the National Funeral Directors and Morticians Association (I was dying to participate in that one!) and the USA Taekwondo's 2016 national championships.
Upcoming classes are scheduled for Aug. 23 and Oct. 12, 2016. For more details and registration, go to the I Am Tourism web page on the Richmond tourism website.
The S is for super and
The U is for united –
The P is for perfection and you know we are excited.
The E is for energetic and
The R is for Rad,
So tell the other cities
We're the best and we're glad!
Gooooooo, Richmond!