Iceberg Wedge Salad for Valentine's Day
February 10th, 2023
A timeless classic, for your timeless classic – or new – romance
---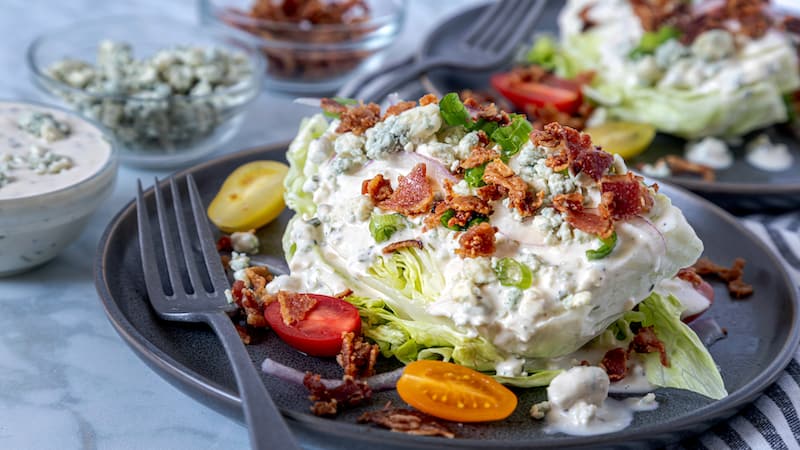 This timeless retro Valentine's Day salad – a basic iceberg wedge salad – never goes out of style, says Seriously Simple's Diane Rossen Worthington.
---
Valentine's Day is a holiday I embrace. A celebration of love and kindness is my kind of holiday. It's a way to let your loved ones and dear friends know how much you appreciate them.
I like to come up with dishes that celebrate the moment. Usually, it's a chocolate molten cake or a chocolate brownie to sweeten the holiday. This year, I decided to surprise my husband with a savory dish that happens to be one of his favorite starters: the classic iceberg wedge salad.
This salad was on restaurant menus across the country in the 1950s, '60s and early '70s. I remember ordering this pale green wedge of goodness, topped with creamy dressing, as a young child. Sometimes it had simply crumbled blue cheese and sour cream dressing; others would be dressed up with crispy bacon and chopped tomatoes. This may be retro, but frankly it never goes out of style.
This recipe has a few modern twists.
Crispy pancetta, uncured Italian bacon, and sweet red and yellow cherry tomatoes complement the crisp lettuce wedges beautifully. The lettuce wedges are further embellished with a topping of a creamy blue cheese vinaigrette and blue cheese crumbles. (Feel free to use your favorite French blue cheese or try one of America's blue cheeses.)
Some notes: If you love a bit of sweetness, omit the tomatoes, and add some caramelized nuts; also, an easy way to remove the lettuce core is to hit it against the counter and it will loosen for easy removal.
While this recipe serves eight, you can easily cut it in half for four. For a dinner party, serve these on individual salad plates. For a larger party, arrange the wedges on a large platter and dress them just before serving.
The Iceberg Wedge Salad
Serves 8
Ingredients:
For the dressing:
1/4 cup red wine vinegar
1/2 cup olive oil
1/4 cup sour cream
1 teaspoon Worcestershire sauce
1/3 cup crumbled blue cheese (such as Roquefort or Maytag blue or Point Reyes blue)
Salt and freshly ground black pepper
For the salad:
2 medium heads iceberg lettuce, cored and cut into quarters
1/4 pound pancetta, finely diced
1/2 cup yellow and red cherry tomatoes, finely chopped
2 tablespoons crumbled blue cheese
Directions:
To make the dressing: Combine the vinegar, olive oil and sour cream in a medium bowl, and whisk to blend together. Use an immersion blender to emulsify the dressing. Add the Worcestershire sauce and blue cheese and mix well. With the back of a fork, mash some of the cheese crumbles into the dressing. Add salt and pepper and season to taste.
Brown the pancetta In a medium skillet over medium heat for about 6 to 7 minutes or until crisp. Remove with a slotted spoon and drain on paper towels. Cool.
Arrange the wedges on a large platter or individual salad plates. Spoon over the dressing and then sprinkle the pancetta on top. Spoon over equally on each wedge the pancetta, chopped tomatoes and blue cheese. Serve immediately.
Advance preparation:
The dish may be prepared through Step 2 up to four hours ahead. Refrigerate the dressing and leave the pancetta at room temperature. Whisk the dressing together, as it may separate when sitting.
---
Diane Rossen Worthington is an authority on new American cooking. She is the author of 18 cookbooks, including "Seriously Simple: Easy Recipes for Creative Cooks" and "Seriously Simple Parties," and a James Beard Award-winning radio show host. You can contact her at www.seriouslysimple.com.
© 2022 Diane Rossen Worthington. Distributed by Tribune Content Agency, LLC.
More cookbook recommendations from Diane Rossen Worthington, including 'Jew-ish: Reinvented Recipes from a Modern Mensch'
As an Amazon Associate, Boomer Magazine earns from qualifying purchases of linked books and other products.