Indiana River Towns: Lawrenceburg and Aurora
| October 31st, 2023
Small-town adventures in shopping, wining and dining + a recipe
---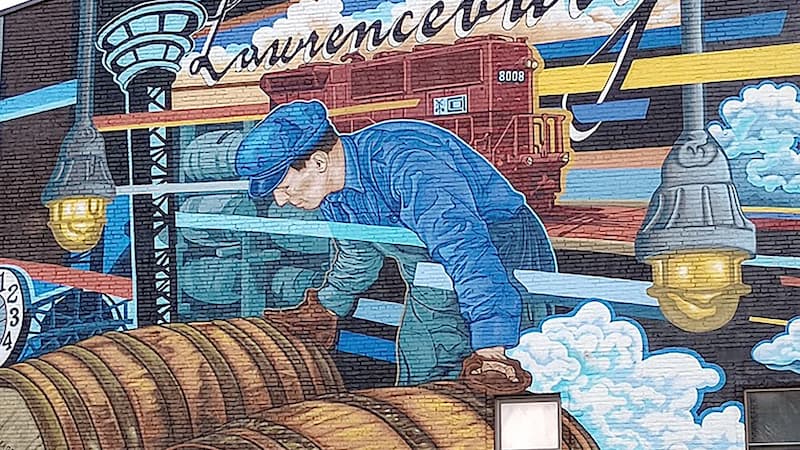 Two lively, cozy Indiana river towns, Lawrenceburg and Aurora, feature a variety of activities for travelers: historic Hillforest mansion, shopping, dining, wineries, and more – including a Hillforest recipe for quiche. Featured in this edition of Road Trips & Recipes by Kathy Witt.
---
Small-town treasures Aurora and Lawrenceburg in southeast Indiana are river towns perched on the banks of the Ohio. Their historic downtowns are lively with shops, restaurants and community events, including fairs, festivals and parades, and are located a country drive away from wineries, casino and ferry for nearby adventures.
Play in Indiana river towns: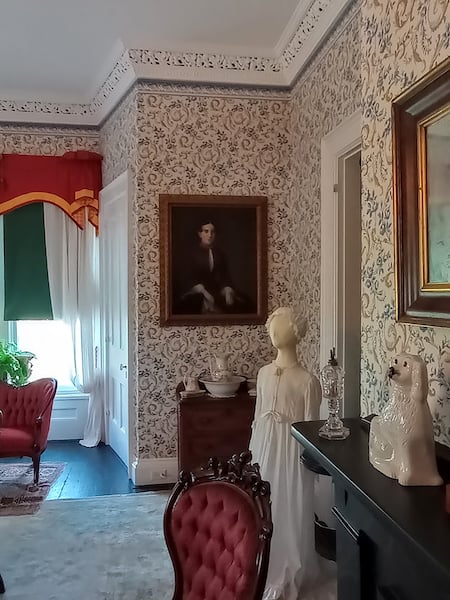 In Aurora, drive up the steep drive to Hillforest, a grand home built by prominent financier and industrialist Thomas Gaff in 1855 and framed by a forest of trees. The Victorian House Museum, on the National Register of Historic Places and designated a National Historic Landmark, has a commanding view of the Ohio River and the town below.
"The house was saved from being torn down in 1956 by 10 people," noted tour guide and volunteer coordinator Susanne Ullrich (who will dress in period-appropriate clothing when requested). This group formed the Hillforest Historical Foundation and is dedicated to the home's restoration and preservation.
Open for tours from April through December and special events throughout the year, like teas and ghost walks, Hillforest is considered one of the country's finest surviving examples of an Italian Renaissance estate house. It was featured on HGTV in a special about Victorian America and has been the site of paranormal investigations. Thomas Gaff's daughter, Caroline Gaff, died of tuberculosis at age 16 and supposedly haunts the house.
"The light in the room (where Caroline's portrait hangs) blinks when talking about Caroline," said Ullrich.
In Aurora's intact historic district, wander along Second and Third Streets for a variety of independently owned shops, like Second Time Around, overflowing with antiques, collectibles and quirky stuff, like puzzles featuring Chucky from the "Child's Play" movies, salt and pepper shakers in every shape, size and theme imaginable, old baby buggies and more. Upstairs, Krypto's Comix is a collector's nirvana with shelves of vintage Barbie dolls, G.I. Joes, superhero and action figures, Pokemon gift sets and more. There are vintage arcade games, too, that you can play for free.
Pick up a milkshake or a bag of flavored popcorn at Plug's Sweet Tooth next door, then stroll down to Gabbard Riverfront Park. Grab a swing beneath the pergola and take in "Aurora I," the enormous, colorful mural depicting town highlights and history.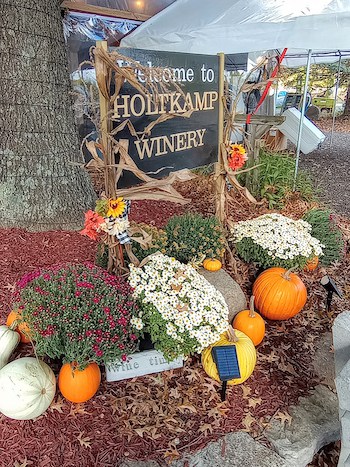 Thirty minutes north of Aurora, Holtkamp Winery is a family-owned boutique winery in a rural setting and a fun lunch stop for its brick oven pizza. The family-owned estate winery grows a wide variety of grapes and sources others from viticulture areas in California and Oregon. Wines range from dry and semi-dry reds and whites to sweet fruit, bourbon barrel aged and specialty wines, and can be sipped indoors in the tasting room or outside on the covered patio overlooking the vineyard.
Less than a 15 minute drive east is At The Barn Winery. Winemaker Don Stutz brings a sense of fun to the wines he pours, such as How Merlot Will You Go, Spaghetti Red and the slightly naughty Foch Me! A three-sip sampling is free (try Stutz's rich, juicy and peppery Shiraz) and the setting is casual and charming, with indoor tasting area and patio seating beneath twinkling lights.
Twenty minutes south is Lawrenceburg and its impressive riverfront setting, one beautified with a lamppost-lined River Walk, park benches and sculptural tributes to first responders and the armed forces and framed by an elaborate clock structure. Lawrenceburg was founded in the early 1800s and its downtown district is filled chockablock with classic, pristinely maintained 19th century architecture.
Inside the buildings, find shops like Huntington Carriage House Antique & Gift Mart Antique and Gift Vendor Mart, packed with primitives, pottery, antiques and more. The funky Billie Co is a hip hodgepodge of hand-selected vintage, pre-loved and new clothing and gifts. Jewelry, one-of-a-kind art pieces and collectibles fill the shelves at Hummingbird Boutique.
Stay in Indiana river towns: In addition to several Airbnb rentals in Aurora and Lawrenceburg, the DoubleTree by Hilton Lawrenceburg offers guestrooms downtown overlooking the Ohio River. Full-service dining and full bar service are available at No-ce Italian American Kitchen, located adjacent to the lobby. Lawrenceburg is also home to Hollywood Casino, which offers accommodations as well as dining and entertainment.
---

---
Eat:
Delicious and beautifully plated authentic Mexican food is served at family-friendly Alejandra's in Aurora. Sit down to tortilla chips warm from the oven and served with dishes of cheesy bean dip and salsa. The menu is huge, with Mexican mainstays — tacos, nachos, burritos, fajitas and enchiladas — as well as Alejandra specials including Chicken Valle, perfectly cooked tender chicken rolled in a soft flour tortilla with onions and cheese and served with pico de gallo, sour cream and lettuce, along with rice or beans.
At Proof 124 Table and Tavern, a chummy gathering space with full bar in Lawrenceburg, the big seller is the giant Tavern Pretzel that is presented dangling from a serving stand. You'll spot the jumbo-size Bavarian pretzels on tables all around the restaurant. Warm, soft, chewy and salty, it comes with two sauces for dipping — a craft beer cheese and a sweet Bavarian mustard. It is excellent on its own or as a prelude to the entrée, like fan faves Wagyu Meatloaf Meatballs and Cabernet Spiked Brown Gravy paired with Yukon mashed potatoes and country green beans and Pot Roast Sliders topped with provolone, au jus and chipotle mayo.
Treat:
Take the Rising Star Ferry across the river to Kentucky and the quirky little 200-year-old town of Rabbit Hash. The three-and-a-half-acre town—the entirety of which is owned by the Rabbit Hash Historical Society—is famous for its canine mayor, a French bulldog named Wilbur.
Pop into the Rabbit Hash General Store, a Kentucky landmark that is on the National Register of Historic Places, and poke among the artisan-made brooms, handmade leather goods, soaps, pottery, artisan incense and candles and more. The circa 1831 store with its old-timey vibe is pure Americana. Sip a glass of wine in the tasting room of Gunpowder Creek Vineyards or browse vintage artisan wares and Kentucky-made collectibles at Folksiders.
The ferry is operated by Rising Star Casino & Resort and is located about a 10-minute drive from Aurora and a 20-minute drive from Lawrenceburg.
Events in Indiana river towns:
Hillforest Victorian House Museum will be decorated for the holidays and is a sight to behold during its Victorian Christmas Exhibit. In 2023, the exhibit takes place Nov. 20 through Dec. 30. The museum is also hosting these holiday gatherings: Victorian Christmas Tea, Tuesday, Dec. 5, and Saturday, Dec. 9, with seasonal sweets and savory treats served in the Hillforest parlors. A tour of the Victorian Christmas exhibit included. On Saturday, Dec. 16, Holiday on the Hill features a delicious holiday meal and live musical entertainment. Reservations are required for each event. See website for tickets and times.
Lawrenceburg's Winter Wonderland Parade & Activities, the first Saturday of December, includes free craft activities at "Santa's Workshop," Holiday Express Train, Ice Carvers, Letters to Santa, holiday performances, Santa & live reindeer and other activities. The parade begins at 12:30 p.m., with Santa making his appearance at 1 p.m.
For more information about planning a visit to Aurora and Lawrenceburg in southeast Indiana, go to www.visitsoutheastindiana.com.
---
Kathy Witt is a travel writer and the author of Cincinnati Scavenger: The Ultimate Guide to Cincinnati's Hidden Treasures (Northern Kentucky's and Southeast Indiana's, too) and Secret Cincinnati: A Guide to the Weird, Wonderful and Obscure. Her newest book, Perfect Day Kentucky: Daytrips, Weekend Getaways and Other Escapes, will be published Spring 2024. Contact Kathy at KathyWitt24@gmail.com or visit www.KathyWitt.com.
An Indiana River Towns Recipe
With its richly decorated parlors, Hillforest Victorian House Museum is the perfect setting for a three-course tea, which it hosts along with other events throughout the year. All recipes served during tea are found in the museum's cookbook, "Scones, Savories and Sweets," available in the gift shop.
Hillforest Ham and Cheese Quiche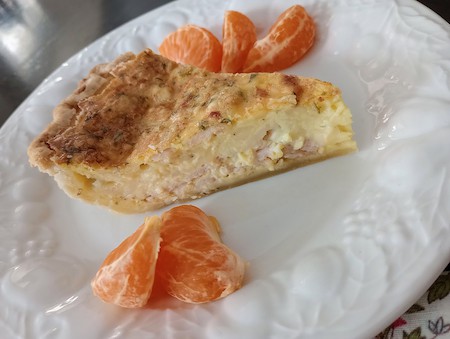 Ingredients
1 pastry shell
1 cup diced cooked ham
2 oz. cheddar cheese, grated
2 oz. Swiss cheese, grated
4 eggs
1 1/2 cup half and half
1/2 teaspoon salt
2 tablespoons chopped chives
Directions:
Preheat oven to 375 degrees F. Prick pastry shell with fork. Spread ham over the bottom of the pastry shell. Sprinkle with about half the cheese, reserving several tablespoons of each cheese for the top of the quiche.
Lightly beat the eggs with a wire whisk. Add the cream and seasonings and blend until smooth.
Set the shell on a cookie sheet. Carefully pour in the mixture. Sprinkle with reserved cheese.
Bake for 30 minutes or until top is puffed up and browned or a knife inserted in the center of the custard comes out clean.
Remove from oven and carefully slide onto a wire rack for 5-10 minutes. Slice. Garnish and serve hot.
Author and travel and lifestyle writer Kathy Witt feels you should never get to the end of your bucket list; there's just too much to see and do in the world. Contact her at KathyWitt24@gmail.com, @KathyWitt.
©2023 Kathy Witt. Distributed by Tribune Content Agency, LLC.
---
Explore another lively river town: Richmond, Virginia
---
As an Amazon Associate, Boomer Magazine earns from qualifying purchases of linked books and other products.