Is a Tiny Home Right for You?
| November 1st, 2023
How to find out if living in under 500 square feet is right for you
---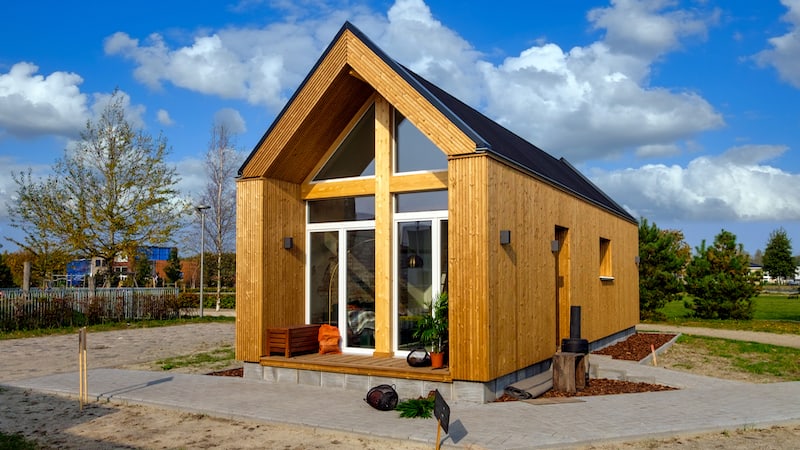 Any move to a new home is major, but downsizing into a tiny home is even more significant, so it's essential to look before you leap. Kaitlyn Keegan shares how to to determine if such a change is right for you.
---
Can you imagine yourself living in under 500 square feet? For many, tiny living gives them the opportunity to travel, pare down their belongings and save money. Especially since the pandemic, tiny living has taken off, offering a budget friendly way to live with the freedom for adventure.
Tiny living isn't for everyone and the attitude that drew people toward it is slowly changing as the pandemic ends and people get back to their "normal." According to interior designer Kellie Burke of Kellie Burke Interiors in West Hartford, Connecticut, many people are going back to large entertaining spaces in their homes.
"I'm not seeing anyone wanting to live in small spaces anymore. They like a downsize, but they want the downsize to feel large and have lots of storage," Burke said. "We love creating small spaces with big impact. People can't believe how much easier it is to make a full design come together on a budget in a smaller home; much less to purchase and cover."
However for some, the tiny living movement is still alive and well. There are some things to consider before going tiny to see if it's the right step for you.
"With rent prices rising, tiny homes present an increasingly affordable long-term housing option," Sharon McCormick of Sharon McCormick Design in Glastonbury said. "Tiny homes, which are often outfitted with solar panels, are attractive to consumers who wish to live off the grid."
Those who also follow a minimalist lifestyle find tiny homes attractive.
---
---
"Tiny living isn't for everyone though and it's important to find that out before investing time and money," she said. "I suggest renting a tiny home for a few days to see how conducive the smaller space is to living your intended lifestyle."
Rent a tiny home and consider:
Daily routine
While renting a small space, McCormick said buy groceries to see how much storage is actually available in the fridge and cabinets. You can't buy in bulk in a tiny home.
Cook your meals in the tiny home along with using the dishwasher.
"Do you feel claustrophobic and isolated or more free from obligations and stuff?" McCormick asked.
Also with your daily routine, go through your normal hygiene. Tiny homes generally have showers and no tubs. You can't take a bubble bath with wine and cheese in a shower.
The living space
Another thing many people don't consider before going tiny is vertical living. Tiny homes use every inch of space available and that includes going up. Bed spaces are usually sleeping lofts. Are you OK with using a ladder or climbing tiny stairs?
"Use the opportunity to mindfully go through every step of your typical day," McCormick said. "If you will be living with someone else in your new tiny home, be sure to include them in this experiment. Sounds will carry and alone time will be very limited. How will that factor into your future happiness?"
Building or buying a tiny home
If you have decided living tiny is for you, the next step is acquiring your new home. There are a few factors to consider.
Planning and zoning requirements differ depending on where you live. Before planning on a plot, research these requirements. You don't want to get your heart set on a spot and then find out a tiny home isn't allowed or you need to put in sewer or water.
After deciding on a location, begin researching plans for tiny homes and sketch out your ideas. RV interiors are a good place to start for ideas on layouts and using double-duty items.
"The smaller a home is the more it needs to be thoughtfully designed to the last fraction of an inch," McCormick said. "Large windows will make your tiny home feel more expansive and less confining, but that will limit cabinetry and other storage space."
With a small space, it will be cheaper to build and buy building materials. This may allow you to splurge on some higher-end finishes.
"All of the basic decisions that need to be made for a standard-sized house will still need to be made for a tiny house, such as cabinetry, plumbing fixtures, lighting, electrical requirements, roofing, windows and siding," she said.
Before the move
Once you make the decision to go tiny, start by clearing out everything from your current home that you will not be able to use or store in your tiny home. Donate, sell or throw away everything but the essentials.
---
Decluttering: You Can't Take it with You!
---
"Be aware that much of your furniture and art will likely not fit when you are considering what to keep. There are tradeoffs to be made," McCormick said. "It can be very difficult to part with a lifetime of belongings. If you will need to rent a storage space, factor that into your financial equation."
Once you go through the process, you will be better equipped to make the decision on going tiny or not. Do you like to entertain dozens of guests for the holidays? Are you OK with more outside living than inside? Are you willing to part with many of your things? These are all important questions to ask yourself before joining the tiny home movement.
---
©2023 Tribune Content Agency, LLC.