Jest a Moment: Supreme Court Surprises
| September 19th, 2022
Getting some giggles and guffaws from the bench
---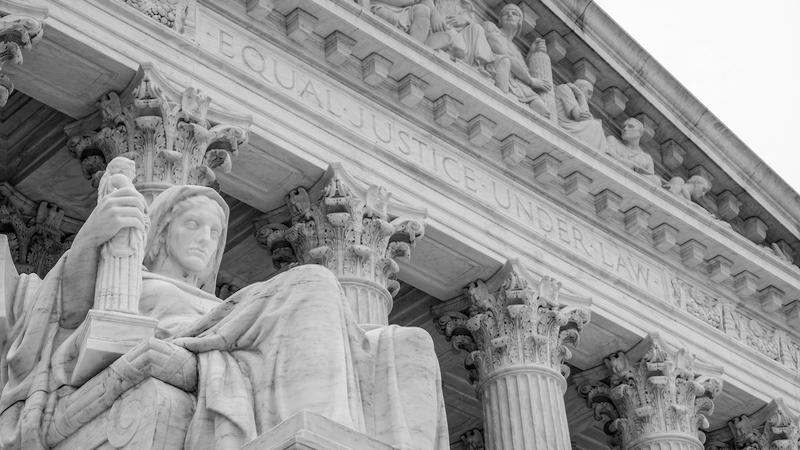 Writer Nick Thomas provides tongue-in-cheek insight into America's nine Supreme Court Justices for some serious laughs.
---
Throughout the decades, controversy has sometimes surrounded Supreme Court Justices – both their nominations and their rulings – and this has certainly been the case in recent times with four new justices added to the bench in almost as many years, the latest following the retirement of Justice Breyer in June.
Traditionally photographed as an imposing cluster of nine Snape-like black-robed figures, the current court consists of Chief Justice Roberts, along with eight sidekick Associate Justices: Thomas, Alito, Sotomayer, Kagan, Gorsuch, Kavanaugh, Barrett, and Jackson.
To learn more about the Supreme Court, I searched online for helpful websites, but there was no active site name job4life.gov. That's right, unless justices do something really bad like publicly bragging about turning up for work on the bench without their briefs, they've got the gig for life.
One nugget of interesting Supreme Court history I unearthed concerns a truly odd name overlap. This occurred with the 14th and 15th Chief Justices: Earl Warren (1953-69) was followed by Warren Earl Burger (1969-86) who were, I gather, no relation – just a bizarre name coincidence.
Then there's the media's unofficial naming of a court after the presiding Chief Justice: thus, we currently have the Roberts Court. So back in 1906, when William Moody was appointed as an Associate Justice, the country was probably relieved he was not chosen as Chief Justice – rulings made by a Moody Court might have unsettled the public.
I also discovered that there's a cafeteria in the Supreme Court building and would love to see their menu over the years. Going back to the '70s and '80s, did some witty chef create and serve Warren Burgers?
And what about current offerings? Can you order a Taco Supreme? What about an Alito Burrito or a bowl of Gorsuch Borscht? Shouldn't Kavanaugh Caviar be a specialty? Can you get a slice of freshly baked Barrett Cake? And surely they served Breyer's ice cream in recent years.
The court, I also learned, has its own gymnasium. This is where the court's newest member, Justice Jackson, presumably spent her first days on the new job – at the training bench. I suppose this is also used by members of the media covering court proceedings, because where else would you expect to find the bench press?
On the official Supreme Court website, downloadable activity and coloring booklets are available. Presumably these are for kids, not the justices during lengthy sessions. One features animal figures found in the building architecture. This includes several tortoises meant to represent "the slow and steady pace of justice" rather than the desire of some justices to retreat into hiding after casting a controversial vote.
And did you know the Supreme Court has an (independently operated) gift shop? They sell "books, folders, statues and woven throws, to writing instruments, learning games, jewelry, ties, and scarves" according to their website. Suitably educational and conventional items, perhaps, although not particularly imaginative.
Maybe the justices should consider offering more personal items for sale, such as a line of Action Jackson figures to inspire young girls. And who wouldn't want to stock up on Clarence Thomas bobbleheads for Christmas stocking-stuffers?
---
Nick Thomas teaches at Auburn University at Montgomery, Ala., and has written features, columns, and interviews for many magazines and newspapers, including many in the Boomer nostalgia and humor departments. See www.getnickt.org