Fond Memories of a Sportscasting Legend
| November 21st, 2016
Broadcaster Lou Charlip recalls an influential sportscaster with Richmond ties
---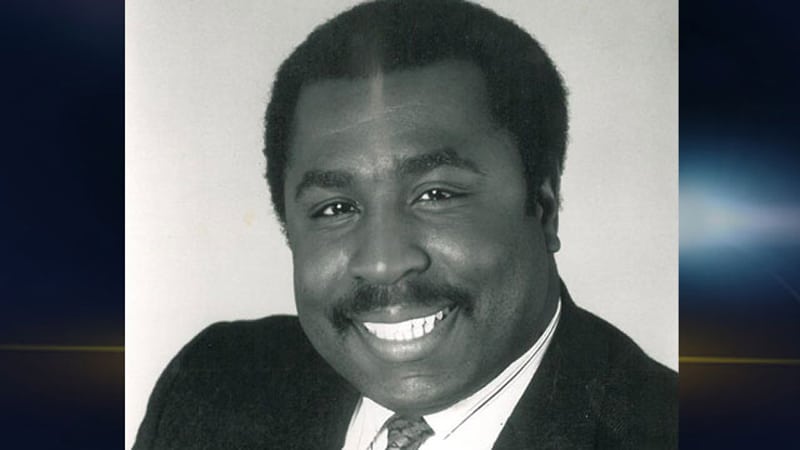 One day I logged onto LinkedIn and read this message:
"I want to inform you that Kenny has passed away. The burial arrangements are incomplete at the moment. I will keep you up to date" – Lois Strayhorn
Kenny was Ken Strayhorn. My mentor. My friend. He taught me about TV sportscasting, and, what's more important, he opened my mind to accept others who were very different than I was. And against his better judgment, he gave me an opportunity, took me under his wing, patiently explained my mistakes (there were many) and let me use my runaway imagination to do segments, stories and videos. Whatever success I've achieved, I owe that success in great part to Ken Strayhorn.
Kenny was an African-American from rural North Carolina and I was a Jewish kid from Brooklyn. I was so urban, in fact, that when we went out to do a fishing story (talk about a fish out of water), I called out, "Hey, look at that big dog." "Lou, that's no dog, it's a deer," he said, followed by his loud, infectious laugh.
Ken grew up on a farm, and I loved hearing him talk about it. The closest thing to a farm that I saw growing up was the Central Park Zoo. I thought my family was poor growing up until I heard Kenny's stories. He told me about running after a chicken, catching it, wringing its neck and then having his mother cook it for dinner. I cringed, he laughed.
And Kenny loved hearing my stories of growing up in the big city, especially the stories about my immigrant Jewish grandmother adjusting to the "modern world." He also shared poignant stories, like the one about the math tutor he needed at East Carolina University to avoid flunking out. That tutor, Lois Johnson, became Lois Strayhorn.
I started at WXEX in Richmond as a station engineer. But because of my passion for sports, on my days off, I volunteered to go out on stories with the sports guys, Kenny and Sal Urbano. When a sports photographer/producer/reporter position was added, I lobbied hard and was given the job. I had very little experience and Kenny was honest. He told me he preferred someone with experience, but he appreciated my enthusiasm and would teach me. And he gave me a great piece of advice that helped me navigate sports like NASCAR early in my career: when I had to cover a sport I knew little or nothing about, it was OK to ask someone involved in the sport to explain it to me. He was right. NASCAR folks were great at explaining the ins and outs of the sport. Eventually I won awards for my coverage from the Motorsports Press Association, thanks to Kenny.
I was Kenny's videographer and travel pal as we reported on stories across Virginia and beyond. We spent many hours in the car, talking about family, philosophy and life. Kenny told me of his dream to open a sporting goods store when he left broadcasting, and I told him of my dream to work in my hometown, New York.
But best of all were his football stories. How he was invited to try out for the New York Jets, my hometown team, and playing big-time college football, where he was nicknamed "Little Horn" at East Carolina (his big brother, Les, who played in the NFL, was "Big Horn"). I especially loved hearing stories about his coach, Sonny Randle. I couldn't get enough. He told me about how emotional Coach Randle was, and Kenny just laughed as he told the stories. The players hated the way Coach ran them ragged and they tried sneaking away in the middle of the night on their bicycles. To prevent it, Randle chained their bicycles and took the keys. Kenny told me how he once passed out after a hard workout and the other players rebelled, telling Coach that if Kenny didn't wake up, they were quitting the team. I just loved the stories and Kenny loved to tell them.
But Kenny had his opinions, and no matter how you tried, you couldn't change his mind. Once we were driving back from Richmond Braves spring training in Florida and passed a sign that told us home was 60 miles away.
"We'll be home in an hour," I shouted with glee.
"How do you figure?" Kenny asked with a look of curiosity.
"Well, we're going 60 miles an hour, we're 60 miles away, it will take an hour."
"Lou, it don't work that way."
"Of course it does, Kenny, do the math."
"I don't have to do the math. I know from experience. It don't work that way."
Well, it took an hour and 15 minutes. I guess it's true, it don't work that way.
The team
Together Kenny, Sal and I made a great team. We were all over the place, finding original stories, occasionally placing a story on "Good Morning America" or having the networks call for our video. Folks thought our department was much bigger than three people because we worked mornings, days, nights and overnights to get the story. Kenny hardly complained, and while he was built like a bear, he was a softie at heart. Always the sportsman looking for a good story, no matter the risk, he wrestled a bear and boxed in a match to entertain viewers.
Off the air, he was everyone's friend who called out injustices others may not have noticed. Once during a meeting with a consultant, an anchor complained about our assignment desk editor, suggesting he should be fired or demoted. Kenny sprang to his feet and scolded her for wanting to ruin a man's life and career.
As easygoing as he was, Kenny wasn't intimidated by anyone. Our station wasn't aggressive back then, but Kenny lobbied, wheeled, dealed and developed revenue-generating programming for the station. He produced and hosted the University of Virginia and the University of Richmond coaches shows. In one on-air exchange, Kenny asked a coach what the team would need to do to beat an upcoming opponent. The usual "coach speak" was followed by, "Lord willing, we'll win the game." When they went to commercial, Kenny said straight out, "Coach, the Lord isn't gonna help you if you don't run the football." That was Kenny.
I remember many stories and events we covered, but one that stands out is the Anheuser-Busch PGA golf tournament in Williamsburg, Virginia. Kenny brought his dad, Les Sr., along to the links that day. Word was that Les Sr. was the best athlete in the family but wasn't allowed to play sports, or go to college, because of discrimination. When Calvin Peete, an African American, won the tournament on the 18th hole on a hot sweaty Sunday, Kenny jumped for joy, as if he had won. Kenny made sure his dad, who had been through so much racial discrimination in his life, got to meet Calvin, a black man, who had just conquered a white man's game. I never saw Kenny prouder.
Kenny first left Richmond in 1984, heading to New Orleans as a sports director at WVUE. Sal and I both left on the same day in 1985. Sal went to Norfolk and I headed north to Stamford, Connecticut, and Major League Baseball Productions. A dream job for any kid who grew up loving baseball. But something was missing. I missed the rush of live television.
After only a few months, Kenny called. He was looking to hire a sports videographer/producer and wanted to know if I would be interested. I jumped at the opportunity. I flew to New Orleans, toured the station, met the staff and management, ventured along Bourbon Street and went looking at neighborhoods and apartments. But as much as Kenny wanted me to join him, his words ultimately made me turn down the job. When I asked how long he expected to stay in New Orleans, he told me he'd get out as soon as he found a better job. It hurt, but I turned Kenny down.
A few months later I found a job with NBC Washington as a producer for the nationally syndicated George Michael Sports Machine. Kenny also found a new job – well, maybe not so new … lured back to Richmond, same channel, same job. We spoke often. I drove down to Richmond on occasion and we had dinner. When times were tough, Kenny was there to reassure me.
Kenny left Richmond and moved on to New Haven, Connecticut in 1988. In June 1992, I was honored when Kenny and Lois attended my wedding. In 1993, Kenny's contract wasn't renewed. He did fill-in work in Baltimore and we had lunch one afternoon in 1994. It was the last time we would see each other. His TV opportunities disappeared. We stopped speaking. No reason, we just lost touch. Then one day in the early 2000s, thanks to the internet, I found a story about Kenny owning a chain of sporting goods stores in North Carolina. He was living his dream. I called and we had a short chat. We promised to keep in touch, to get together soon. It never happened.
A few years ago, I joined a Facebook community of alumni from our old station in Richmond. It was great to reconnect with folks I had lost touch with for more than 25 years. But one person missing from the group: Ken Strayhorn. I realized how much I missed Kenny. His voice, his friendship, his wisdom, that booming laugh. I couldn't find much info on Kenny but a search of his wife, Lois, took me to her LinkedIn page. I sent her a message with my phone number asking that she please give it to Kenny and ask that he call me. But she told me Kenny had been sick, in and out of hospitals. Kenny never called.
I reconnected with Sal in the summer of 2014 and we had a great talk remembering the old days. I sent Lois another message telling her we were thinking of Kenny and to please send him our best. Three months later came the message that Kenny had died at 62.
I broke the news to Sal and we decided the team needed to get together one last time. We'd drive to Kinston, North Carolina, for the funeral.
The six-hour drive seemed to fly by, story after story from 30-plus years ago told as if it were yesterday. Fittingly, we pulled into the parking lot of the Kinston minor league baseball stadium to change into our suits and ties.
Walking into the church, we noticed a man in his 70s sitting in one of the pews. Could it be? Sonny Randle?! He couldn't still be alive, could he?
A quick Google search confirmed he was still alive and not as old as Kenny's descriptions led me to imagine. Only one way to find out for sure.
"Hello, I'm Lou and this is Sal. We worked with Kenny in Richmond."
"Hi, I'm Sonny Randle. I was Kenny's college football coach."
Wow! Sonny Randle! All the stories passed through my mind. I smiled, almost chuckled. Kenny would have loved it.
The service was a celebration. Former teammates spoke about what a great player and friend Kenny was. A relative, who as a child Kenny brought to WXEX to watch him work and who was inspired by the experience, broke into tears remembering Kenny's kindness. Today, he is a broadcasting executive in Atlanta. A minister spoke or, should I say, did a stand-up comedy routine that had the church howling in laughter.
As we were leaving, we saw Lois. The last time I saw Lois was at my wedding, 23 years prior. She was genuinely touched to see Sal and me and she introduced us to her daughter, Shawna. I last saw Shawna when she was a baby. She is now a successful businesswoman with degrees from Harvard and Cornell.
Before heading home, I posted on the WXEX Facebook page that Sal and I were heading back from Kenny's funeral, we'd be in the car for six hours, and would love to hear from some of our contemporaries. And the calls were nonstop!
Roy was the first to call. We hadn't spoken to or seen Roy in 30 years and we had some big laughs. Roy is retired, but he told us the impact Kenny had on his life. It turns out Roy needed a place to stay for a stretch and Kenny and Lois saved the day, inviting Roy to live with them until things turned around.
Next Mark B. called. Mark left Richmond almost 35 years ago heading south to Miami before moving on to San Francisco. Mark told us how Kenny impacted his career. Kenny started as a sportscaster in Greenville, North Caroline, where he met Mark, who was a director. After Kenny got the big bump to work in Richmond, he recommended Mark for a job. I hadn't heard Mark's voice in almost 35 years and he sounded exactly the same.
Next, Kevin was on the line. Kevin was new to Richmond when Sal and I left, but he hosted our going-away party, a sports-themed event complete with professional wrestlers and their valets! He told us how Kenny embraced him as the news anchor and helped him during Kenny's second tour of duty in Richmond.
Next was Mark L., who didn't work at the station when I did but arrived years later, during Kenny's second tour. He had the role I had during Kenny's first go-round in Richmond, the videographer/reporter/fill-in anchor. Mark told us how Kenny helped him, just as he helped me. Mark and I got to know each other when he later worked in D.C. Now he is a big shot at ABC News, no doubt thanks to Kenny's mentorship.
We called an old basketball coach and a former sports information director. We hadn't spoken to them in more than 30 years. They weren't home, and I'm sure their wives must have thought we were insane. We spoke with others who shared stories and memories. Barbara, Debbie, Mike, and even Ivan who worked at one of the competing stations in town. The calls were celebrations and great memories. In the days that followed, I heard from others who missed my Facebook posts, apologizing for not calling. Others apologized for not attending the funeral, but, after all, it was during a ratings period. Kenny certainly would have understood.
As we crossed the line from North Carolina into Virginia, we decided to forget the GPS and take a detour – to visit the old stomping grounds. The old studios on South Crater Road in Petersburg.
WXEX was a dual-market station. The story went that when the station was licensed, Richmond was too small to have three stations, so WXEX was licensed to Petersburg, about 30 miles south of Richmond. The newsroom was in Richmond, so every day the anchors would pile into their cars for the trip down I-95 to the studio in Petersburg.
We found the old WXEX studios, but not easily. It seemed like it was farther from the interstate than I remembered. The building was abandoned and looked like it had been for a while. Once a beautiful building designed to look like a southern plantation and called Blandford Manor, it now stood in disrepair. Windows broken, weeds growing, the parking lot empty. Driving around the building, we remembered different events that triggered good and bad memories. We laughed remembering people who once graced the halls. Folks we worked with who went on to become stars in the TV business, reporters and anchors like Matt Lauer along with numerous producers and directors. And the strange ways of the station, like the numerical keypads on the doors. When someone was fired or quit, the code was changed. But in the pre-email era, it wasn't easy to get the word out, so often we'd show up and couldn't get in. Ringing the bell was a challenge. Hopefully the bell was working or was heard. Folks would show up after hours trying to get into an empty newsroom carrying tapes to edit for an approaching 11 p.m. newscast. With no cell phone, you'd stand outside trying to figure out the new code. Sal was good at that. I usually had to wait for someone to open the door.
The Richmond newsroom back in the day was located in an office park. It is now a church. The newsroom and studios moved into one spanking new building years after Sal and I left town. WXEX, like its office-park newsroom and Petersburg studios, are no more. The station is now WRIC.
Before heading back, we decided on one last journey to get dinner. On to the Fan, where we spent so many nights eating and drinking. And just as we were ready to sit down for dinner, Bob called. Bob worked for the Richmond Braves 30 years ago. Today, he works for the University of Richmond. We were great friends way back when. And for a while, Bob and Sal had been roommates. Over the years, we still kept in contact but not as often.
Funny how after so many years the words and smiles just flowed. So much had happened, but so little had changed. We all have less hair, put on a few pounds. But for that hour-long dinner, we were twenty-year-olds enjoying the moment without a care in the world.
Kenny's funeral started out to be a very sad day, but I smiled all the way home, reconnecting to a simpler time and helping me see a clearer path to how I got to where I am today from where I was 30-plus years ago. Whenever I want to feel the thrill of simpler times, I take a trip to Richmond, either in real life or in my imagination, reconnecting with old friends and memories. I didn't enjoy the moment and never realized how much fun I had when I was living it the first time. I realize now it was the most fun I had in any city I've lived, and even though I made very little money, it's still the most enjoyable job I've ever had. It just took me three decades and Kenny's funeral to help me realize it.
If there is one regret, it is that I never told Kenny how much he meant to me. But knowing Kenny, if I told him of the effect he had on my life and career, he would have laughed and told me it was me and not him that made it all happen. He believed you create your own breaks. And if I insisted he had an impact on any success I might have achieved, I can hear his response:
"Lou, it don't work that way."