The Leo Fender Music Revolution
| December 15th, 2017
The man behind the magic
---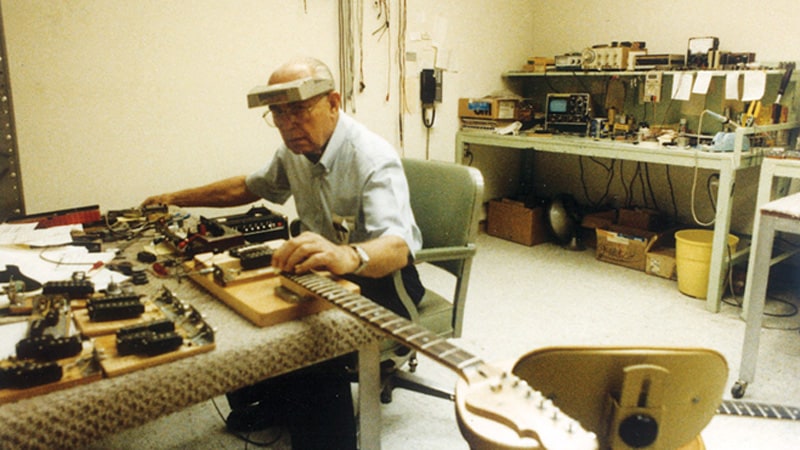 A shy farmer's son with an accounting degree, Leo Fender couldn't play or even tune a guitar. A workaholic, he was nearly deaf and had a glass eye. Despite a fortune amassed through his inventions, he dressed like the factory workers at his business. He looked like a guy who might run a gas station rather than the multimillionaire he became.
Yet this unassuming man revolutionized music, first with the creation of his renowned solid-body electric guitar (the Fender Telecaster, aka Esquire and Broadcaster, 1950), and the now-legendary Fender Stratocaster (1954). He also invented the electric bass guitar, known as the Fender Precision Bass or P-Bass (1951) and the Fender Bassman amplifier (1952).
Leo's guitars went on to be played by people like Buddy Holly, Chuck Berry, Elvis, Bob Dylan, Jimi Hendrix and Eric Clapton. He built a music empire, first with Fender Electric Instrument Manufacturing Company and later with G & L Guitars, both in Fullerton, California, his lifelong home.
He was inducted into the Rock & Roll Hall of Fame and received a posthumous Grammy in 2009 for "contributions of outstanding technical significance to the recording field." In 2005, a Fender Stratocaster set the record for music memorabilia, selling for $2.7 million at a charity auction.
AMPLIFYING FENDER'S STORY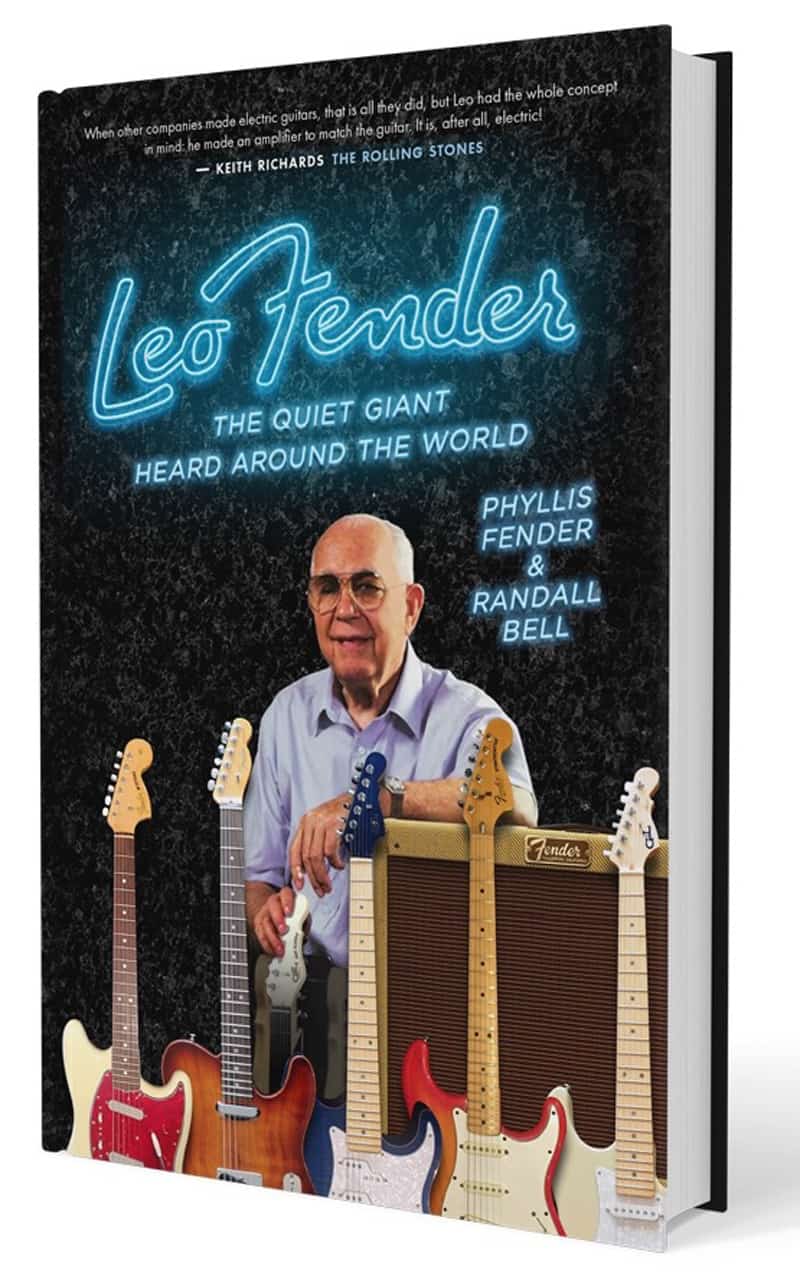 Leo Fender's widow, Phyllis, and co-author Randall Bell, Ph.D., have penned a new book, Leo Fender: The Quiet Giant Heard Around the World. Phyllis, a docent at Fullerton Museum in California, where a permanent display honors Leo, explains, "I was amazed at how interested people are in Leo, and the longer I worked there, the people were writing a book in my mind. They [kept asking] if anyone was writing a book about Leo's life."
She met Bell, who has written several books, at a museum tour. Bell's late father, Pete, had run Fender's research and development department. Bell says, "When I met Mrs. Fender, I felt this story had to be told. I felt Leo's accomplishments were on par with other historical figures."
Leo Fender was an inventor rather than a musician. He began building and repairing radios as a farm boy and opened Fender Radio Service in 1938. In 1934, he married his first wife, Esther. Barred from World War II service because of his glass eye, he became involved in building PA systems and musical amplification. While setting up equipment for war bond dances he noticed guitarists struggling to be heard and set out to find solutions. Ultimately, he earned an estimated 70 patents for musical inventions.
A childhood accident claimed one eye, and an accident at his Fender business shattered both eardrums. He later got hearing aids, but as widow Phyllis explains, "He never considered that he had a problem. He knew his mind was strong; in later life, his faith was strong and he felt what he was doing was absolutely necessary."
Leo loved country artists like Ray Price; his favorite musician was Glen Campbell. Although he admired Jimi Hendrix's technical skills, Phyllis remembers, "It was almost a physical pain when he heard about [Hendrix's and others'] guitars being burned up or smashed up [onstage]. He had worked so hard to make it perfect so musicians could entertain the world. Those guitars were his children."
After contracting a staph infection doctors said was incurable, Leo sold the Fender company to CBS in 1965 (for $300 million in today's dollars). He said publicly he was glad to be rid of Fender, but Phyllis says that later another doctor cured the infection with antibiotics, and "He told me many times he regretted the sale."
When a noncompete clause expired, Leo founded G & L Guitars with George Fullerton and kept creating guitars.
THE RHYTHM OF HIS LIFE
Phyllis and Leo met via mutual friends following Esther's death, marrying in 1980. Phyllis, who had grown children from a previous marriage and comes from a self-described "laughing, singing, hugging family," notes, "He became a stepfather, grandfather and son-in-law overnight. He was 71 and I was in my 40s, but age never mattered to me."
The union was marked by travel and family time as well as work: Leo worked literally the last day of his life at G & L before passing from a heart attack at age 81 in March 1991.
As Leo's caregiver as he battled Parkinson's disease, Phyllis handled feeding tube duties and helped him dress and bathe. She recalls, "I did it all. I used to tease Leo all the time, it's a good thing you married a young wife so I could take care of you."
Several years before his death, Phyllis learned why Leo was such a workaholic. He confided that he dreamed Jesus told him He had sent angels to earth called musicians who would make the world more bearable, and that his purpose in life was to design and build guitars for those angels. A few short weeks before his passing, after attending a Buck Owens concert together, Phyllis says Leo told her, "I finished what I was supposed to do."
About the book, Phyllis says, "Leo would be proud that I did it, but he'd say he wasn't important enough to have a book written about him."
"I want people to know there was a real person inside of the robot everybody thought he was. He loved children, he loved travel … he was a happy man."
---
Audrey T. Hingley is a Richmond-based freelance writer who frequently covers celebrities, especially those of interest to baby boomers. AudreyTHingley.com