Libraries Evolve to Meet the Community's Needs
| April 8th, 2019
Books are just the beginning!
---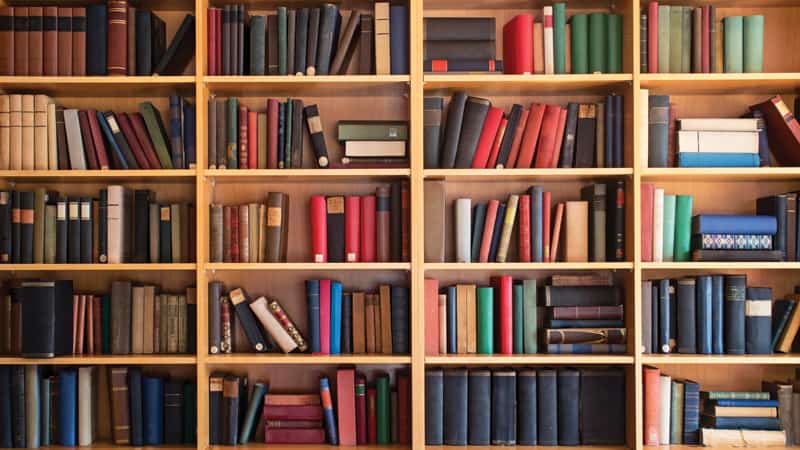 With today's technologies, we no longer have to leave home to research information or access reading material, but today's libraries still give us plenty of reasons to visit them.
THE LIBRARY OF VIRGINIA
The state-funded Library of Virginia is different from the typical wide-ranging lending library. Instead, it offers the most comprehensive collection of materials on Virginia history, culture and government available anywhere.
Tracing your family history. At the Library of Virginia, a main draw is genealogical research.
"We would guestimate that well over 50 percent, probably closer to 75 percent, of the people who come into the reading room are trying to do some sort of family or community history research," says Catherine Fitzgerald Wyatt, education and outreach manager at the Library of Virginia.
The Library of Virginia gives card holders access to an institutional subscription to Ancestry.com while at the library and to Ancestry for Virginians remotely, which includes roughly 100 years of birth, death, marriage and divorce records. Plus, the library has close to 7,000 family Bibles in its possession to help fill in the blanks for earlier family history.
The Library of Virginia offers a treasure trove of other records, including military service, naturalization, land ownership and even records from chancery courts, which were responsible for legal actions like the sale of enslaved people. (While some of these records are online, others are available only at the library.)
If you're more interested in cultural history, browse through the fascinating collection of ephemera – everything from Virginia festival posters to menus to cocktail napkins.
Learning and gaining perspective. The full schedules at libraries – from lectures and classes to films and exhibitions – also drive the community to their doors.
A popular event at the Library of Virginia is its Book Talk series, featuring authors with Virginia roots or covering topics about the commonwealth. On April 24, as part of the Carole Weinstein Author Series, the library will help launch award-winning journalist Thomas Kapsidelis' new book, After Virginia Tech: Guns, Safety, and Healing in the Era of Mass Shootings.
While exploring the commonwealth's political, social and cultural history, the Library of Virginia's exhibitions also raise awareness about its rich collections. The current exhibition, "New Virginians: 1619-2019 & Beyond" (running through Dec. 7), examines the experiences of immigrants settling in Virginia through video interviews, which will become part of the collections.
Another free resource for any Virginian with a public library card is Find It Virginia. In this curated selection of databases, you'll find online language classes, digital books, legal forms and much more.
For years, the Library of Virginia has sent speakers into the community. It is now also focusing on bringing those community members back to the Library to experience its collections firsthand. In fact, a genealogy group from the Chesterfield County Public Library, which served as the pilot for this program, conducts their research here every month.
Giving back. "We have two projects in which we actually have been getting a lot of boomer participation," says Wyatt. "They help us make our collections more accessible." Making History: Transcribe enlists volunteers to key in handwritten documents, such as letters, court records and political statements; and Virginia Chronicle involves text-correcting old newspapers that have been digitized. These projects make library assets keyword-searchable online while giving volunteers an intimate and interesting glimpse into Virginia history.
---
DIVERSE SERVICES AT LOCAL PUBLIC LIBRARIES
No surprise: you can check out fiction and nonfiction print, audio and audiovisual materials and use computers, Wi-Fi, printers and copiers. But local libraries, at many convenient branch locations, go so much further.
Chesterfield County. Discover laughter yoga, genealogy, bread baking and more. Your Personal Librarian provides one-on-one assistance in research, formatting a résumé, creating a Facebook account and so on. Library.Chesterfield.gov
Hanover County. Learn to hula dance, create a DIY terrarium, sharpen your writing skills and more. The Reference on Demand service covers topics like computer skills, research, résumés and job searches. Pamunkeylibrary.org
Henrico County. Explore everything from digitizing photos and home movies to downsizing and nature photography. Librarians are available to create personalized book lists based on your reading preferences. Henricolibrary.org
Powhatan County. Get together with community friends for films, lectures and bingo – and take your grade 1 through 6 grandkid (or borrow one!) for Sit, Stay & Read, where kids read to a certified therapy dog. Powhatanva.gov/247/Library
Richmond. Find out how to defend yourself, reduce stress through meditation, make origami and more. Resources range from self-publishing e-books to downloading legal forms. Rvalibrary.org