7-Layer Black Bean Dip
| February 5th, 2022
EatingWell: Who says game-day dip can't be delicious and healthy?
---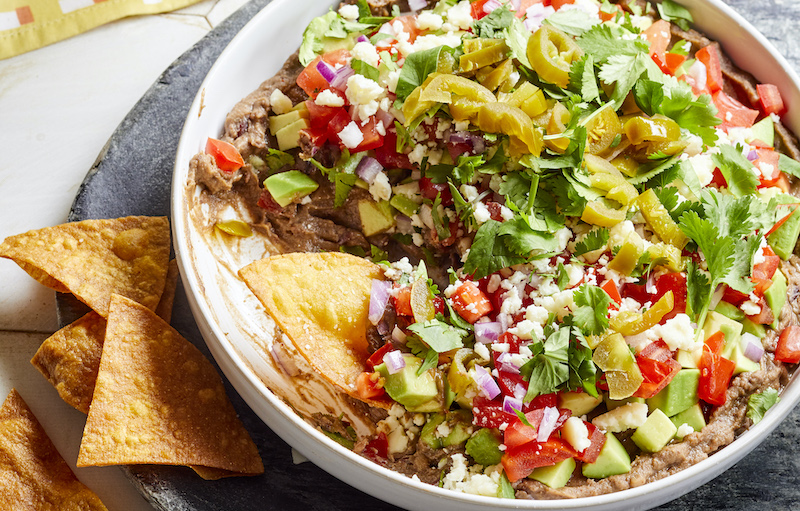 EatingWell brings us this loaded 7-layer black bean dip simplified: just heat and season refried beans, then top with fresh vegetables to make an easy, flavorful dip recipe.
Loaded 7-Layer Black Bean Dip
Serves 18
Active Time: 25 minutes
Total Time: 25 minutes
1 (15-ounce) can reduced-sodium refried black beans
1 tablespoon lime juice
1 clove garlic, grated
1/2 teaspoon chili powder
1/2 teaspoon ground cumin
1/8 teaspoon salt
1 medium avocado, diced
1/2 cup finely chopped tomato
1/4 cup finely chopped red onion
1/4 cup crumbled Cotija cheese or queso fresco
2 tablespoons diced pickled jalapeño
2 tablespoons chopped fresh cilantro
Combine beans, lime juice, garlic, chili powder, cumin, and salt in a shallow bowl. Microwave on High until heated through, about 1 minute. Spread the mixture into an even layer and top with avocado, tomato, onion, cheese, pickled jalapeño, and cilantro.
Tasty tip
Make ahead and refrigerate for up to three hours.
Recipe nutrition per serving: 58 Calories, Total Fat: 3 g, Saturated Fat: 1 g, Cholesterol: 2 mg, Carbohydrates: 6 g, Fiber: 2 g, Total Sugars: 1 g, Protein: 2 g, Sodium: 107 mg, Potassium: 82 mg, Iron: 1 mg, Folate: 12 mcg, Calcium: 25 mg, Vitamin A: 139 IU, Vitamin C: 3 mg.
EatingWell is a magazine and website devoted to healthy eating as a way of life. Online at www.eatingwell.com.
© 2022 Meredith Corporation. Distributed by Tribune Content Agency, LLC.