Looking Back at Richmond Sports
| January 31st, 2017
In this case, I'd like to rewind back to the fall of 1980. Jimmy Carter was President, the Strawberry Street Café was four years into an incredible run with the bathtub salad bar, and over at WXEX, Ken Strayhorn, Lou Charlip and I were embarking on a magical five-year run of covering sports in the city of Richmond.
---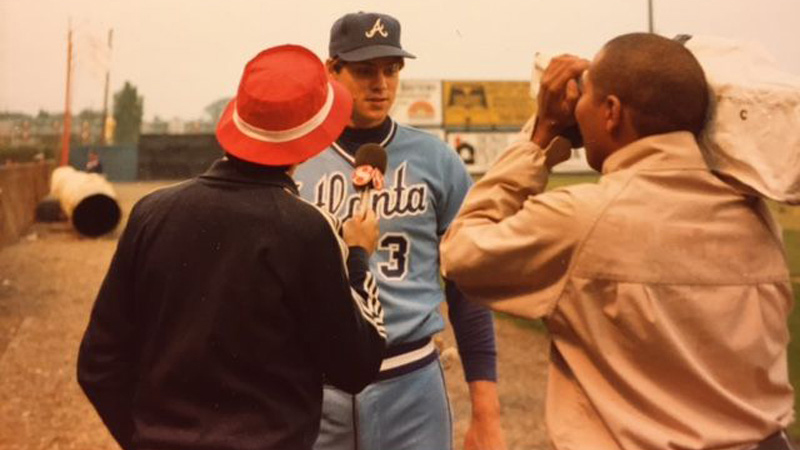 In this case, I'd like to rewind back to the fall of 1980. Jimmy Carter was President, the Strawberry Street Café was four years into an incredible run with the bathtub salad bar, and over at WXEX, Ken Strayhorn, Lou Charlip and I were embarking on a magical five-year run of covering sports in the city of Richmond.
Ken was the sports director, a smart-enough leader to give us direction and turn us loose on a burgeoning sports market. Strayhorn, who passed away in April of 2015, knew something about sports as he was the big man on campus at East Carolina, where he was the star on the Pirates football team during his college days.
At University Hall, also known then as Ralph's House, UVa was embarking on some classic ACC games. UNC came in with Matt Doherty, Sam Perkins, James Worthy and Michael Jordan. The Hoos countered with Jeff Lamp, Lee Raker, Othell Wilson, Rickey Stokes and Ralph Sampson. They were some amazing college basketball games.
I remember Jim Valvano's first trip into Charlottesville. Virginia spanked NC State on the court. After the game, we interviewed Coach Valvano and he said their plan was to get Sampson in foul trouble, but Ralph was antiseptic. Translation: Sampson played a clean game and as a result UVa prevailed easily.
Over at Virginia Union, Dave Robbins was coaching the Panthers to the first of three national championships with Charles Oakley cleaning up the glass and dominating the inside game for Union.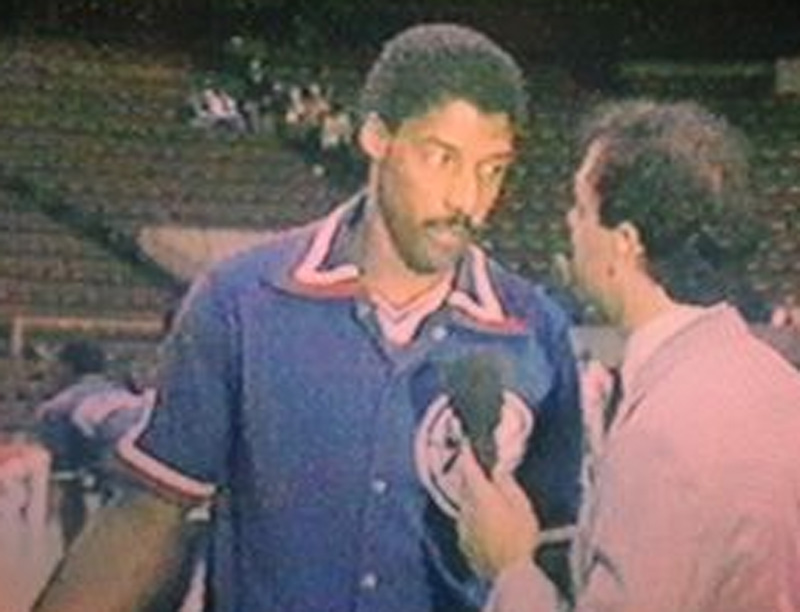 In my first week on the job, we went over to the University of Richmond to do a story on a sharpshooter for the Spiders basketball team named John Schweitz. Ukee Washington, a Spider basketball assistant coach at the time, gave us the green light to interview John after practice. We just started rolling when Richmond head coach Lou Goetz came out of the locker room. Coach Goetz saw John talking with us and he went nuts – screaming and hollering at Schweitz to get back in the locker room.
The interview came to a quick halt and we were told to leave. It didn't phase us – our skin was tougher than that – but it was something you didn't forget. Shortly thereafter, Frank Soden the assistant athletic director at Richmond apologized for the coach's outburst. Soden, a legendary Richmond broadcaster and one of the nicest men you would ever meet, made the trip in person to say he was sorry for what transpired that afternoon. We thanked Frank for the apology but insisted it was not necessary, as some coaches just run tight ships.
Goetz would soon get fired, and Dick Tarrant took over at Richmond. The Spiders turned into world beaters under Coach Tarrant, springing huge upsets, like when they knocked off Charles Barkley and the favored Auburn Tigers in the first round of the 1984 NCAA tournament.
In the city, VCU had a program emerging under JD Barnett, who had Tubby Smith on his staff as an assistant coach. The Rams were led by a talented backcourt in Rolando Lamb and Calvin Duncan. They became the class of the Sun Belt Conference. VCU would play in five NCAA tournaments under Coach Barnett.
With UVA, Richmond, Virginia Commonwealth and Virginia Union, the basketball was mighty good during those days. Don't forget about the program at Randolph Macon, where Hal Nunnally was making his mark as one of the best coaches in the collegiate game. Nunnally would finish up with more than 400 victories in the college ranks.
Tennis was always an integral part of the Richmond landscape with Arthur Ashe doing so much both on and off the court for the sport and the city. There was a men's tennis tournament at the Coliseum. One year we interviewed Ille Nastase and the eventual tournament winner, Jose Luis Clerc of Argentina. The women also had a tournament (the Central Fidelity Classic) at the Robins Center. I recall Martina Navratilova winning the first two CFB tennis tournaments.
The top U.S. women players faced the United Kingdom every couple years in the Wightman Cup. The matches were played in London. We met and interviewed the U.S. team members, including Chris Evert in Williamsburg, before they left for the competition.
Beyond the tournaments, Richmond played host to a yearly tennis exhibition. In 1982, Jimmy Connors took the court against Björn Borg in the featured event. The day before the match, we got a call to head over to Best Products, one of the event's sponsors. It was pouring down rain and under a canopy we waited as Björn Borg emerged with a large limousine waiting for him. We interviewed Borg for 15 minutes with a large crowd of his fans surrounding us. Borg, known for his steely determination on the court, was a delight and the conversation flowed easily. Could this be true? Pinch me as here I was interviewing the king of centre court at Wimbledon during his visit to Richmond.
My colleague through all of these escapades was as talented as they come. Lou Charlip didn't have much experience when he interviewed with Ken to become the third member on the WXEX sports team, but Lou had tremendous passion and a great eye for story development.
We really clicked as a team. Lou and I worked all the time because, let's face it, sports is the toy department of life and we were having a blast. We didn't miss any big events but focused on finding local stories in the community. Lou would go on to win multiple Emmys at the George Michael Sports Machine in Washington, D.C. for his reporting.
Speaking of the NFL, we were fortunate to cover the Redskins home games. We even ventured up to their camp in Carlisle, Pennsylvania, to cover the Skins in the preseason. At the time, the Hogs were protecting quarterback Joe Theismann and Joe had Art Monk, Don Warren and Rick Walker as his receiver targets. Head Coach Joe Gibbs was a taskmaster and in a strike-shortened season, the Skins struck pay dirt, winning the Super Bowl in January of 1983. Gibbs would lead the Redskins to three Super Bowl victories over a ten-year stretch.
On the baseball front, the Richmond Braves had some great years under Manager Eddie Haas. Before they took down Parker Field (which we witnessed and recorded), we never missed the annual Atlanta-Richmond exhibition game. Dale Murphy and Bob Horner would come in for the A-Braves. Steve Bedrosian, who would go on to win a Cy Young in the majors, was on the R-Braves roster. Bedrock, as Steve was known, gave Haas fits throughout the season with all sorts of gags that generally included Carlos Diaz and Joe Cowley as accomplices. The R-Braves also featured Matt Sinatro, Paul Runge, Ken Dayley and Chico Ruiz on a very talented ballclub. When I missed a game there was always Bill Millsaps and Jennings Culley to check out in the morning paper for game recaps.
Over at Kingsmill, Curtis Strange was beginning to make his mark on the PGA circuit. Before Curtis would go onto win two U.S. Open championships, we always looked forward to the PGA tournament at Kingsmill, especially the Pro-Am on Monday. That's when we could talk to many players and map out stories for the week.
There were a number of sports celebrities who would attend the Pro-Am, none bigger than Michael Jordan, who always enjoyed getting in a round of golf. We interviewed Michael on the course, walking step for step with him as a large throng of followers were along for the ride. Michael was a competitor on the links but very accommodating for the fans, signing autographs and taking pictures throughout the practice round.
The NASCAR folks would make regular stops twice a year at the Richmond Raceway. From Richard Petty to Terry Labonte and Bobby Allison, they were some of the nicest sports professionals you would ever meet, always eager to get the word out on their sport and very conscious of the fans.
It seemed like it poured every year when we covered the Richmond Marathon and, just like the runners, we got soaked for four hours or more shooting the race. We often drove in front of the lead runners in a WXEX news car with Lou or me in the trunk shooting film of the leaders and fans along the race route.
The marathon offered a series of events, so one could begin with the 10K event and then move up to the half-marathon before taking on the full (26.2 mile) marathon.
As a Philly native, a real highlight for me was the year after the Sixers swept Los Angeles for the NBA title in 1983. Moses Malone was a driving force helping Philly finally win a title. Since Moses was from Petersburg, the Sixers played a pre-season game in Richmond the following year.
The game was on a Saturday night, and I did the 6 p.m. sports live from the Coliseum. When we arrived, The Sixers were already on the court for a pre-game shootaround. I made my way over to Coach Billy Cunningham to see if we could interview a player live. The coach gave us the green light so we headed straight for the locker room. There was Mo Cheeks and Moses Jones standing right in front of us. We interviewed both of them. Then I made my way over to ask Julius Erving if he would join us for the 6 p.m. sportscast. What a thrill to interview Doc live on the court at the Coliseum. Erving was incredibly gracious and after our live interview concluded, he watched the rest of my sportscast before heading in to the locker room. That was quite a moment.
On the off days, we often went in to work or attended local events. I remember going to visit an elementary school, and during the question-and-answer session a young student asked, "Who is the person you have met that affected you the most?" What a fantastic question, as I paused to consider the answer.
While interviewing Julius Erving was a highlight and I was floored meeting Bjorn Bjorg, none of the big names came to mind.
Earlier that year we heard about about a father and son who were spending time on a middle school track. Dave Axselle was the dad. He would run, while his son, Dack, would watch from the stands. Dack, who had spina bifida, would watch his dad circle the track. One afternoon Dack asked his dad if he could go around the track. Dave said sure and he put his training aside so Dack could chase his goal of circling the track on his crutches.
Building up his strength, Dack would go on to complete the 10K event at the Richmond Marathon with his mom and dad by his side. The following year, Dack worked even harder and completed the half-marathon.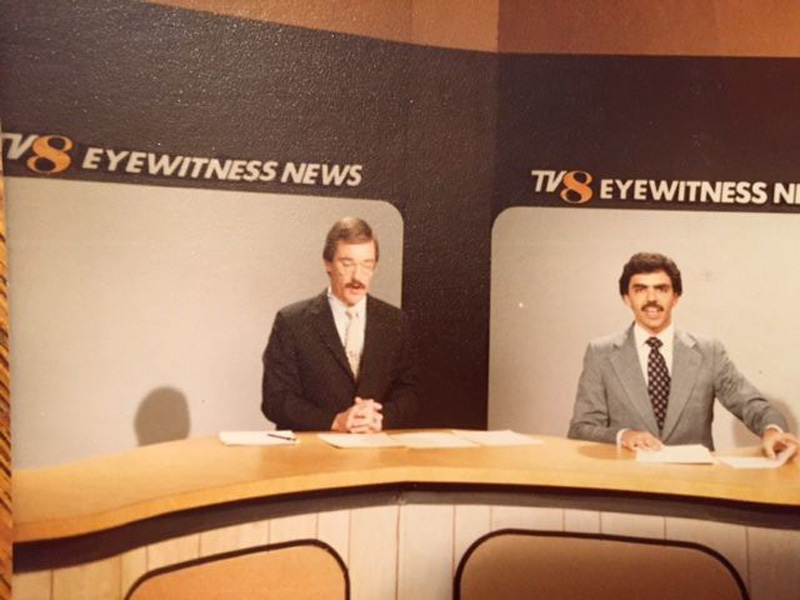 He was an amazing young man, but there was no way he could do a full marathon, could he? Next year came around and Dack was not to be denied. He was the first to shove off in the early morning darkness and the last to finish the full marathon in 11 hours and 10 minutes. There wasn't a dry eye at the finish line.
Somehow this 10-year-old suited up with incredible determination, would simply not quit. He kept going step after step until he crossed the finish line. We were in awe and somehow managed to put together a story to mark the occasion of Dack's incredible accomplishment. Later that night we sent it off to the ABC network. The next day, we were pleasantly surprised when "Good Morning America" decided to run it on their morning show.
Bear in mind that television sports departments are often short staffed and many times Lou and I were running around in a panic hoping to get everything done in time. Live TV was a thrill but it was one deadline after the next. One simple mistake could lead to a very embarrassing sportscast.
Often I would stop in the middle of those crazed moments, unsure whether it would all come together, and in those moments of sheer desperation – I would stop and think of Dack.
How did he do it?
How did he finish a 10K let alone a full marathon walking on crutches?
Sheer guts and determination – that was how he did it. Sure, he had a tremendously supportive family, but Dack refused to let his condition hold him back.
Of all the people I was fortunate to interview during my sports broadcasting career, no one made a greater impression on me than Dack Axselle.
Covering sports in Richmond was the time of our lives, but truth be told, I couldn't have done it without the inspiration that Dack provided.
Not only will I remember Dack for the rest of my life, but he has been a consistent source of inspiration for more than 30 years. Thanks, Dack, for never giving up and for being a hero to many, including this longtime admirer.