Lore and Culture in St. Augustine, Florida
| May 23rd, 2023
Enjoying the best of today in this historic American city
---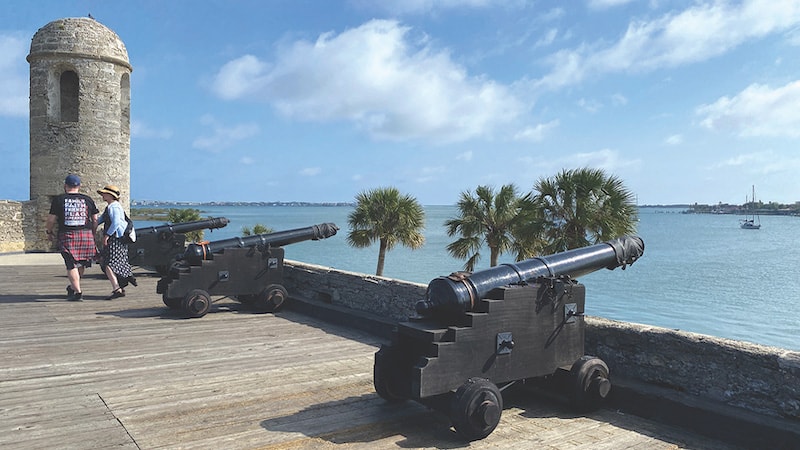 Peter and I are motoring in Matanzas Bay with Captain Zach McKenna and his first mate and partner, Sara, on board Skimmer in St. Augustine, Florida. We're listening to a hydrophone, an underwater microphone, hoping to hear nearby Atlantic bottlenose dolphins communicating with each other underwater, using a whistle-like sound. The dolphins also make a clicking noise called echo-location to sense their surroundings.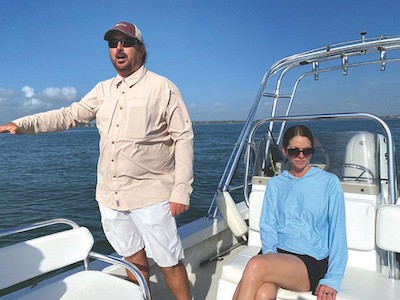 But all we hear is the mating call of a male toadfish, a low burping sound, and nearby boat motors, which make a huge racket underwater. The constant boat activity in this busy waterway causes stress in the dolphins, Capt. Zach tells us. Who knew these beautiful sea creatures, frolicking, diving, and occasionally slapping their tails, are susceptible to stress?
Educating visitors about the fragile marine environment is the primary purpose of Eco-Tours. "We use the five senses to engage the client," Zach explains. "We're trying to get people to see all the connections." Besides dolphins, we view a variety of bird species on the water: snowy egret, blue heron, laughing gull, American oyster catcher, loon, great egret, cormorant, brown pelican, and wood stork. The tour is a perfect introduction to this coastal city, especially for nature lovers.
We're in St. Augustine, part of a region known as Florida's Historic Coast, for a three-day visit and are excited to learn more about its cozy charms. Strategically located at the mouth of the Matanzas River, St. Augustine was home to the Timucua Indians, who were sadly decimated by European diseases brought by Spanish explorers.
The Europeans' arrival in 1565 means St. Augustine has the distinction of being our nation's oldest city. Since then, its history has been marked by maritime battles and cannonball fire as the British, Spanish, and pirates tried to claim this valuable coastline as theirs. St. Augustine became part of the United States in 1821.
Today the brick-paved streets evoke a sense of Old Europe, and the city throngs with tourists. Whether you are seeking to immerse yourself in history or enjoy St. Augustine's many attractions, mouth-watering restaurants, and sparkling beaches, you'll find this northeastern Florida destination an ideal place to vacation, and it's just a day's drive down I-95.
History, culture and lore in St. Augustine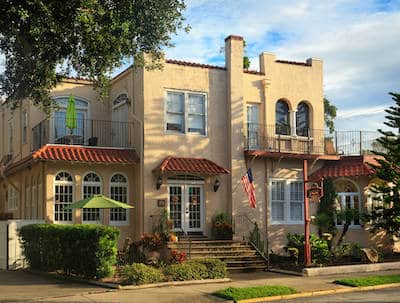 The city's Old World charm can best be enjoyed by lodging in one of its many bed-and-breakfasts. Peter and I are staying in Casa de Sueños (House of Dreams), a circa 1904 Spanish-style home conveniently located a couple blocks from St. George Street, the pedestrian thoroughfare. Our room on the first floor, one of seven, is quiet and comfortable and even has a Jacuzzi. We love the intimate vibe, tasty breakfasts, and social hour every day from 5 to 6 p.m., where we meet other guests and pick up sightseeing tips.
Casa De Sueños' sister property, the St. Francis Inn, offers a pool and nightly campfires, where guests hang out and sample homemade s'mores. Owner-innkeeper Joe Finnegan shows me around the St. Francis, whose main building dates to 1791. With its antique furnishings and quirky, crooked stairways, the vibe is a bit like my grandmother's attic. Joe says he's heard that before. "If you come to the oldest city in the U.S., why not stay in a historic B&B, where you get a feeling for the history, the culture, and the lore?" Joe says.
Taking the Old Town Trolley Tour is another fun way to get an overview of St. Augustine and its attractions. The 80-minute narrated tour features 22 stops, and ticket holders can hop on and off at any of the stops. The hard part is choosing which sights to see as St. Augustine is brimming with cool museums, cultural attractions, and historic sites.
Kids of all ages will love the kitschy, eerie collection at Ripley's Believe It or Not! Museum, the first permanent Ripley's museum and the only one Robert Ripley himself stepped foot in, having stayed in the property when it was a hotel. Originally the winter home of William G. Warden, the imposing Moorish-inspired structure became a hotel in the 1940s and opened as a museum in 1950. Today its maze-like interior is home to a zany collection of oddities and artifacts. See a shrunken head, a replica of the world's tallest man, and my favorite, the vertigo-inducing tunnel, which Peter had to skip because he really does have vertigo!
The St. Augustine Pirate and Treasure Museum provides a journey back in time to the Golden Age of Pirates. Over 800 authentic artifacts include the world's only real pirate treasure chest, plus treasure maps, swords, and artillery, and hands-on interactive displays. My favorite is the auditory pirate experience, where guests enter a dark room and, using headphones, become immersed in an explosive battle scene. Imagination required!
Exploring Castillo de San Marcos [picture above] is another fun activity. Owned and operated by the National Park service, it's the oldest masonry fort in the U.S., built by the Spanish to defend the city. Tours are self-guided and provide a glimpse into what life was like for Spanish soldiers who guarded the coast. Daily cannon and musket firing demos add a thrill to this historic experience. Don't miss the living history tour at the nearby Colonial Quarter, another worthwhile attraction, which takes you on an immersive experience into the daily life of our first settlers.
Beaches and bays
Take a break from history and head over the Bridge of Lions to Anastasia Island and the St. Augustine Alligator Farm Zoological Park and Rookery. Home of 24 species of crocodilians from around the world, including several critically endangered species, the zoo participates in conservation efforts to ensure these species don't become extinct. Favorite activities include Crocodile Crossing, a zipline-ropes course, and a Rainforest Sloth Encounter. Daily wildlife shows round out the fun!
Ready to relax? Check out nearby St. Augustine Beach, chosen by TripAdvisor as one of America's Top 10 beaches, where you can enjoy some R&R as the breezes off the Atlantic blow your cares away. Nearby, the historic St. Augustine Lighthouse offers stunning views of the beaches and bays, a lighthouse keeper's cottage, a WWII exhibit, and boatbuilding displays.
---
Refresh your soul at Florida's Paradise Coast
---
You won't go hungry in St. Augustine, known as a foodie's paradise. Spanish, Caribbean, and West African influences ensure you'll have a variety of flavorful choices.
My favorite is Columbia Restaurant, a sister establishment to the original one founded in Tampa in 1905, which specializes in Cuban-Spanish cuisine. Inside the Spanish-style building, you'll feel like you've landed in Spain. Brick archways, chandeliers, and a light-filled courtyard with a splashy stone fountain and elegant palms add to the ambiance. Try the signature Cuban sandwich or the Gambas "Al Ajillo," garlicky shrimp bathed in virgin Spanish olive oil.
If you're a fan of baked oysters, plan a pub meal at Meehan's Irish Pub and Seafood House in the historic district. The Oysters Meehan were amazing: freshly shucked oysters topped with lemon garlic herb butter, topped with Parmesan cheese. Meehan's outdoor patio is a convivial spot for enjoying the weather. Another local dish you have to try is the Deviled Egg BLT w/ Southern Fried Oyster at Catch 27, also in the historic area. Crispy corn fried oysters, housemade tomato-bacon jam, and local micro greens top luscious deviled eggs.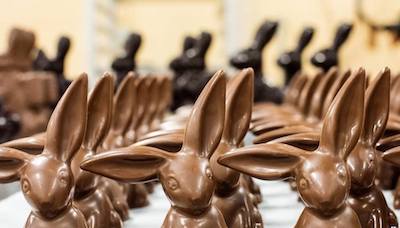 Everyone's favorite treat, hand-crafted chocolate, is on the menu at Whetstone Chocolates of St. Augustine. First take the chocolate tasting tour and learn where chocolate comes from and how Whetstone's process ensures even the dark chocolate has no trace of bitterness. Joe, our tour guide, tells us to use all our senses as we taste morsels of their delicious chocolate. "Listen to the snap," he says and then explains that cocoa beans are like grapes. "They taste different depending on where they're grown."
The tour ends in the chocolate shop, where foil-wrapped seashells call my name with flavors including key lime, orange, mint, and toffee crunch. You can also buy brittle, fudge, bars, and bags of chocolate. I settle on a bag of my favorite: Menendez Dark Chocolate with 72% cocoa – smooth, supple, not a bit bitter. The chocolate flavor lingers on my tongue as Peter and I leave the store and prepare for our journey home.
St. Augustine will leave a good taste in your mouth and, like Whetstone Chocolate, you'll want to come back for more.
Visit FloridasHistoricCoast.com to plan your adventure.
---
Peggy Sijswerda is the editor and publisher of Tidewater Family Plus magazine. She has an MFA in creative nonfiction from Old Dominion University and is the author of Still Life with Sierra, a travel memoir. Peggy also freelances for a variety of regional, national, and international magazines.