BOOMER Q&A: Talking With Bill Bevins And Shelly Perkins
| November 28th, 2016
Don Garber and Lynn Anderson, two boomers inspiring all ages to run.
---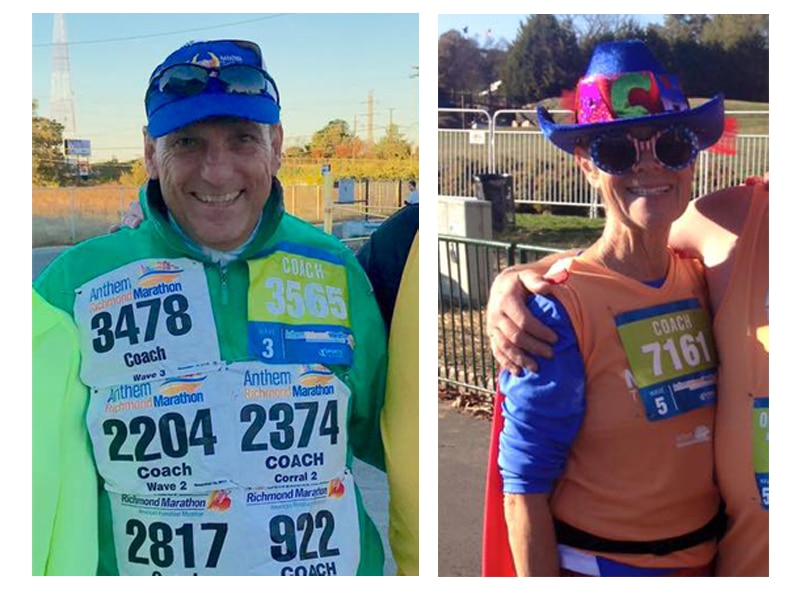 For 15 years, head coach Don Garber, 64, and team coach Lynn Anderson, 72, have been leading and inspiring people to run 26.2 miles. Both have served as committed volunteers with the Richmond Sports Backers Marathon Training Team, supporting men and women of all ages and abilities to achieve health and fitness goals and personal-best achievements. Team members recognize Don for his weekly emails and guiding presence every Saturday morning during the season and Lynn for her trilly "Whoop-whoop!" of encouragement along the training route.
Listen to the entire interview here:
Bill Bevins: They say a journey of 1,000 miles begins with but a single step, and that's the whole idea as we welcome some very special people this morning. Donald Garber and Lynn Anderson are here to tell us about Sports Backers volunteers who help [runners] get ready for the marathon. Welcome, both of you.
Lynn Anderson: Thank you.
Don Garber: Good morning.
BB: I want to start with Don. How long have you been involved with getting people ready to run?
DG: I started the marathon training program for Sports Backers in 2002. I had been coaching people, including Lynn, for two or three years and Sports Backers approached me about starting a training program. They had just recently taken over the marathon from the newspaper, and they wanted to add a training component to the program.
SP: In 2002 you had 169 participants.
DG: We grew very quickly from 150 runners plus coaches the first year, and we've grown to being close to 1,400 for the last three or four years.
SP: Lynn, you started with Don as one of your trainers, and obviously you fell in love with it. One thing I noticed is that it's for any age group [and] any ability. How is the training split up? Preparing for a marathon is not easy.
LA: No, it isn't. I ran my first marathon right before I turned 50 years old, so I think I'm a good example of somebody who can start later in life, take it slowly and progress up the ladder of marathon running.
BB: Do people start out with a [shorter race] and work their way [to a marathon]?
LA: Yes, it's better to take it in stages, maybe to start with an 8k and then go to the 10k, and then the half marathon and the full marathon. I like the progression because I think it gets you used to what's ahead of you.
DG: No, I think any running coach would recommend you start with a shorter race because you need to build the body [and] build the endurance. A first marathon is never your best marathon. You should run the shorter races before you run the longer races. The first six or seven years there was not a half-marathon in Richmond, so we had a lot of people trying to jump from the 10k to the marathon. We were really glad to start the half-marathon program because it gave us an intermediate step.
SP: Don, how does a training team work?
DG: Most training programs are 16 to 18 weeks. We go like 23 weeks. The idea is to get people used to running before you start really climbing the mileage on them. We do break the team up – we don't break by age, we break by ability. We have a novice or beginner's level, an intermediate level and a very small advanced level. So it's not by age, it's how fast and how far you've run in the past.
SP: Do you meet up and run as a group?
DG: We've grown in size so that we meet either Saturday or Sunday morning – about three-quarters [of the runners] meet Saturday – all starting the weekend after Memorial Day and all the way to the race [in November].
SP: And the team is all led by volunteer coaches?
DG: Right.
SP: That's amazing!
LA: Yeah, it is!
DG: The only people we pay are the people who do our water stops for us because how else are you going to get someone out there at 6 o'clock in the morning filling water up? [Laughter]
SP: Yeah, there'd have to be money involved for me to do that! How many volunteers actually does it take to put this on?
DG: Coaching wise, I think we're up to about 70 or 71 coaches and we've got about five people that help us with the water stops, plus we get lots of people that come out and volunteer every week to help work these water stops.
BB: Lynn, when people see you, do they go "Really? You're going to coach me on running? You're a petite person."
LA: It's more my age. They look at me and say, "You're pretty old, Lynn!" [Laughter]
BB: What's your greatest joy in doing this?
LA: Oh, I think more than anything it's watching people start where I started and progress and the family atmosphere that's there. Those runners show up at the stadium in May and don't know anybody and at the end, you're a family. I think that's the greatest joy to me. They look out for each other, and if somebody runs a marathon, they wish them good luck and want to know afterwards how it turned out. It's that family atmosphere between the coaches and between the runners. You put your arms around them at the beginning to say, "You can do this and we're going to help you every step of the way." At the end, you're shouldering their disappointments and cheering them on. It's the best volunteer job in the world. The best.
SP: Don, we've been celebrating Sports Backers' 25th anniversary this year and I know you're heavily involved. Sports Backers is really responsible for getting people on their feet and getting active. I know those are some great accomplishments of yours, too. What do you see for Sports Backers in the future?
DG: I've been on the board of Sports Backers and was president for one term, so I am involved. I think we're just starting. We've done some great things, but [we need to grow] in terms of getting the people that are not active today, especially in some of the disadvantaged communities, getting them access to be more active. You can look at our training team, and it is a suburban training team. We don't have a lot of disadvantaged individuals on our training team and that's the next challenge. Sports Backers is already working on trying to engage the whole community in the active lifestyle, not just the people that can afford it.
BB: Big thank you to Don Garber and Lynn Anderson. I'm looking forward to seeing you out there leading more folks through the paces and getting them ready. Thanks for all you've done for Sports Backers and for making Richmond active again.
---
Bill Bevins and Shelly Perkins, teamed as a Richmond radio fixture since 2001, are morning hosts with the new Star 100.9, formerly Easy 100.9.