Mobile, Alabama: Mardi Gras Lite
| December 9th, 2016
A more civilized celebration
---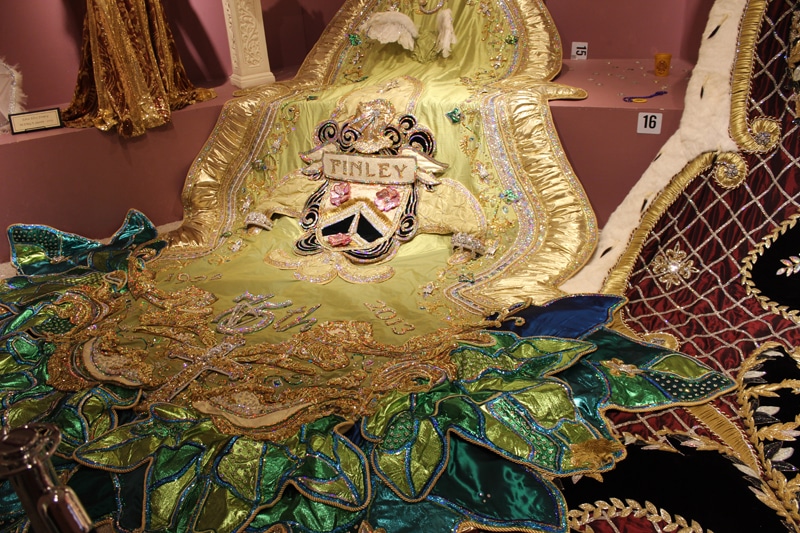 Though Mardi Gras has gained a party-hardy reputation, thanks to tales from the Big Easy, there's a Little Easy just 144 miles away from New Orleans that celebrates in a more graceful manner.
Mobile, Alabama, claims to be the site of the first Carnival in the U.S. The city's tourism tagline proclaims "Born to Celebrate," with Mardi Gras an integral part of that playful spirit. Yet Mobile is also striving to become the safest, most business- and family-friendly city in America by 2020.
Rooted in centuries-old traditions, Mardi Gras (French for Fat Tuesday) marks the day before the traditional 40-day Lenten fast – a perfect excuse to laissez le bon temps rouler – let the good times roll! In a true spirit of celebration, festivities also fill Carnival season, several weeks preceding Mardi Gras.
The New World's Carnival began in 1703 in Mobile, then the capital of colonial French Louisiana. Legends involve the Cowbellian de Rakin Society parading through town with cowbells tied to rakes, beginning in 1830; the Strikers Independent Society, who started their own parade in 1843, having been refused admission to the Cowbellians; and Joe Cain, who resurrected Carnival parades in 1868, after the Civil War put a damper on the annual festivities.
In contemporary Mobile, Mardi Gras is the culmination of months of events. Dozens of mystic societies host fancy private balls and public parades boasting extravagant floats. Each society chooses a king and queen, who create elaborate costumes and trains that can cost as much as a small house. According to a 2005 University of Alabama study, overall spending for Carnival season in Mobile totals about $400 million.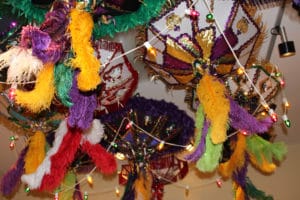 Fortunately, visitors can enjoy the festivities without incurring such expense.
Approximately 40 parades thread through the street of Mobile during the season, featuring the year's kings and queens, marching bands, floats, costumed revelers and multitudes of "throws" tossed to spectators – oddities such as ramen noodles, footballs and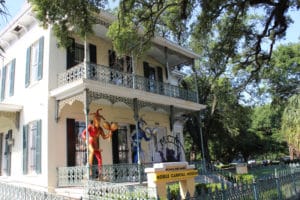 stuffed animals plus traditional doubloons, beads and MoonPies (Mobile's sweet tradition – 3 million MoonPies were tossed during 2012).
Restaurants and bars in Mobile's quaint downtown, flanked by quiet, live oak-lined historic neighborhoods, promote themed Carnival drinks. Celebrants can shop stores packed with everything Mardi Gras or the new MoonPie General Store.
This year, celebrate a little easier in this vibrant Southern city, or laissez le bon temps rouler any time of year.
DURING MARDI GRAS AND BEYOND: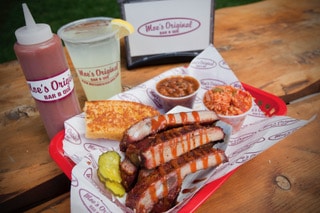 • Celebrations and parades begin weeks before Fat Tuesday. Find schedules at TheMobileMask.com.
• Run the Joe Cain Classic 5k on Feb. 26, 2017, with BayAreaRunner.com.
• Stroll the entertainment district with any approved open container of alcoholic beverage.
• Find glitter galore and jaw-dropping memorabilia at MobileCarnivalMuseum.com.
• Fill your mind at an expansive, interactve Gulf of Mexico-focused maritime museum, GulfQuest.org.
• Catch a performance at an ornate historic playhouse, MobileSaenger.com.
• Dine so fine: Pick up a Panini and beignets at a nationally renowned local favorite, PaniniPetes.com. For a 34th-floor view of the city and Mobile Bay, GoDauphins.com (owned by former Miami Dolphin Bob Baumhower). Fill up on oysters "fried, stewed or nude" at WintzellsOysterHouse.com. Get a creative Southern fix at TheNobleSouthRestaurant.com. Cue your love for barbecue at Moe's Original BBQ, founded in Vail, Colorado, by three 'Bama boys (all meats smoked fresh daily, paired with up to 10 Southern side dishes and desserts – delightful!).
• After playing in Mobile, take a Caribbean cruise from the downtown docks: Carnival.com/cruise-from/mobile.aspx.
• Have a splashing-good tour on GulfCoastDucks.com.
• Discover more at Mobile.org.