Take the Whole Crew
| October 16th, 2018
Massanutten sets the stage for multigenerational getaways
---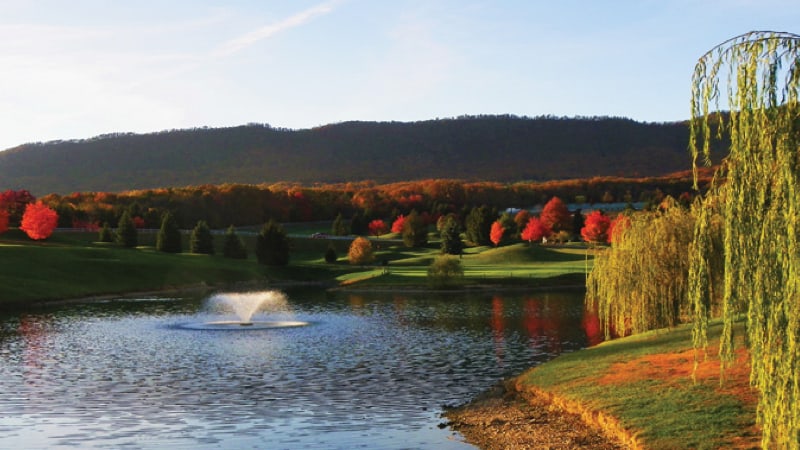 Finding a vacation destination that pleases multiple people can be challenging enough, but when the ages span decades, the decision becomes even tougher. Massanutten Resort, less than two hours from Richmond, offers activities that appeal to a diversity of family members (besides its long-standing snow sports) in a beautiful setting. Happily, many of these activities can be enjoyed together, while others allow a bit of "me time."
SET IN THE MOUNTAINS WITH SHADES OF THE BEACH
The heart of the resort sits in an elongated geological bowl – The Kettle – with the Massanutten Mountain ridgeline rising on one side and First Mountain on the other, providing a naturally gorgeous view in all directions.
Several outdoor pools and an outdoor waterpark dot the resort for seasonal enjoyment, while indoor pools and an indoor waterpark entertains visitors throughout the year. The waterparks offer active play areas (think slides and a wave simulator), passive areas (a lazy river and all-ages hot tub) and dry hangouts (including eateries and a gaming arcade), so the entire family can hang out together.
A GAME OF GOLF FOR EVERYBODY – REALLY!
Don't laugh – now there's a way for the entire family to play golf, including spouses who just can't get the hang of it and teenagers who think it's a bore. It's called FlingGolf, and traditional golfers and Flingers can play the Massanutten courses together.
The lightweight FlingStick resembles a lacrosse stick with a smaller pocket. Players use the stick to fling the ball down the fairway, then use the edge of the pocket for "putting" on the green. Perhaps most important, FlingGolf is easy for beginners and much less maddening!
Oh, and golfers can increase the fun factor by navigating the course on GolfBoards, single-person electric vehicles like snowboards on wheels.
ACTIVE AND WILD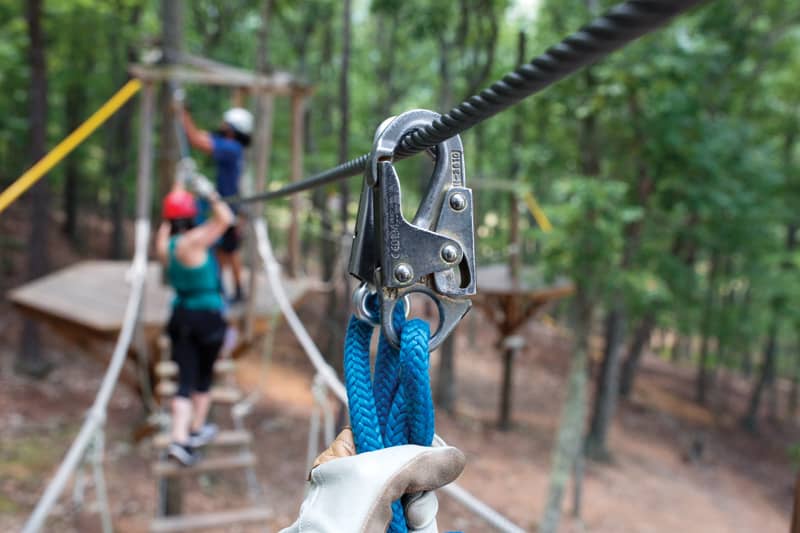 At the aptly named Family Adventure Park, everyone can play: kids under 12 have their own ropes course; ages 7 and up can ride the 800-foot-long zipline; and ages 10 and up can take a 90-minute journey through the forest on bridges, hanging vines and ziplines.
More adventurous souls (16 and up) can take the climbing and rappelling excursion, choosing from two Class 5 cliffside climbing routes and a 38-foot and a 58-foot rappel.
And mountain bike aficionados can play in the mountain bike park, speed downhill or tackle the cross-country routes, from beginner to expert. Biking lessons tailor programs to various ages (7 and up) and experience levels.
ACTIVE AND MILD
Looking to burn some energy without risking your neck? Play tennis, racquetball, miniature golf, shuffleboard or pickleball; go horseback riding; work out at the fitness centers or in exercise classes; do water aerobics; or take a yoga class. Or take the little ones on a tour of the playgrounds – wear them out so the adults can relax with an adult beverage after the kids' bedtime.
LAIDBACK AND LAZY
Of course, the spa is the perfect spot for relaxation, from massages to body, face and nail treatments. But even better – the spa menu includes massages for teens, facials for teens and tweens, and mani/pedis for tots (with a parent present during all treatments).
CEREBRAL AND CRAFTY
Besides the teamwork challenge of figuring out the puzzles in the Escape Room, Massanutten guests can take classes and attend demonstrations that are crafty, fun, tasty or mind-expanding. Think advanced basket weaving, hand-painted glassware and throw pillow decorating. Many classes are open to age 5 and up, so the whole gang can go. Culinary classes include cooking demos, wine dinners and mixology lessons.
A GOOD NIGHT'S SLEEP
In keeping with the goal of enjoying family time, the resort lodging includes plenty of town houses, free-standing homes and condos, allowing families to stay together and even to prepare and eat meals together.
REFUELING STOPS
Because the resort attracts a diverse clientele, its restaurants offer fare that can appeal to a common palate in settings from casual sit-down restaurants and lounges to sweet shops and counter-order quick meals.
Chef Michael Ritenour helps to oversee operations throughout the resort, for some interesting and subtle results. You can dine at Base Camp, for a range of options from starters, sandwiches, and flatbread pizzas to entrees and pasta. Virginia BBQ & Pizza offers a scintillating blend of foods. Smoked meats on a pizza? Yes, please! And for casual dining, you can seat yourself a Campfire Grill, feasting on camp stove chili, chicken dumplings, steakhouse burgers, and skillets, plus weekend brunch.
You can also expect a solid selection of wine, beer (including local craft), cocktails and even craft sodas.
In short, the only thing missing at Massanutten is boredom. The family that plays together …
Updated June 13, 2022