Matzo Farfel Kit Kat
| March 29th, 2023
A DIY 'Kit Kat' recipe that's Passover approved
---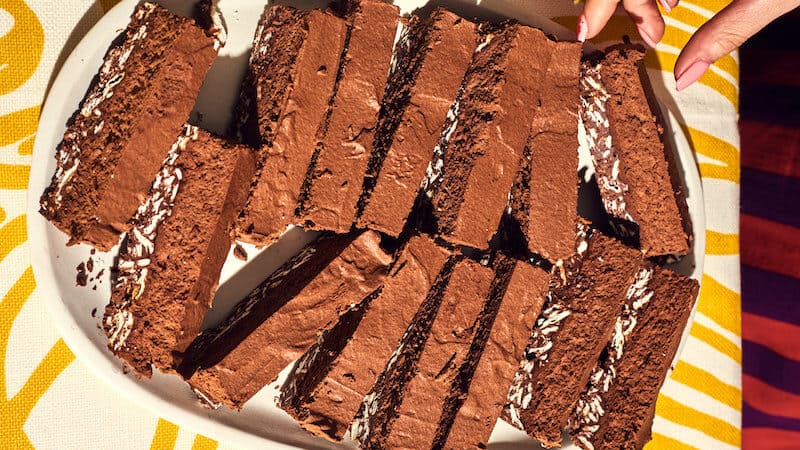 Elevating the store-bought Kit Kat candy to something you're proud to serve family or guests, the Matzo Farfel Kit Kat recipe uses only Passover-approved ingredients – but it's a hit any time of year.
---
When I was a line cook at a small restaurant in Richmond, Virginia, although my station was savory, I was often called upon to come up with desserts. At the time, my fellow chefs grumbled about having to dip into the pastry side of the kitchen, but I didn't mind. Despite my culinary school background, I didn't have much of a repertoire when it came to sweets, but I loved thumbing through cookbooks for inspiration, and one of the first desserts I memorized was Michel Richard's "Le KitKat" from his 2006 cookbook "Happy in the Kitchen."
The Kit Kat-inspired confection combines a layer of wafery crispiness (thanks to Corn Flakes, because let's not forget Michel Richard was a genius) with a lighter-than-air chocolate mousse to create a dessert that transcends its origins while still managing to be delightfully playful.
Because so many ingredients are forbidden at Passover (wheat, rice, corn, the list goes on), the lineup of desserts can be a bit repetitive. You see a lot of matzo toffee, which I love. Coconut macaroons and chocolate-covered fruit are also regulars on the dessert spread. But I wanted something that felt more like a composed dessert for Passover this year, and memories of my time cranking out "Kit Kats" came rushing back to me, whispering, "Make it with matzo." So I listened.
The dessert combines a crunchy chocolate-matzo layer topped with a light chocolate mousse layer. One of my daughters insisted on adding "Farfel" to the title, because the crunched-up matzo reminded her of matzo farfel, tiny pieces of matzo, the middle ground between matzo and matzo meal, that's popular in Passover cooking and sold in canisters in the Jewish section of grocery stores. Although you can buy matzo farfel, for this recipe I prefer the texture of slightly irregular shards that comes from crushing matzo with a rolling pin. It also allows you to use whatever type of matzo you prefer, including gluten-free matzo.
Matzo Farfel Kit Kat is a simple recipe that requires zero baking and is satisfying enough to enjoy year-round, not just during Passover (although to be sure, I consume a lot of it during that long chametz-free week). This treat keeps for up to four days in the fridge, so it can easily be made ahead for snacking on for several days.
I happen to love the gluten-free Yehuda matzo above all others, so that's what I use for this recipe, but any matzo will do. Just make sure to crush it by hand (I use a plastic bag and a rolling pin), not in a food processor, to ensure proper matzo shards, which will make the crisp bottom layer even more satisfyingly crunchy.
Matzo Farfel "Kit Kat"
Makes 16 bars
Ingredients:
3 matzo sheets
7 ounces dark or bittersweet chocolate (about 60% cacao), divided
1 tablespoon unsalted butter
3/4 cup kosher for Passover or regular chocolate-hazelnut spread
1 1/4 cups cold heavy cream
1 teaspoon unsweetened cocoa powder (optional)
Directions:
Line an 8-by-8-inch baking dish with plastic wrap, making sure there is excess hanging over the sides.
Place 3 sheets of matzo in a large zip-top bag, press out the air, and seal. Crush with a rolling pin into small shards (1 to 1 1/4 cups). Do not over crush to the point of matzo meal.
Fill a medium saucepan halfway with water and bring to a simmer over medium heat. Place 2 ounces of the dark chocolate and 1 tablespoon unsalted butter in a medium heatproof bowl that can fit onto the saucepan without the bottom touching the water. Heat, stirring occasionally with a heatproof spatula, until melted and smooth.
Remove from the bowl from the heat, add 3/4 cup chocolate-hazelnut spread, and stir to combine. Add the matzo and stir until combined. Transfer to the baking dish and spread into an even layer. Refrigerate until firm, at least 30 minutes or up to two days.
Bring the water in the saucepan back to a simmer over medium heat. Place the remaining 5 ounces dark chocolate in another heatproof bowl, fit over the saucepan, and heat, stirring occasionally, until melted and smooth. Remove the bowl from the heat and set aside to cool until lukewarm, about 5 minutes.
Meanwhile, place 1 1/4 cups cold heavy cream in a stand mixer (or large bowl if using an electric hand mixer or whisking by hand). Whisk with the whisk attachment on medium speed until soft peaks form, about 3 1/2 minutes.
Add a little bit of the chocolate into the whipped cream and stir until just combined. Add the remaining chocolate and gently fold until just combined. Transfer to the baking dish and spread into an even layer. Cover the baking dish with plastic wrap or aluminum foil. Refrigerate until firm, at least 3 hours and up to three days.
Uncover the bars. Grasping the excess plastic wrap, lift the slab out of the baking dish onto a cutting board. Run a large knife under hot water or dip into a tall glass of hot water, dry, and use the warm knife to cut the slab into 16 rectangular pieces (cut into quarters, then cut each quarter into 4 rectangular pieces). Warm and dry the knife between each cut for the cleanest cuts. Dust lightly with 1 teaspoon cocoa powder if desired.
Recipe notes
Substitution: Corn flakes cereal or feuilletine can be substituted for the matzo for the crunchy layer.
Storage: The bars can be refrigerated in an airtight container for up to four days.
Stephanie Ganz is a food writer and a contributor to TheKitchn.com, a nationally known blog for people who love food and home cooking. Submit any comments or questions to editorial@thekitchn.com.
©2023 Apartment Therapy. Distributed by Tribune Content Agency, LLC.
Apricot Lemon Cheesecake Bars: More perfect Passover sweetness