Memories of Drive-in Movies
| August 1st, 2023
A brief history and a reminiscence
---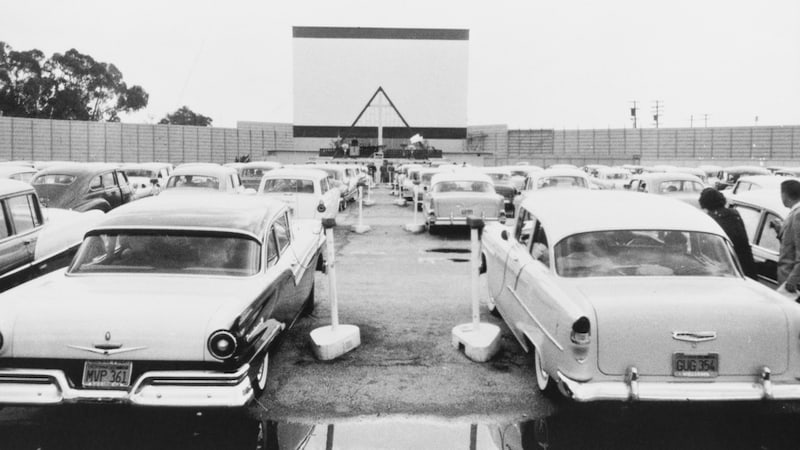 The first drive-in movie theater opened on June 6, 1933. The concept accelerated in the 1940s, giving birth to memories of drive-in movies for many who lived in '40s through '70s. Boomer reader Carl Scharwatch describes the history of the theater concept and then shares his own memories. 
---
The drive-in movie is a classic American pastime that has been enjoyed for decades. This unique form of entertainment allows people to watch movies under the stars from the comfort of their own car. Although the popularity of drive-ins has declined in recent years, they still hold a special place in the hearts of many moviegoers.
The history of drive-in movies dates back to 1933, when the first drive-in theater was opened in New Jersey. At the time, this was a revolutionary concept, as it allowed people to enjoy movies in a way that had never been done before. The idea quickly caught on, and by the 1950s, there were more than 4,000 drive-in theaters across the United States.
One of the main advantages of drive-ins is the convenience they offer. Unlike traditional movie theaters, drive-ins allow people to watch movies from the comfort of their own car. This means that they can bring their own snacks, drinks, and even blankets if they want to get cozy. Additionally, drive-ins typically show double features, which means that patrons can watch two movies for the price of one.
Another advantage of drive-ins is the atmosphere they provide. Watching movies under the stars is a unique experience that cannot be replicated in a traditional theater. Drive-ins also offer a sense of community, as people can come together to enjoy a shared experience. Children can run around and play, while adults can relax and socialize.
Of course, there are also some disadvantages to drive-ins. For one, the quality of the picture and sound can be inferior to that of a traditional theater. Additionally, some people find it uncomfortable to watch movies from inside their car for an extended period of time.
Despite these drawbacks, many people still enjoy going to drive-ins today. Whether you're with friends, family, or a significant other, a trip to the drive-in can be a fun and memorable experience.
In conclusion, the drive-in movie is a beloved American tradition that has stood the test of time. Although they may not be as popular as they once were, drive-ins still offer a unique and enjoyable moviegoing experience. Whether you're looking for convenience, atmosphere, or simply a fun night out, the drive-in movie is definitely worth checking out.
One man's memories of drive-in movies
I remember those youthful days, filled with the freedom of driving and the anticipation of going on a date to my first drive-In movie. It was like stepping into a new world, with a plethora of sights, smells, and fun awaiting us beyond the slightly dilapidated wooden entrance booth, which had clearly seen better times. As the evening grew darker, a kaleidoscope of sensory overloads greeted us.
Positioning my car at just the right angle for optimal cinema viewing became an artform, involving a slight bump to overcome. We always had some time before the movie started, allowing for a quick stroll beneath the towering screen where a rusted playground stood. The dilapidated swing set welcomed us with its gentle swaying and creaking in the breeze, reminiscent of a scene from the horror movies we came to watch. Climbing onto the swing seat, we pumped our legs, trying to reach greater heights, almost merging with the empty white expanse of the movie screen that loomed before us. Our shadows danced across the blank canvas, resembling silent film actors.
Half an hour before showtime, the sun would already be setting on the horizon. It was during this time that we realized we had forgotten to bring any food or snacks, so a visit to the snack bar was necessary. The snack bar would come alive with activity as patrons eagerly grabbed any unhealthy food, they could get their hands on, in a mad frenzy that coincided with the start of the movie. I vividly recall the insulated container, with its glass door sliding to the left, revealing slightly warmed foil-wrapped hamburgers or hot dogs. Even a plain slice of something sandwiched between a soft white bun would suffice in my moments of hunger. It was a temporary solution, as I knew that after the movie, we would make a trip to The White Castle for some real food.
Of course, when on a date, watching the movie itself was never the main focus. The opening credits served as an opportunity to finish our snacks and engage in small talk before the real fun began. The only time I remember watching an entire movie at the drive-in was in 1960, when my family and I made the journey to see "Psycho." I was merely six years old, yet the impact of that experience remains with me to this day. I recall returning home and having to sleep with the lights on, the grainy black-and-white images seen through the clouded windshield adding to the eerie feeling of being immersed in the drama.
Just like a film that's being rewound, as everything reverses my memories come alive.
The films of happier youthful times with friends, girlfriends and those memories of so many drive-in evenings. Overall, those drive-in movie nights were filled with a sense of adventure, from the moment we arrived at the worn-down entrance booth to the thrilling anticipation of the film's unfolding. It was a unique and unforgettable era, where the simple pleasure of going to the movies was imbued with a distinct charm that continues to resonate within me.
---
Carl Scharwath, has appeared globally with 180+ journals selecting his writing or art. Carl has published three poetry books and his latest book "Playground of Destiny," features poetry, short stories and photography (Impspired Press.) Carl has four photography books, two published by Praxis in Africa and two by CreatiVingenuity. His photography was also exhibited in the Mount Dora and The Leesburg Centers for the Arts. Carl is currently a co-editor with CreatiVingenuity and was the art editor for Minute Magazine. He was nominated for two The Best of the Net Awards (2021-22) and his paintography/poetry were featured in a 2022 Showcase with Valiant Scribe. He is also a competitive runner and a 2nd degree black- belt in Taekwondo.
---
Read more childhood memories and other contributions from Boomer readers in our From the Reader department.
Have your own stories or thoughtful essays you'd like to share with our baby boomer audience? View our writers' guidelines and e-mail our editor at Annie@BoomerMagazine.com with the subject line "'From Our Readers' inquiry."