Mitford's Maker
| October 4th, 2015
With Jan Karon, a recipient of the Library of Virginia's Lifetime Achievement Award
---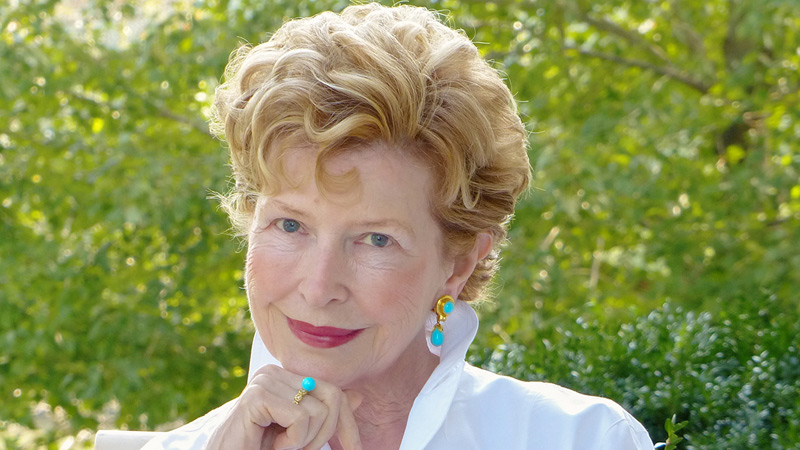 Jan Karon's fans aren't shy about pestering her to write more novels featuring Episcopal priest Timothy Kavanagh, his family and his neighbors in Mitford, the town that "takes care of its own."
Karon's 13th novel in the Mitford series, Come Rain or Come Shine, went on sale last month. After reading it, Susan Snodgrass posted this on Goodreads, a website for readers: "I am so sad for this book to end but joyfully look forward (I hope!) to more from Mitford."
No pressure there. Here's the good news from Karon: "There definitely is another book coming, God willing."
CLUES FOR ANOTHER MITFORD AFTER "COME RAIN OR COME SHINE"
In a telephone interview, she dropped a few clues about her next book: Clue No. 1: "I was reading something I'd done recently, and I was laughing my head off. You put these three or four people together down at Wanda's Feel Good Café, and it's so absurd, wonderful, human and vulnerable." Yay! Lunch with Father Tim's buddies, maybe Mule Skinner, J.C. Hogan and Omer Cunningham.
Clue No. 2: "In Come Rain or Come Shine, Dooley and Lace are married, and it's a pretty happy thing. And then we come to the book I'm writing now. Already, there's a huge challenge to this couple."
Rats. Dooley, Father Tim's adopted son, and Lace, adopted by Mitford's doctor and his wife, already have faced a life's worth of challenges.
Clue No. 3: The ending of Come Rain or Come Shine leaves many threads untied, including what's in store for Father Tim and his wife, Cynthia. Maybe Karon will send them on that RV trip that Cynthia has always hoped for.
"You're warm," she said. "You're warm."
A LIFETIME OF ACHIEVEMENT
No doubt she'll reveal more when she comes to town Oct. 17 to receive the Library of Virginia's 2015 Literary Lifetime Achievement Award. She'll speak at a luncheon that day and receive her award at a gala that night. For ticket availability, call the library's Dana Brown at 804-692-3900.
Karon is 78, and her lifetime of achievement includes — so far — millions of books sold since the first, At Home in Mitford, was published in 1994. She has written 24 books, among them the 13 Mitford novels, a cookbook and several children's books. In the Company of Others won the Library of Virginia's 2011 People's Choice Award for Fiction.
Last year's Somewhere Safe with Somebody Good was on The New York Times best-seller list for 17 weeks.
Writing fiction is Karon's second career, begun at age 50, when she left an award-winning job as an advertising copywriter.
Add to the list some nonliterary accomplishments, notably overcoming poor choices in her youth, among them dropping out of high school and marrying in her early teens.
Here's another: her four-year restoration of Esmont, an 1816 house set on 109 acres in Albemarle County and listed on the National Register of Historic Places.
Before she bought the house in 1999, she looked unsuccessfully for one to restore in North Carolina, where she was born and still lived. "I love my home state. I didn't leave because I didn't love it."
Of Esmont, she says, "it was a joy, it was a blessing and it was a curse. It was exceedingly taxing, because I tried to keep it meticulously."
She sold the house last year and moved into Charlottesville, where she's renting a town house. Now, she says, "I'm able to write more freely than when I had the many responsibilities of the farm."
A MISSION OF JOY 
It's not lost on Karon that the lifetime achievement award is coming from a library: "I have a great affection for libraries and a great affection for librarians."
She likes to tell the story of the first librarian she encountered at age 10, when she walked into the library in Lenoir, N.C. "She said, 'My dear, I know just what you should be reading.' "
The book? Lorna Doone.
Her reaction? "I was dumbstruck that I could have something like this in my hands. It was a marvel."
It's clear Karon's fans feel that way about her novels. State librarian Sandra G. Treadway understands that, saying "the library is thrilled to honor her for the joy she has given many readers."
Says Karon: "Oh, I love that word 'joy.' That's my mission, really. When I sit down to write, I want people to be unafraid to walk into the pages of a book with me. It's a safe place."
What gives Karon joy? "My joy comes from creating the characters and finding out what they're going to do. I don't want to know until I'm there with them.
"Not knowing where a story is leading is like our own lives. Do you know what God has in store for you tomorrow? I don't. Not even five minutes from now.
"So I don't see how anybody could be bored with life, because I'm telling you, it's one surprise after another. And so, that's entertainment for you, right?"
Jann Malone, BOOMER's book editor, is a former Richmond Times-Dispatch columnist and book editor. 
LIFETIME ACHIEVEMENT AWARD RECIPIENT
Jan Karon is the recipient of the Library of Virginia's Lifetime Achievement Award, to be presented Oct. 17 at the library.
Visit lva.virginia.gov or call 804-692-3900 for details. 
---
---
As an Amazon Associate, Boomer Magazine earns from qualifying purchases from linked book titles.