The Best Motorcycle Road Trips for Baby Boomers
January 11th, 2023
Seven memorable U.S. routes
---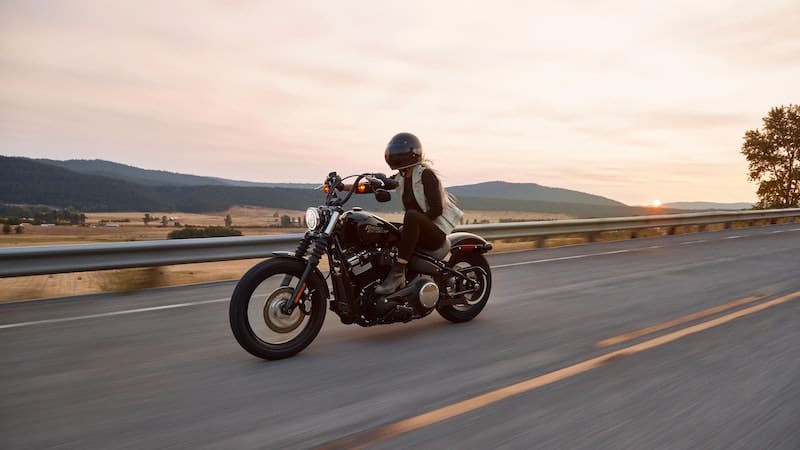 Being a baby boomer doesn't mean that it's time to pull up a rocking chair, stay home, and age gracefully. This is the time in your life to hit the open road and see the country. You've earned the right to enjoy the fruits of your labors. For instance, motorcycle enthusiasts who were once tied down to a 9-to-5 now have the freedom to take long road trips, either with biker friends or as a lone wolf. For you boomers who were born to be wild, now's your chance to take those road trips you've always dreamed about. We'll offer seven of the best motorcycle road trips for baby boomers, both short and long, from all over our great country.
Before You Go
Before you hop on your bike and take that ride of a lifetime, there are a few things that you'll need to do first.
Motorcycle maintenance
Nothing is worse than breaking down on the side of the road when on an epic road trip. To help reduce the odds of that happening, schedule a full inspection with your mechanic. Change all the fluids, check your tire's tread, and make sure that it's travel-ready.
Prepare your body
If you aren't used to riding all day, prepare your body by taking day trips that are longer than your usual route. Riding long distances can take a toll on your body and some riders are surprised when taking their first long or overnight trip that they're exhausted.
Have your motorcycle shipped to your starting point
There's no reason why you can't do a road trip on your bike that begins several hundred miles away from home. You don't need to ride it to the starting point and then begin the journey. Hire a transport company to safely ship your bike to your starting point and have it picked up at the end of the journey. A professional company will know how to ship your bike safely.
Motorcycle road trips for baby boomers
The Florida Keys
For those of you living in cold climates, one of the best motorcycle road trips for baby boomers is to ride the entire distance of Florida's Overseas Highway. Have your bike shipped to Florida City, Florida, and begin your journey south. The entire highway is 113 miles in length and ends at Key West. The ride is somewhat dull until you hit Key Largo, where the landscape opens up and its blue water everywhere. You'll ride over the famous Seven Mile Bridge. There are plenty of great small towns to visit and explore. While riding, you'll have the opportunity to see alligators and dolphins. You can end the trip at Key West, the highway's ending point, or spend a few days there and then ride back to the mainland. This route is mostly flat and straight and is easily accomplished by even the most inexperienced riders.
The Blue Ridge Parkway
This famous mountain ride travels through some of the most beautiful portions of the Appalachian Mountains. Located in both North Carolina and Virginia, you can start in either state. The ride will consist of ups and downs and lots of fun curvy roads, the types that bikers dream of. From end to end, the Blueridge Parkway covers almost 470 miles but due to its mostly slow speeds of 45 mph or lower, this trip will take a couple of days to complete. Although not a difficult ride, there are a few hairpin turns, so novice riders should be cautious riding on twisty backroads.
---
'Riding Beyond the Boundaries': David L. Robbins found his sweet spot in motorcycles
---
Coast Highway 1
If you enjoy the quiet and solitude that the open road can bring, Coast Highway 1 in Maine is a paradise. Beginning at the Canadian border town of Calais, this 260-mile highway runs all the way to the town of Portland. You'll meander passed massive forests and beautiful New England scenic landscapes. Bikers can stop to enjoy the many lighthouses on this route and stop and explore many of its quaint seaside villages. You'll pass plenty of lobster shacks that make for a perfect lunch or afternoon snack.
Pacific Coast Highway
The PCH (Pacific Coast Highway) is on the bucket list of many bikers. From start to finish, this biker's dream road is 656 miles long, but that doesn't mean the perfect road trip on the PCH requires covering every inch. A great stretch is to ride through Big Sur starting at Morro Bay and ending in Monterey. The highway hugs the coast and provides spectacular ocean views.
Natchez Trace Parkway
The Natchez Trace Parkway lies within the states of Tennessee, Alabama, and Mississippi. This 444-mile-long Natural Scenic Byway rolls through forests, cypress swamps, and farmland. A great road trip for both experienced and novice bikers, this two-lane road makes for a great road trip. Trucks are forbidden on its entire length which makes for a much less stress-free ride. The only time you'll need to stop is for a break or to grab a bite to eat since it doesn't have any stoplights or stop signs.
Beartooth Pass
Very popular with bikers, the Beartooth Pass is not to be missed. Beginning and ending in Montana with a dip into Wyoming, it's a section of U.S. Route 212. This great biker road slips past the northeast gateway to Yellowstone National Park. The route is remote and towns and cities aren't all that close to each other, so bikers who want to ride the Beartooth should plan accordingly. If you're the type that wants to feel the solitude of the open road, this is the road trip for you.
Tail of the Dragon
If you're into ultra-twisty roads then you'll love the Tail of the Dragon in Tennessee. With 318 curves in a short 11 miles, this stretch of biker heaven should only be attempted by those with thousands of miles under their belt. Located in the eastern section of the Great Smoky Mountains National Park, this short but exhilarating two-lane road will keep your heart pumping. The speed limit on this twisty road is a mere 30 mph and with all those twists, it's difficult to go faster.
---
More motorcycle routes in scenic Tennessee
---
Getting your ride to your dream road trip is easy
As a boomer, it's not time to sit still, it's time to ride. Plan your dream road trip accordingly and let the experts transport your bike to the beginning point of your ride of a lifetime. Now is the time to take those road trips you've been itching to do. Get your bike ready, pick a route, and go hit the open road.