A Companion in Caregiving
| August 20th, 2018
New book from BOOMER writer
---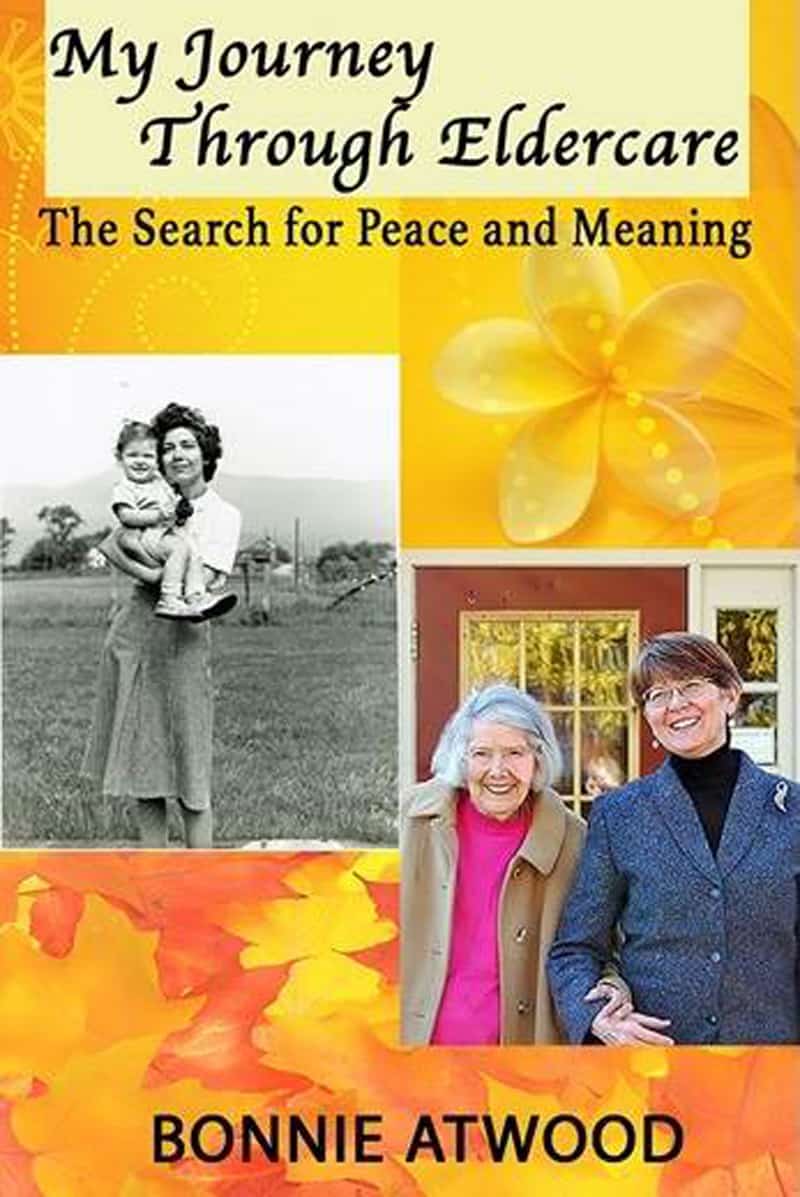 Back in the day, when my three kids were all under the age of 4, I wrote For Any Young Mother Who Lives in a Shoe: A Christian Survival Guide (Judson Press, 1991), a series of essays on parenting, a mix of humor and encouragement. I wrote the book when I was in the thick of being Mommy. Since most parenting books were written by those removed from the thick of the experience, I wanted to talk to readers from the trenches – to give my voice a more sincere perspective than something written when temper tantrums, sleepless nights (nay, months) and soiled diapers were mere memories.
At the other end of life's caregiving responsibilities comes a new book from writer Bonnie Atwood, My Journey Through Eldercare: The Search for Peace and Meaning. She started writing the book when she was caring for her mother, who remained at home until her death at 102.
Atwood's essays speak to the hard realities of caregiving, noting the limitations of "expert" guidance. "They're not talking to You," one chapter begins, because every situation is different. She empathizes with the difficulty of caregiving, and yet, she reminds us, "Caring for people is a blessing … It is a gift in a hundred ways." And she gives us hope.
Atwood doesn't offer "tips": "I've heard all the tips in the world," she writes. "What I struggle with are all of the Hows. How to psychologically make it through each day. How to be happy, and how to make my loved ones happy."
Through anecdotes from her own life, she offers wisdom on some of the issues caregivers face: whether to control your loved ones' lives in order to keep them "safe," whether to trust the professionals and when to compromise your standards. She warns us not to be envious of those who are free from the responsibilities of caregiving. She describes how she learned to be whoever her mother needed her to be and of her pain at closing up houses. "One thing at a time," she says.
Atwood points to her own frailties to make us more accepting of our own. And she makes us laugh.
As a professional writer, Atwood has the gift of articulating what many of us can't. As a daughter who acted as caregiver for her mother, she can provide insights to encourage someone who's engaged in a similar situation for a loved one. With the voice of love, she shares the highs and the lows of her journey.
"The truth is that love is beautiful," Atwood says, adding, "It's not always pretty."
---
My Journey Through Eldercare: The Search for Peace and Meaning
By Bonnie Atwood
CreateSpace Independent Publishing, 2018
Available in paperback and Kindle
---
---
As an Amazon Associate, Boomer Magazine earns from qualifying purchases from linked book titles.