Neighborly Assistance with Naborforce
| December 16th, 2019
A new aging-in-place concept
---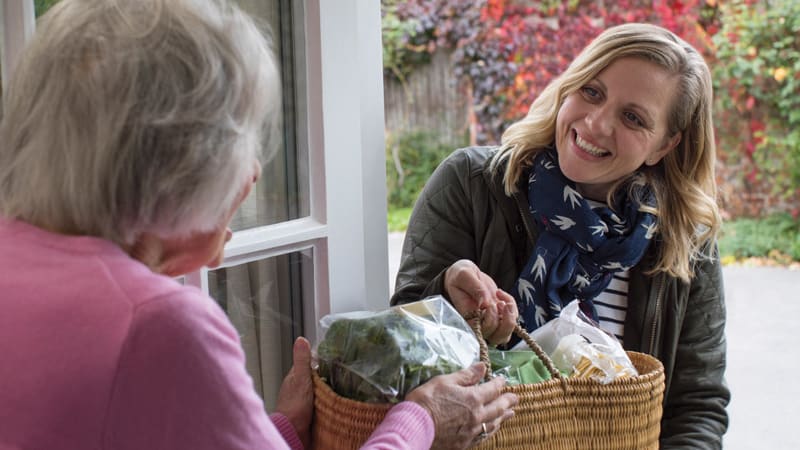 In 2011, I noticed a few changes while visiting my 87-year-old mother in Salem, Virginia. She had some memory loss, but when I realized she was forgetting to take her medications, I knew we needed help. Widowed, and fiercely independent, Mom was determined to stay in her own home – called "aging in place."
I lived in Richmond, worked full time while raising a family and could give only sporadic help. My siblings lived in Salem, but Mom needed more care than they could provide. We hired Care Advantage, a home health agency, which allowed her to stay home 2½ more years before moving in with my brother when her memory worsened. Mom loved her caregivers and received excellent care until her passing in 2015.
A PROBLEM IN NEED OF A SOLUTION
Our biggest hurdle when searching for care was that agencies provided only four- to eight-hour shifts. Mom didn't need that much help initially, and we had to be mindful of her long-term expenses. Paige Wilson, CEO of Naborforce, realized that others shared that concern when she started her company in August 2018. "My goal," said Wilson, "is to help bridge the gap of care and companionship to help clients remain independent, before they need some type of home health agency."
Naborforce provides services such as transportation, running errands and companionship, but not medical or personal care. The business doesn't do eight-hour shifts; instead, it takes the one- to two-hour shifts that agencies don't. Naborforce is also partnering with other agencies, like Care Advantage, to provide a range of care.
WHO ARE NABORS?
Wilson hires "Nabors" to work with clients, drawing from college graduates and obtaining thorough background checks. "Ninety percent of our Nabors are actually boomers, most are in their 50s and 60s," she notes. "Some are getting more out of it than our clients, because they're looking for purpose and connection, too."
---

---
Nabors could be someone looking for part-time work: stay-at-home moms or dads, retirees or anyone with a passion for supporting aging adults.
Dana Marshall moved to Richmond recently when her husband changed jobs. Her experience with her parents' care and deaths drew her to help this population. She enjoys the flexible schedule, working with two to three clients, only four to eight hours weekly.
MEET THE CLIENTS
One client was retired, single, without children, and no longer drove. When she wanted to move to another senior facility and needed to retrieve paperwork and complete an application, Marshall provided transportation and reassurance while helping her fill out the application. For another client, Marshall helped set up and decorate a Christmas tree.
Jim Norwood is a retired CEO of a footwear manufacturing company. He and his wife moved to Richmond to be closer to their children and grandchildren.
Norwood visited one client in a nursing home who was using a wheelchair and didn't communicate much. Her kids were still working and they wanted someone to spend time with her. "She loved it when I read the newspaper, played music or wheeled her to special events in the building," he shared. Another client enjoyed golf, so Norwood took him to hit golf balls and work on his swing, something the client hadn't done in a while. 
HELP! I NEED SOMEBODY!
I asked Wilson if her clients ever felt guilty for hiring outside help, and she acknowledged it's very common. However, adult children who use Naborforce have expressed relief knowing their family member is receiving care.
Recently, Julie Mallory needed help with her 93-year-old mother, Zippi, who stopped driving last year but still lives alone. Mallory is married with two children and works as a first-grade teacher. She was unable to take her mother to a last-minute doctor appointment and hired Naborforce for transportation. It was such a success, Zippi now has standing reservations four days weekly to go to the grocery store or appointments, run errands or get her hair done.
IT'S THE SMALL THINGS
Mallory appreciates the Nabors' friendly and caring ways with her mother. "They've done small things like fill the birdfeeder and help her shop for new pants. Mom likes all her Nabors and loves feeling more independent."
Currently, 10,000 baby boomers turn 65 each day, and this "age wave" is going to cause a shortage of care for aging boomers. Naborforce is one of many organizations serving this population.
---
Mary-Jo Sawyer is a registered dietitian with VCU Health, where she provides outpatient nutrition counseling. A former Richmond-Times Dispatch columnist, she wrote the "Practical Nutrition" column combining timely nutrition information with practical recipes.
---
OTHER LOCAL CARE PROVIDERS
Home care providers range from unskilled (such as companionship, light housekeeping, meal preparation, errands, outings, and personal care for activities of daily living, aka ADL) to skilled (RNs and other medical professionals). Some providers also offer care management (overseeing medical appointments, etc.), Alzheimer's and dementia care, and respite care. Contact the provider to determine if services match your family's needs.
Executive Care of Richmond. SouthRichmond.ExecutiveHomeCare.com
Covenant Home Care. CovenantHome.care
Always Best Care. AlwaysBestCare.com
Assisting Hands Richmond. AssistingHands.com/Richmond
Seniors Helping Seniors. SeniorCareGreaterRichmond.com
Amada Senior Care. AmadaSeniorCare.com/Richmond-Senior-Care
Care Med. CareMedCares.com
Care Advantage. CareAdvantageInc.com
For even more home care resources, visit BOOMER's sister site at SeniorsGuide.com/Home-Care.