Powhatan Residents Help Make 'The Good Lord Bird' Fly
| July 23rd, 2020
Behind the scenes with two snake wranglers and metalsmiths
---
What do two Powhatan County natives – sign technician Landon Graham and pre-veterinarian student Michael Payne – have in common with multiple Academy Award nominee Ethan Hawke?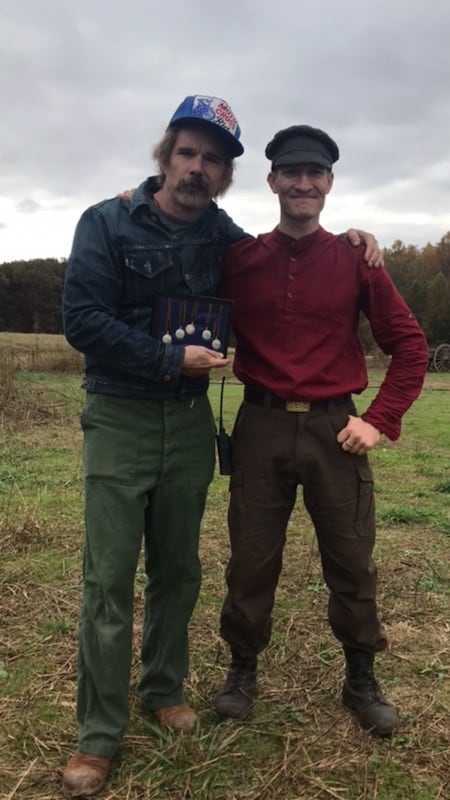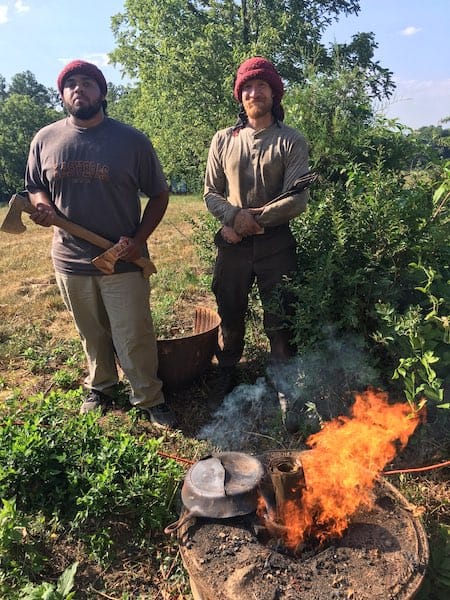 This story begins in 2013, the year in which noted African-American author James McBride's novel, The Good Lord Bird, won the National Book Award for Fiction. This novel, told through the eyes of Onion, a young Black man, chronicles John Brown and his group of Abolitionists as they first fight slavery in Kansas. It culminates with the raid on Harpers Ferry Armory in August 1859. Hawke, who was fascinated with the story, arranged to co-produce a miniseries by the same name (with Hawke as John Brown), which was filmed in Richmond and Powhatan County, Virginia, in 2019. It is scheduled to be released on Showtime in seven episodes beginning Oct. 4, 2020.
Filming of The Good Lord Bird began in August 2019, and Graham and Payne signed on as production "snake wranglers." And what are snake wranglers? Remember the disclosure at the end of a movie, "No animals were harmed in the making of this film"? As supporters of the Richmond Humane Society, boyhood friends Graham and Payne signed on to insure this would be true. If an actor followed by a camera crew has to walk through a field, the wrangler checks the path first for any of our four-legged, eight-legged, or even no-legged friends. Snakes, spiders, even butterflies are safely relocated.
These men had previously done similar work for the award-winning Showtime series Homeland (scenes of which were filmed in Graham's 100-year-old house) and the movie Harriet.
A year or so before all this occurred, the two had decided to hand-forge some metal implements. But not merely in a modern-day "paint by number" manner. Rather they chose to work as closely to antebellum-era methods as possible. A 100-plus-year-old furnace casing became the forge. Crucibles made of graphite – that's right, pencil lead – covered by an old iron fry pan were used in the forge to heat the metal to molten stage at 2,200 degrees Fahrenheit. Coal used for firing was scavenged by trekking along the old railroad track that runs through Graham's 127 acres on the James – land once owned by Thomas Jefferson's father.
During the filming, Landon and Michael became friends with Ethan Hawke, who became enamored of their 19th century forging techniques – so much so that he asked that original design silver commemorative medallions be made for himself and the production cast and crew.
On a very hot day in July 2020, I had the extreme pleasure of watching these fellows at work as they first demonstrated their technique, then created a silver hiking medallion for me. Watching their efforts – even at 95 degrees with an 2,200-degree forge nearby – was like being transported from the beautiful Powhatan countryside back to 19th century America: molds handmade from sifted clay left behind from the Homeland filming; melting an old silver butter knife until it began to glow like the sun; pouring and cooling; and finally soothing off a finished piece that is as close to Americana as you can get.
And – did I mention? – it was HOT! But lots of lemon water and a few beers kept us hydrated!
So, a heartfelt "thank you" to Landon and Michael for allowing me to experience something truly special – and just a bit beyond words.