Pay a Visit to Norfolk This Winter
| January 28th, 2020
Surf, turf, and culture!
---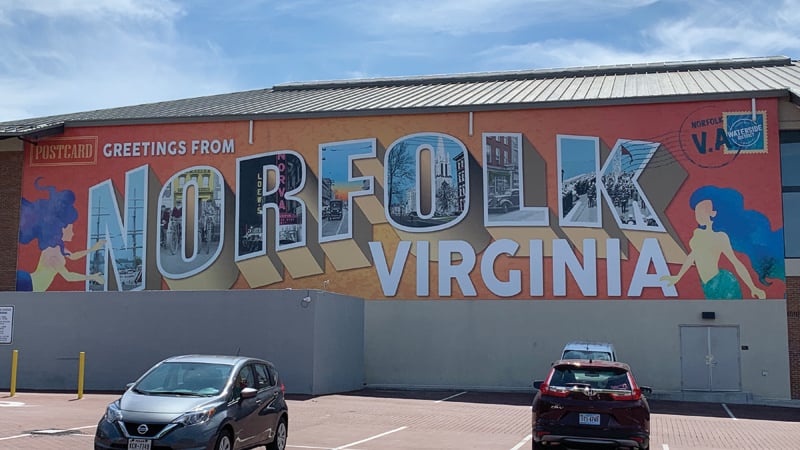 Though I've lived within two hours of Norfolk since my days at University of Richmond, I didn't really know much about it. I knew that it's a Virginia Tidewater town (or "Hampton Roads," if you prefer) and that natives pronounce it "Nah-fok." During a recent visit, I was able to fill in the blanks, discovering a revitalized downtown that is highly walkable and home to numerous sparkling gems, all within a one-mile radius.
DEFINED BY WATER
A few miles from the Atlantic Ocean, Norfolk benefits from both proximity to and shelter from the deep blue sea. The Elizabeth River, James River and Chesapeake Bay define three of the city's borders. The area is the site of the world's largest deep-water harbor, formed 35 million years ago by a mile-wide meteor, and hosts the world's largest naval base.
In addition to commerce and military, Norfolk's water culture provides entertainment and recreation.
The 120,000-square-foot interactive museum at Nauticus shares fascinating insights into the region's nautical history, diving into sea life and natural history and examining the region's seaports and military connections.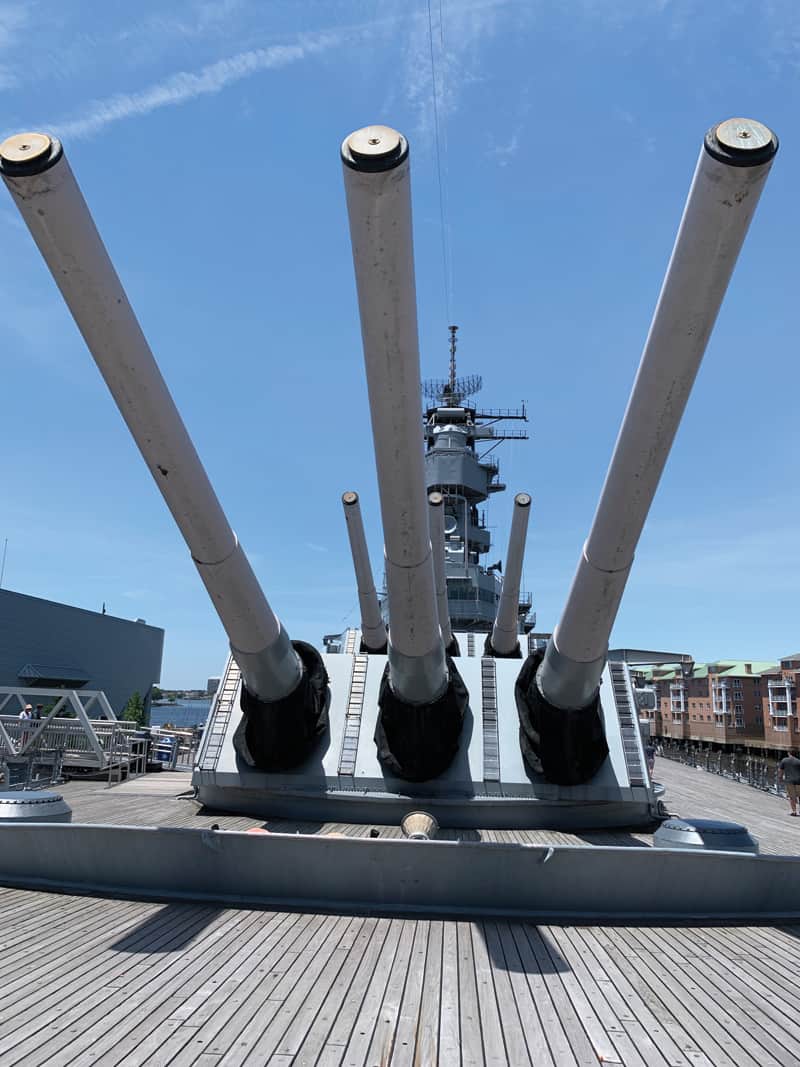 The Battleship Wisconsin at Nauticus offers a rare chance to wander an 887-foot warship. The Wisconsing served in World War II (supporting a crew of 2,800 men), Korea and Desert Storm. Visitors can explore its bowels and decks (with some spaces open for guided tours only). Rooms set as if still in use give visitors an inkling – or a memory – of what ship life must have been like. Peek into quarters for enlisted men and warrant officers, the chapel, dental clinic, store, mess hall and more. The massive guns on deck hint at the ship's power. Nauticus.org
Visitors get a firsthand look at today's U.S. Navy on a tour of Naval Station Norfolk, which supports the U.S. Atlantic Fleet. Led by naval personnel, the 45-minute tour includes aircraft carriers, destroyers and amphibious assault ships. CNIC.Navy.mil
Military history buffs can linger at the MacArthur Memorial, delving into the life of General Douglas MacArthur and significant military engagements, from World War I to the beginning of the Cold War. MacArthurMemorial.org
LAND LEGS AND CULTURE
The muses thrive in this port city and share their inspiration with visitors. I first noted local creativity in the mermaid sculptures that dot the landscape, then in the numerous cultural opportunities.
Imagination bathes the NEON District (New Energy of Norfolk) in the form of public art: numerous large-scale murals and decorated sidewalks, chairs and other creations, from national and local artists. Dine on NEON creativity at La Brioche French bakery; farmer-owned Commune Provisions, with a farm-to-table restaurant and a Virginia-only market; and Bearded Bird Brewery. NEONnfk.com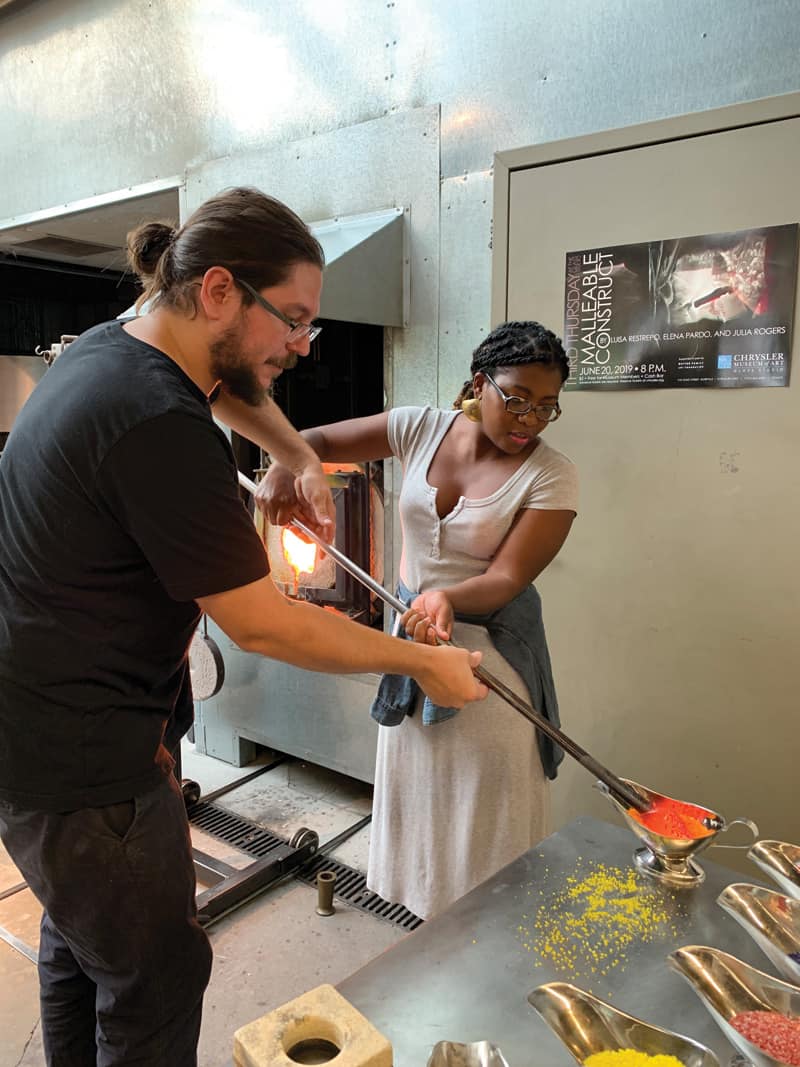 Another local pearl, at the edge of the district, the Chrysler Museum of Art boasts a growing collection of more than 32,000 objects, from ancient to contemporary, including the world's largest glass collection. Wander through the Glass Galleries to learn about glassmaking, see early glasswork from two millennia ago, Tiffany leaded glass and contemporary works. Take in masterpieces from America and from around the world. Look for art from Georgia O'Keefe, Roy Lichtenstein, Jackson Pollock and numerous others. Exhibits reflect Norfolk's diverse population, and fascinating items reflect the museum's commitment to inclusion.
Early 2020 exhibitions include "The Architecture of Slavery," "Waterscape: Picturesque Views of Hampton Roads" and "Maizelle: Celebrate Me Home." Chrysler.org
The Chrysler's Perry Glass Studio not only has fine handcrafted glass pieces for sale, it offers classes for all ages, from simple to complex. You and your personal muse can take home a one-of-a-kind, made-by-you souvenir. Chrysler.org/glass
For consumable art …
… that's both tasty and visually delightful, stop by Hummingbird Macarons & Desserts at the Pagoda (yes, an authentic Asian pagoda, a gift to Norfolk and Virginia honoring Taiwan's trading ties with the region). The real treasures at Hummingbird are the stellar macarons in traditional and creative flavors and other sweet treats, made from quality organic ingredients. Enjoy them in the pagoda tea (and Champagne) room or take a bunch to go. HummingbirdMacarons.com
'SINCE LIFE IS SWEET HERE, WE GOT THE BEAT HERE, NATURALLY'
If you time your visit right, you can catch a show that will rival Sebastian's impromptu "Under the Sea" in The Little Mermaid. Check out these venues in planning your trip.
Historic Attucks Theatre. Opened in 1919 (predating the Apollo), the black-created venue hosted acts such as Duke Ellington, Sarah Vaughn, Dizzie Gillespie and Billie Holiday, with Norfolk's own Gary U.S. Bonds in the audience in his youth. Now renovated, the classic theater continues to host noteworthy performers. SevenVenues.com
Chrysler Hall. Diversity plays a starring role in Chrysler Hall's 140-plus events each year, highlighting local arts organizations (Virginia Symphony Orchestra, Virginia Arts Festival, Broadway in Norfolk and Generic Theater's "off-Broadway" playhouse) and numerous visiting performers and theatrical productions. SevenVenues.com
Harrison Opera House. Besides serving as the Norfolk home of Virginia Opera, Harrison hosts a range of musicians, comedians and other performers. SevenVenues.com
Wells Theatre. Opened in 1913, this Beaux-Arts landmark with a colorful past has been restored to its original beauty and its original purpose of presenting dramatic theatrical events. SevenVenues.com
The NorVa. The intimate concert venue with state-of-the-art technology hosts popular contemporary bands and solo performers. TheNorVa.com
Hugh R. Copeland Center. NEON District home of The Hurrah Players nonprofit. HurrahPlayers.com
For more local performing arts options, scope out the Virginia Arts Festival website, VAFest.org.
Whether you're a Norfolk native or neophyte, this vibrant city can help fill in your wintertime blanks.