Personal Passages: Linda Hollett-Bazouzi
| August 29th, 2017
An artful new life
---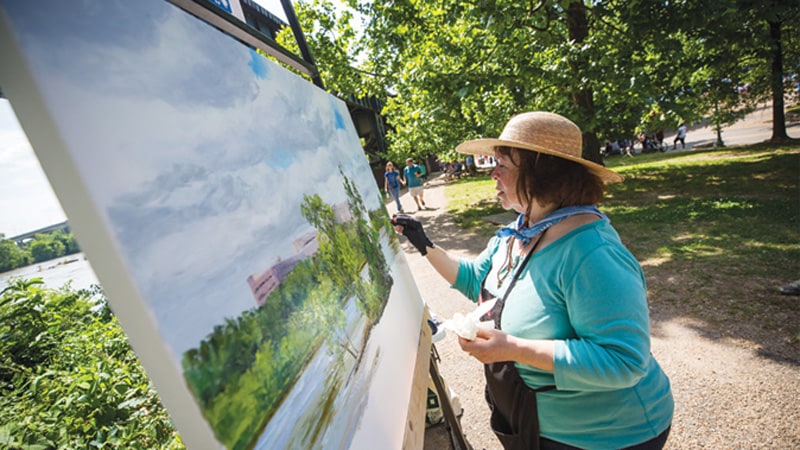 When Linda Hollett-Bazouzi retired in 2008, she'd already prepared for her next career. If you were at Dominion Riverrock this spring, you may have seen her working that career. She and nine other Richmond artists – including Ed Trask, Greig Leach and Mickael Broth – competed in the RVA Plein Air Paint Off.
"She's an amazing artist, a powerhouse of motions," exclaims Kay Goldsby, gallery manager at Crossroads Art Center.
When did you begin this endeavor?
This wasn't a new endeavor, just a different path that I started following before I retired. I was an elementary art teacher for 35 years. Roughly 10 years before I retired, I got back into painting again. I really wasn't thinking of marketing them.
In 2005, I started plein air painting. I wanted to see if I had the discipline to make this a full-time vocation, so I set a [goal]. If I could [meet that goal], I felt I had the self-discipline to make myself do what had to be done.
Do you have any stand-out memories?
A plein air painter is always fighting the elements – I've had battles with bumble bees and wasps, I've had battles with wind and wasps, I've had battles with rain and wasps. That doesn't keep me from going outside, but I learn from all those mistakes.
Would you recommend a second career in art for other boomers?
It's always a good thing to have a plan in mind when you get ready to retire. I've heard people who said, "Oh, I'm going to take up painting after I retire." My response is, "No, you need to start doing it now so that by the time you retire the transition is seamless." It's one thing to be painting for fun, as a hobby or to keep busy – another to think of it as a business. That requires an entirely different mindset, because the business end is not always pleasant.