Personal Passages: Tom and Connie Cooper
| August 29th, 2017
Their new lives are brewing
---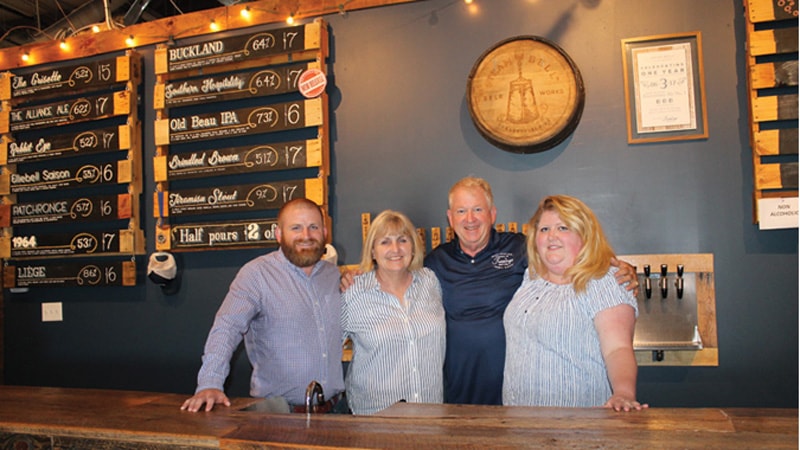 Tom and Connie Cooper's new endeavor isn't so much theirs as their son's. Though Tom had retired from his career in sales, Connie was still employed as a project manager. "We'd go to our cabin every few weeks, just kind of did our thing," Connie recalls. The day their son, Brad, was laid off, the three of them got together over a beer at Midnight Brewery in Goochland.
They knew that Brad had talked of opening his own brewery. "If you really want to do it, now's the time. You're as free as you're going to be," Tom told his son. "We'll support you 100 percent."
And they have. Steam Bell Beer Works in Chesterfield celebrated its first anniversary this June. Evidence of family seeps through the business, in the name and logo, in the tasting room build-out and furniture that Tom worked on. You'll often spot Tom and Connie working the bar or the crowd. Behind the scenes, Connie manages finances. Their daughter, Brittany, has moved back to the area to contribute her marketing and PR skills. And you'll taste Brad's experience and creativity in the beers.
Tom and Connie may not be basking in a sedate retirement, but they're enjoying the new endeavor. "Just seeing people come in and have a good time, enjoy something with their family and friends," Connie says. "To me, that's really the point of it all."
Tom adds that he appreciates "watching people meet new friends across the table, as we've met hundreds of people and made new friends ourselves."
Their gratification isn't purely altruistic, though. "Not only are we boomers who have reinvented ourselves," Tom says, "we are in a true family business … It's all four of us here – plus the dogs."
"I've enjoyed getting to know Brittany and Brad as adults," Connie adds. "They've enjoyed getting to know us as business partners and friends."
The Coopers aren't gearing up for a slowdown, either. They recently announced a second brewery, Canon & Draw, in Richmond's Fan, and Trussing Craft Fizz, a soda-making business.