After a Mastectomy
| March 22nd, 2018
From nearly natural to an entirely new look, it's a very personal choice
---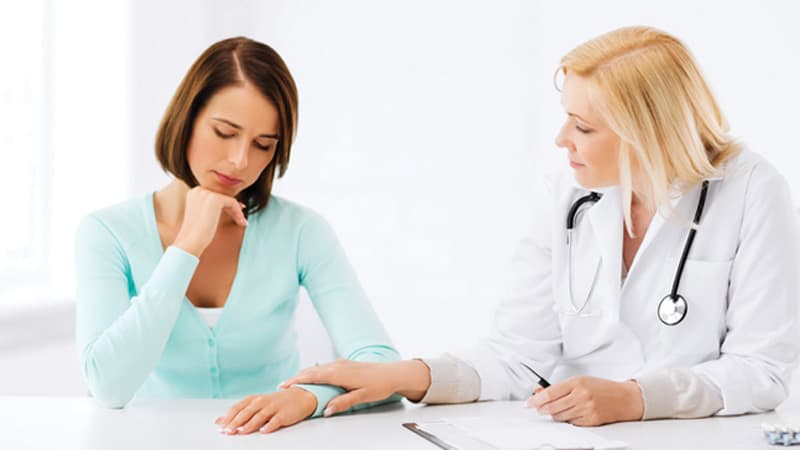 Carrie Persing was in her mid-40s when she chose to have breast reconstruction after a double mastectomy in 2014. "I wanted to look as natural as possible," says Persing, now 47.
Deciding what type of reconstruction would be the best for her was a difficult decision, says the Chesterfield County resident. "I listened to the options, talked to my husband and researched breast reconstruction."
Most breast reconstruction involves either reconstruction with implants or reconstruction using a patient's own tissue. However, these approaches can be combined as a backup option in cases where there are complications from tissue-based or implant-based reconstruction.
Dr. Santosh Kale, a plastic surgeon in the Division of Plastic and Reconstructive Surgery at VCU Medical Center and VCU Massey Cancer Center, spends more than an hour talking to his breast reconstruction patients about the available choices and the pros and cons of each at their first consultation.
"There are a lot of moving parts. Some patients need chemotherapy or radiation, and we don't know if they do until the tissue is biopsied. We don't know with 100 percent certainty until after the mastectomy," he says. "We talk about how chemotherapy or radiation therapy may come into play and affect treatment. We explain all the options based on what they may or may not need."
Kale talks to patients about their lifestyle, what's important to them and who they are as a person. "I want them to tell me the things they like and don't like," he says. "I will tell them specific things about their anatomy. We will talk about that honestly and together come up with a plan. We have this discussion over many visits."
Patients can choose to have a nipple-sparing mastectomy, which offers improved aesthetics, or a skin-sparing mastectomy. "Some women wish to keep the nipple. With nipple sparing, the patient has to be comfortable knowing a little bit of breast tissue stays with nipple," Kale says. "In a skin-sparing mastectomy, the nipple and the areola are removed at the time of the mastectomy and the remaining breast skin is left behind. This skin is incorporated in the reconstruction."
Persing chose tissue reconstruction over implants. "I wanted to use my tissue rather than putting something foreign in my body," she explains.
THE PROS AND CONS
Tissue reconstruction has its cons as well. The surgery is much longer than implant surgery – it can be anywhere from six to 12 hours in length as opposed to implant reconstruction, which takes from three to six hours. The recovery for a tissue reconstruction is longer as well, about four to six weeks. Because the surgery is more complex, any complications could be "more significant," Kale says.
Persing was concerned about the length of the operation and the possibility of complications, but using her own tissue outweighed those concerns, she says.
Women who have implant reconstruction will have to have another surgery when the implant needs to be replaced – about 10 years later. "Generally, women who choose tissue reconstruction don't like the idea of implants or multiple surgeries down the road," Kale says.
Persing's surgery lasted 14 hours. She ended up having three more surgeries for aesthetic reasons over the course of 18 months. "I was pleased with the results, but I didn't realize I would have to have more surgeries," she says. "However, I don't regret my decision at all."
When she looks in the mirror she doesn't see the "old me," she says. "I had to wrap my brain around the new me."
PICTURE THIS
Stacy Wilson went the opposite route from Persing after her double mastectomy in 2016. She decided to have implant reconstruction and chose not to have a nipple- sparing surgery. Instead, the 52-year-old Henrico resident opted for 3-D nipple tattoos from tattoo artist Amy Black.
"My plastic surgeon talked to me about nipple surgery, but I didn't want to go through another surgery," she says.
That's when she decided to go to Black. "Amy gives you back a wholeness," she says. "It takes the focus off of being a breast cancer survivor. When I glance in the mirror, I can't see that anything was done. My nipples look better than what I was born with. I am so glad I went ahead and did it."
Black, a 17-year veteran of the tattoo industry, started working with breast cancer survivors in 2010. "The tattoos help them complete the journey they have been through," she says. "They want to reclaim themselves after cancer, feel human again. They don't want scars. They want something that makes them feel pretty again."
Black has done thousands of nipple tattoos since 2010 for women around the state. She's also done tattoos for women from Australia, Thailand and across the U.S.
Some of her patients that don't care about nipples opt for roses, butterflies or different patterns. "As a woman, it's wonderful to help other women feel good about themselves," she says. "I have said this is much bigger than me."
Emmie Butterworth wanted something to hide all of her scars after her double mastectomy and reconstruction in 2016. Instead of getting 3-D nipple tattoos, the 54-year-old asked Black to create a pattern of a flower over flowing water. "Water means a new beginning," she says. "The tattoo is bigger than my nipple. It covers the whole breast. My left breast is purple with a different-shaped water lily and my right breast is pink."
When she looks in the mirror now, she forgets "about the scars because I don't see them visually," she says. "There's not a daily reminder of the cancer."
A NATURAL OPTION
Surgical oncologist Dr. Kandace McGuire, chief of breast surgery at VCU Massey Cancer Center, finds that many women, especially those 60 and over, like the option of not getting reconstruction and, optionally, using a prosthetic. "A lot of women don't see their breasts as something that defines them as a person or woman," she says. "Older women are less likely to choose reconstruction."
Some women are not good candidates for immediate reconstruction – those who need radiation, for example. "In that case we will elect to delay reconstruction," McGuire says, noting that women in that instance might opt out of reconstruction entirely.
Forty-five-year-old Jessica Wise of Chesterfield chose not to have reconstruction after her mastectomy last year because she didn't want to experience any extra pain or suffering. "The question to me was, do I want breasts, yes or no. I came to the conclusion that I didn't want them," she says. "I talked to my husband, and his response was, 'I love you and think you are beautiful whether you have breasts or not.'"
She realized her self-worth had nothing to do with her breasts. They didn't define her as a person. "I blocked out the pressure I was getting from other sources and went with what I know," she says. "I have peace and I am very happy."
She wants women to know they do have a choice after breast cancer, and regardless of that choice, "You can be happy and the world accepts you," she says. "You don't feel any less beautiful or feminine."
---
Award-winning writer Joan Tupponce writes about a variety of subjects – from business to celebrity profiles – for publications that include O, The Oprah Magazine, AmericanWay, U.S. Airways magazine and AAA World.