Prep Your Kitchen for Holiday Cooking
December 19th, 2019
Weekly wellness tips for your weekly wellness
---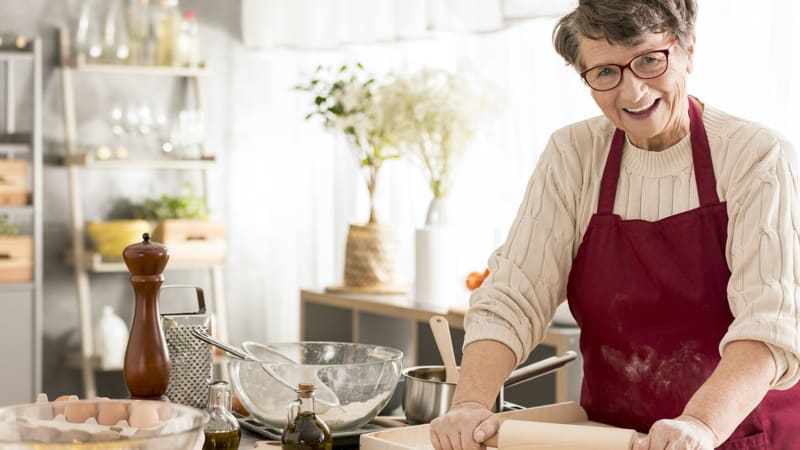 You wouldn't think of running a marathon without training beforehand, right? Well, the same principle applies to prepping your workspace for all the extra cooking and baking you're about to start doing. Think of your kitchen as mission control – the better the setup, the more efficient and happy you'll be.
1. Keep Counters Uncluttered
Stash whatever you can in drawers, on shelves, in the pantry or even in the basement or garage temporarily. Really, the only appliances that should be out are the ones you use every single day (or that you plan on using for prepping the holiday meal).
Create a designated drop zone that's not in the kitchen for stuff known to create clutter, like mail.
2. Fine-tune the Fridge
Pre-holiday is the ideal time for a refrigerator reboot. Take everything out, toss anything that really should go and then start fresh.
Wipe down condiments and any bottles or jars with drips.
Create zones that make sense so things are easy to find – not just for you but for houseguests too. Group like items together. Use clear bins to corral smaller or loose items so they don't get lost in the shuffle.
Get in the habit of packing leftovers into portions that can easily be reheated. Stackable, flat containers take up less space and help ensure that leftovers don't end up wasting away in the fridge.
Use dry-erase tape and a marker to clearly label food, such as ingredients specifically intended for holiday prep (hands off!) or leftovers, so everyone knows what's what.
3. Clear Those Cabinets and Drawers
You don't need 10 of the same size pan or dozens of mugs. Keep only your favorites and donate the rest if they're in good enough shape.
Make use of the backs of cabinet doors by installing simple racks.
Toss random beat-up plastic tubs in favor of bowls with lids that snap on the bottom when not in use.
Purge! This is the perfect time to get rid of duplicates. You know you have extra spatulas lurking.
4. Test-run Appliances
Give not-often-used appliances a whirl before the big day. It would be not be fun to pile a bunch of ingredients into your food processor on Thanksgiving morning only to discover it doesn't work.
5. Stock Your Pantry
Start by going shelf by shelf and taking everything out. Toss anything that's expired or stale (keep a list of tossed goods that need to be replaced before the holidays).
Put things back according to how you use them. "I group by type to speed up food prep," says Kimberly Kimbriel, kitchen buyer at The Container Store. She divides categories by cuisine, like Italian, Chinese, Mexican, whatever. "I even have an entertaining section with all the pantry ingredients for a quick appetizer platter."
Figure out your bulk storage needs. Go for options that hermetically seal to keep ingredients fresh. See-through is best so you can easily tell when you're running low. You might want to invest in tiered shelf organizers or turntables so you can see items that are way in the back.
Check quantities of these staples and restock if necessary: Flour, gluten-free flour, sugar (white, light and dark brown), cocoa powder, molasses, vanilla extract, neutral oil (for high heat), cheaper olive oil (for cooking), nice olive oil (for a final drizzle).
---