Recipe: Corned Beef and Cabbage Hash
March 10th, 2021
The most delicious way to honor St. Patrick!
---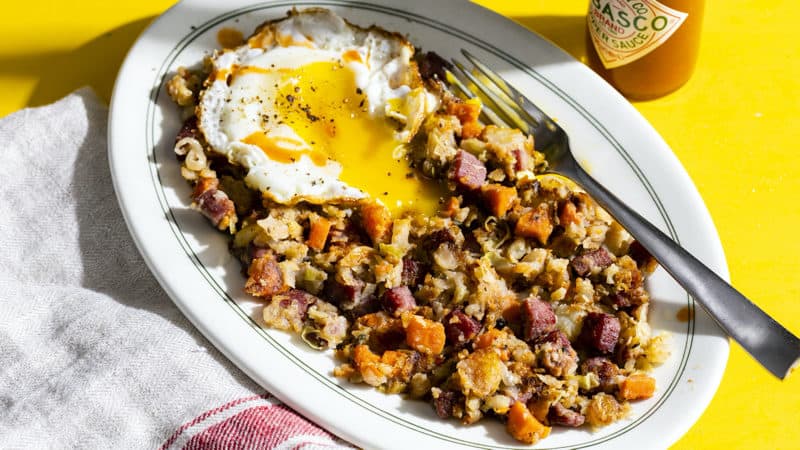 We wanted a recipe for this corned beef and cabbage hash diner staple that was easy to make in every home kitchen. In a large bowl we tossed together 1/2-inch cubes of cooked corned beef from the deli counter, unpeeled russet potatoes and carrots, which offered pretty pops of color. We also added shredded cabbage and sliced onion and combined the entire mixture with garlic, thyme, a few spices and vegetable oil.
We transferred the contents of the bowl to a nonstick skillet and cooked them, covered, until the potatoes were tender. We then removed the skillet from the heat and mashed the ingredients into a solid mass with a potato masher.
After adding little nubs of butter all around the sides, we returned the skillet to the heat to brown the hash. Flipping the hash in sections with a spatula gave us control over how much browning was achieved and allowed browning on both sides. The finished hash was bound by creamy potatoes and woven in a web of cabbage, with salty, tender corned beef and subtly sweet carrots in every bite.
Corned Beef and Cabbage Hash
Serves 4 to 6
1 pound russet potatoes, unpeeled, cut into 1/2-inch dice
12 ounces cooked corned beef brisket, cut into 1/2-inch dice
3 cups shredded green cabbage
1 cup thinly sliced onion
2 carrots, peeled and cut into 1/2-inch dice (1/2 cup)
2 tablespoons vegetable oil
2 garlic cloves, sliced thin
2 teaspoons coarsely chopped fresh thyme
2 teaspoons pepper
1 1/2 teaspoons dry mustard
1 teaspoon table salt
1/2 teaspoon ground allspice
4 tablespoons unsalted butter, cut into 16 pieces
1. Toss potatoes, beef, cabbage, onion, carrots, oil, garlic, thyme, pepper, mustard, salt and allspice together in a large bowl. Transfer mixture to a 12-inch nonstick skillet and set over medium heat (skillet will be very full, but contents will cook down). Cover and cook until potatoes are tender, 15 to 20 minutes, stirring occasionally.
2. Remove skillet from heat and, using a potato masher, mash ingredients into a coarse, cohesive mass. Spread corned beef mixture into an even layer and place butter pieces along the sides of the skillet all around the hash. Return to medium heat and cook, uncovered and undisturbed, until well browned on the bottom, 5 to 7 minutes.
3. Flip spatula-size portions of hash and lightly repack in the skillet. Cook until browned on the second side, about 2 minutes. Flip again and brown the bottom once more, about 2 minutes. Serve.
Recipe notes: Corned beef is sold both raw and fully cooked. Purchase fully cooked corned beef from the deli counter – ask the butcher to slice it 1/2-inch thick. You can also use cooked corned beef left over from a boiled dinner. About one-quarter of a head of green cabbage will yield 3 cups. Serve with hot sauce and a fried egg, if desired.
---
Find more BOOMER recipes here!
---
For 25 years, confident cooks in the know have relied on America's Test Kitchen for rigorously tested recipes developed by professional test cooks and vetted by 60,000 at-home recipe testers. See more online at www.americastestkitchen.com/TCA.
(C)2021 America's Test Kitchen. Distributed by Tribune Content Agency, LLC.