Recipe: Potato and Chorizo Quiche
April 2nd, 2018
---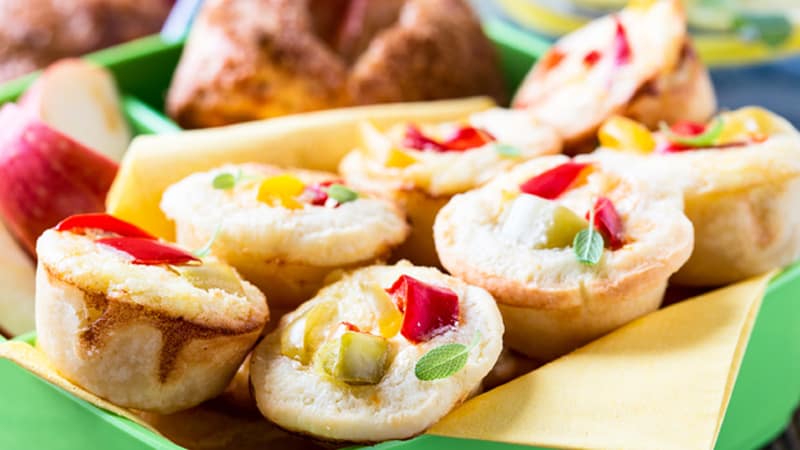 Mmmm, did someone say brunch? These tiny quiches did. They're the perfect side dish, entree, or featured event to any brunch event and – oh boy – are they easy to make.
And if you find that they're a fan favorite, these savory bites don't have to limit themselves to mid-morning weekend meals. Use them as cocktail hour finger foods, dinner party accompaniments, and of course: brinner.
Prep time: 20 min | Cook time: 35 min
---
Preheat oven to 350 degrees F (175 degrees C). Lightly coat 24 mini-muffin cups with cooking spray.
Heat olive oil in a skillet over medium-low heat. Cook and stir chorizo in the hot oil until golden brown, about 4 minutes.
Stir diced potato into chorizo; increase heat to medium and cook potatoes until tender, about 10 minutes. Season with salt and black pepper. Transfer to a plate lined with paper towels to drain.
Sprinkle 1 to 2 teaspoons of grated cheese in the bottom of each muffin cup. Top with 1 to 2 tablespoons chorizo mixture.
Beat eggs, cayenne pepper, and 1/2 teaspoon salt in a large bowl until combined. Pour egg mixture evenly into muffin cups. Lightly tap the pans to remove any air bubbles. Transfer to a baking sheet and top with any remaining cheese.
Bake in the preheated oven until eggs golden brown and just set, about 17 minutes.
Hey, before you start … here's a video for reference.
---
Recipe from AllRecipes.com.