Recipe: Strawberry-Rhubarb Crisp
May 19th, 2021
Brought to you by America's Test Kitchen
---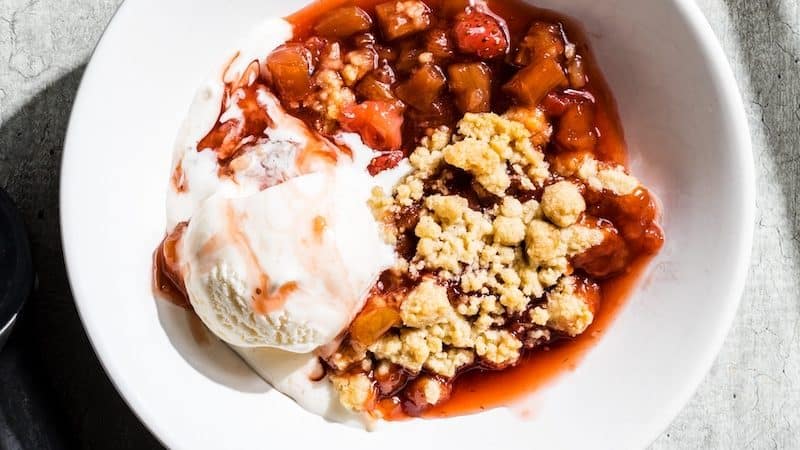 Around this time every year, when fresh rhubarb's season is coming to an end, we start to anticipate going months without one half of our favorite fruit-dessert filling. But with this strawberry-rhubarb crisp, which works with both fresh and frozen rhubarb, we can get that bright, tart, floral combination any time of the year. Even better, the recipe is literally easier than pie.
Making a crisp takes little more than stirring together a topping in a bowl, tossing cut-up fruit with some sugar, and throwing it all in the oven. But baker beware! Follow the wrong recipe (or worse, no recipe at all) and you might end up with a strawberry-rhubarb soup and a soggy topping — decidedly not crisp.
That's the real lesson of this carefully tested recipe: Different batches of strawberries and rhubarb will exude varying amounts of moisture when combined with sugar and baked. So how do you create a recipe that will result in the perfect (slightly jammy but never stodgy) texture every time?
The simplest answer is to cook the filling briefly on the stovetop, over moderately high heat, to coax out the excess liquid, reduce it, and thicken it to the consistency you're after. Then you can top the fruit and quickly brown the crisp in the oven. Applying this simple technique also ensures that your topping remains crisp.
And we found that the crispiest topping came from the inclusion of an unexpected ingredient: panko breadcrumbs. There was a fair amount of debate on whether we were developing a recipe for a crisp or a crumble (and debate on the difference between the two). This topping ended all confusion on the matter. A crisp topping should be crispy, and panko is an excellent way to give the topping a lasting, light, airy crispness. Try it and see.
Strawberry-Rhubarb Crisp
Serves 6
For the topping:
3/4 cup (3 3/4 ounces) all-purpose flour
1/2 cup panko breadcrumbs
1/4 cup packed (1 3/4 ounces) light brown sugar
1/2 teaspoon table salt
1/4 teaspoon ground cinnamon
6 tablespoons unsalted butter, melted
For the filling:
1 pound fresh rhubarb, trimmed and cut into 1/2-inch pieces, or frozen rhubarb, thawed and cut into 1/2-inch pieces (3 1/2 cups)
12 ounces fresh strawberries, hulled and chopped coarse, or frozen strawberries, thawed and chopped coarse (2 cups)
1 1/4 cups packed (8 3/4 ounces) light brown sugar
2 tablespoons cornstarch
1/8 teaspoon table salt
1. For the topping: Whisk flour, panko, sugar, salt and cinnamon together in bowl. Add melted butter and stir until no dry spots of flour remain and mixture forms clumps. Refrigerate until ready to use.
2. For the filling: Adjust oven rack to middle position and heat oven to 375 F. Toss all ingredients in large bowl until thoroughly combined. Transfer to a 10-inch oven-safe skillet. Cook over medium-high heat, stirring frequently, until the fruit has released enough liquid to be mostly submerged, the rhubarb is just beginning to break down and the juices have thickened, about 8 minutes. Remove skillet from heat.
3. Squeeze the topping into large clumps with your hands. Crumble the topping into pea-size pieces and sprinkle evenly over the filling. Bake until the topping is browned and the filling is bubbling around the sides of the skillet, about 20 minutes. Let cool for 15 minutes. Serve.
Recipe notes: If using frozen strawberries, there's no need to thaw them completely; you can chop them as soon as they're soft enough. If using frozen strawberries and frozen rhubarb, you may need to increase the stovetop cooking time by up to 4 minutes. Depending on the amount of trimming required, you may need to buy more than 1 pound of rhubarb to ensure that you end up with 3 1/2 cups. Serve with vanilla ice cream.
---
For 25 years, confident cooks in the know have relied on America's Test Kitchen for rigorously tested recipes developed by professional test cooks and vetted by 60,000 at-home recipe testers. See more online at www.americastestkitchen.com/TCA.
(C) 2020 AMERICA'S TEST KITCHEN. DISTRIBUTED BY TRIBUNE CONTENT AGENCY, LLC.