Recipe: Summer Berry Salad with Maple Walnuts
May 3rd, 2018
---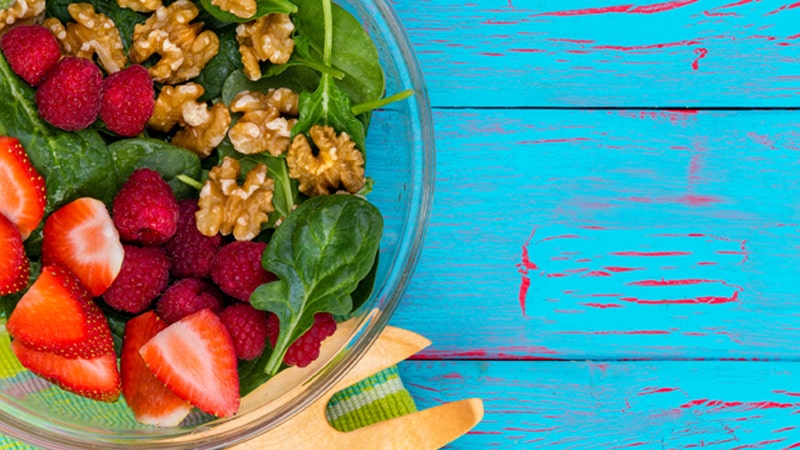 The weather is warming up, the shoulders are coming out, and the salads are being craved. Just in time, too, for ripe produce and colorful fruits and veggies.
We managed to snag this summer salad recipe from Brittany Mullins of EatingBirdFood.com. We've found it to contain the perfect blend of health, flavor, and patriotism.
Prep time: 15 mins | Serves 8
10 oz baby greens (I used OrganicGirl Supergreens!)
1 cup fresh blueberries
1 cup fresh strawberries, quartered
1/2 cup crumbled blue cheese, feta or goat cheese
1/3 cup raw walnuts
1-2 teaspoons maple syrup
1/4 teaspoon cinnamon
generous shake of sea salt
Dijon Dressing
1/4 cup olive oil
2 Tablespoons white balsamic vinegar
1 Tablespoon dijon mustard
2 teaspoons coconut sugar or brown sugar or maple syrup
sea salt and ground pepper, to taste
---
Preheat oven to 350°. Add walnuts to a baking sheet and toss with maple syrup, cinnamon and sea salt. Spread in a single layer and roast for 7-9 minutes. Remove from oven and allow walnuts to cool.
While walnuts are roasting, make the dressing by whisking together vinegar, mustard, sugar, olive oil, salt and pepper. Taste and add more salt and pepper if needed.
Add greens to a large bowl and top with berries, cheese and maple walnuts.
Add dressing and toss just before serving to leave dressing on the side and allow everyone to dress their own salad.
See the full recipe, with much more interesting commentary and hunger-inducing photos here!