Recipe: Summer Tomato and Peach Salad
| July 28th, 2021
The perfect picnic side dish
---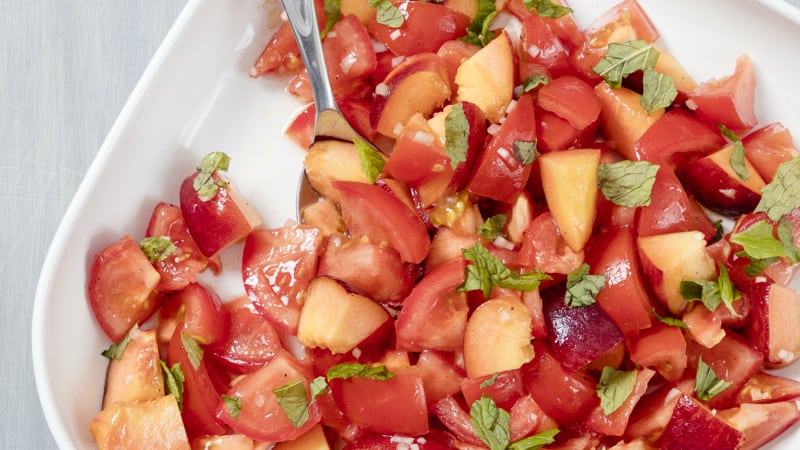 This summer tomato and peach salad recipe is designed for peak-of the season, perfectly ripe tomatoes and peaches from your garden or a local farm. It's perfect for heirloom fruits – a term used to describe varieties that can't withstand the rigors of long-distance shipping and are therefore locally grown and readily found at farmers markets. If you like, serve this salad with crusty bread to sop up the dressing.
Summer Tomato and Peach Salad
Serves 4 to 6
3 ripe tomatoes
1/2 teaspoon plus 1/4 teaspoon salt, divided
2 small ripe peaches
3 tablespoons extra-virgin olive oil
1 tablespoon minced shallot
1 tablespoon lemon juice
1/8 teaspoon pepper
1/4 cup fresh mint leaves
1. Using a small serrated knife, cut each tomato in half from top to bottom (through the stem). Use the tip of the knife to cut out the core from each half. Cut tomatoes into wedges that are roughly 1/2-inch thick, then cut each wedge in half crosswise.
2. In a colander, combine tomatoes and 1/2 teaspoon salt and gently toss to combine. Let tomatoes drain for 15 minutes.
3. While tomatoes drain, cut each peach away from the pit, then discard the pit. Slice peaches into 1/2-inch-thick wedges following the same method used for the tomatoes. Cut each wedge in half crosswise.
4. In a medium bowl, whisk together the oil, shallot, lemon juice, 1/4 teaspoon salt and the pepper. Add drained tomatoes and peaches to the bowl with the dressing and use a rubber spatula to gently stir to combine.
5. Tear mint leaves into pieces. Sprinkle mint over salad. Serve.
---
Check out more BOOMER recipes here!
---
For 25 years, home cooks have relied on America's Test Kitchen for rigorously tested recipes developed by professional test cooks and vetted by 60,000 at-home recipe testers. The family of brands — which includes Cook's Illustrated, Cook's Country, and America's Test Kitchen Kids — offers reliable recipes for cooks of all ages and skill levels. See more online at www.americastestkitchen.com/TCA.
(C)2021 America's Test Kitchen. Distributed by Tribune Content Agency, LLC.