Recipe: Sweet & Flaky Blueberry Cobbler
| August 4th, 2021
This fruity dessert is sure to turn you into a cobbler gobbler
---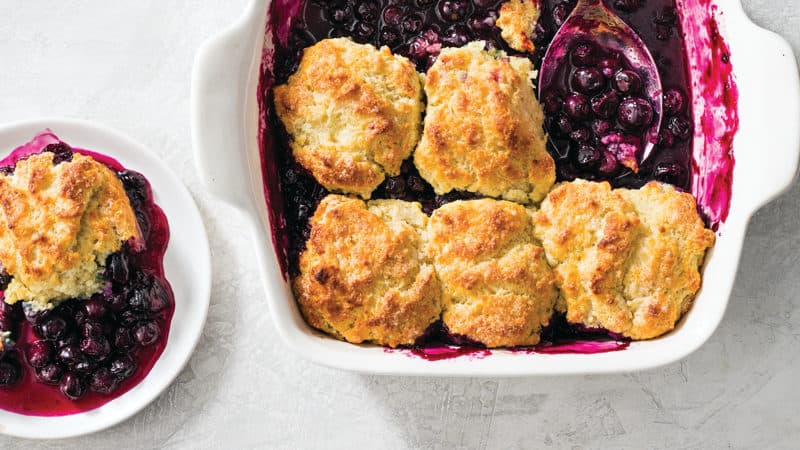 The secret to our blueberry cobbler is that we bake the berry filling before topping the cobbler with the biscuit dough. Then we bake it again to get our fluffy, flaky biscuits. This works so well because if the berry filling is hot when the biscuit dough is put on top, it helps cook the biscuits from the bottom while the heat from the oven cooks the top.
Blueberry Cobbler
Serves 8
For the filling:
1 tablespoon cornstarch
1 1/2 teaspoons grated lemon zest plus 1 tablespoon juice, divided
Pinch salt
3/4 cup sugar
6 cups blueberries
For the biscuit topping:
1 1/2 cups all-purpose flour
1 1/2 teaspoons baking powder
1/2 teaspoon baking soda
1/2 teaspoon salt
1 tablespoon sugar
3/4 cup buttermilk
6 tablespoons unsalted butter, melted
For the filling:
1. Adjust oven rack to the middle position and heat oven to 375 degrees. Line a rimmed baking sheet with parchment paper.
2. In a large bowl, stir together cornstarch, lemon zest, pinch of salt and 3/4 cup sugar. Add blueberries and lemon juice and gently toss to coat. Transfer mixture to an 8 inch square baking dish. Place baking dish on parchment-lined baking sheet. Place baking sheet in oven. Bake until the filling is hot and starting to bubble around the edges, about 25 minutes.
For the biscuit topping:
1. While the filling bakes, in a second large bowl, whisk together flour, baking powder, baking soda, 1/2 teaspoon salt and 1 tablespoon sugar. In a liquid measuring cup, use a fork to stir buttermilk and melted butter until butter forms small clumps.
To finish the cobbler:
1. When the filling is ready, remove the baking sheet from the oven and place it on a cooling rack. Increase oven temperature to 475 degrees and let the filling cool for 10 minutes.
2. Add buttermilk mixture to bowl with flour mixture. Stir until just combined.
3. Spray inside of a 1/4-cup dry measuring cup with vegetable oil spray. Use greased measuring cup to scoop batter: Drop scoops of dough evenly onto warm berry filling to make 9 biscuits. Return baking dish (still on baking sheet) to the oven. Bake until biscuits are golden brown, and a toothpick inserted in the center of a biscuit comes out clean, 12 to 14 minutes.
4. Place baking sheet on a cooling rack. Let the cobbler cool for at least 30 minutes before serving.
---
Check out more BOOMER recipes here!
---
For 25 years, home cooks have relied on America's Test Kitchen for rigorously tested recipes developed by professional test cooks and vetted by 60,000 at-home recipe testers. The family of brands – which includes Cook's Illustrated, Cook's Country, and America's Test Kitchen Kids – offers reliable recipes for cooks of all ages and skill levels. See more online at www.americastestkitchen.com/TCA.
(C)2021 America's Test Kitchen. Distributed by Tribune Content Agency, LLC.