Recipe: Whole Roasted Cauliflower with Lemon Vinaigrette 
January 28th, 2019
Tasty while beautiful
---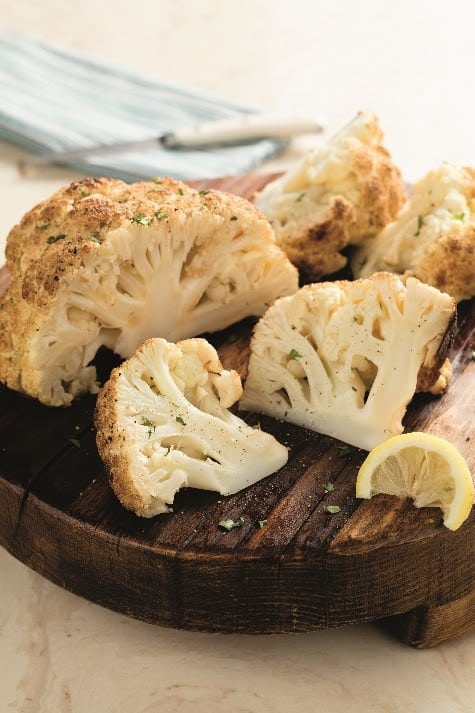 This dish is worth the cook time. It tastes as beautiful as it looks!
Prep time: 5 minutes
Cook time: 1 hour
Servings: 8
Serving size: 1/2 cup
Cauliflower
2 tablespoons olive oil
1/2 teaspoon salt
2 1/2 pounds whole cauliflower
Vinaigrette
Juice of 1/2 lemon
2 tablespoons olive oil
1/2 teaspoon dried parsley
1/8 teaspoon ground black pepper
Preheat oven to 425°F.
In a small bowl, mix together olive oil and salt.
Place cauliflower, cut side down, in a large baking dish. Pour olive oil evenly over cauliflower and use your hands to rub the oil and salt mixture into the cauliflower.
Place on the middle oven rack and roast 60 minutes (if cauliflower starts getting too
dark, then cover with aluminum foil).
While cauliflower is roasting, whisk together all the vinaigrette ingredients in a small bowl.
When cauliflower is finished roasting, pour vinaigrette evenly over entire head.
To serve, cut whole cauliflower in half, then cut each half into 4 pieces.
Choices/Exchanges
1 Nonstarchy Vegetable, 1 ½ Fat
Nutrition Facts
Calories 80
Calories from fat 60
Total fat 7.0 g
Saturated fat 1.0 g
Trans fat 0.0 g
Cholesterol 0 mg
Sodium 170 mg
Potassium 260 mg
Total carbohydrate 4 g
Dietary fiber 2 g
Sugars 2 g
Protein 2 g
Phosphorus 40 mg
---
The Diabetes Cookbook: 300 Recipes for Healthy Living Powered by the Diabetes Food Hub (American Diabetes Association, November 2018, ISBN: 978-1-580-40680-2, $24.95) is available at bookstores nationwide and from major online bookseller