What Would Reconciliation and Civility Look Like?
| March 27th, 2019
Panel looks at 400 years of race relations and hopes for the future
---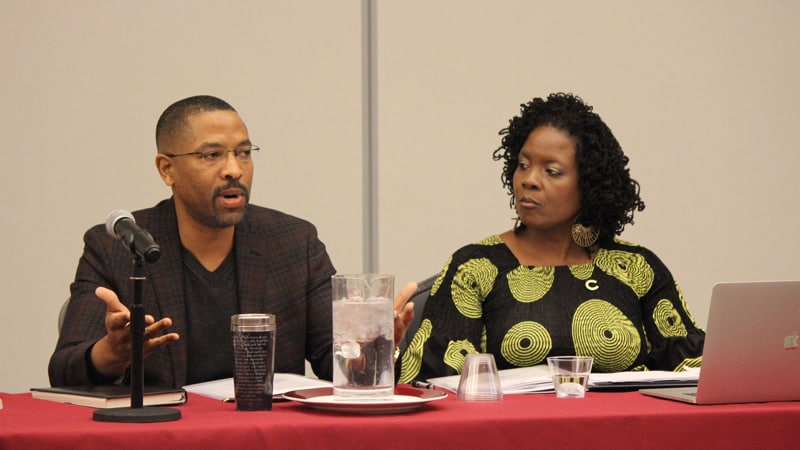 While a speech can be like a strand of pearls, a panel discussion is more like a charm bracelet: the charms may be disparate, but they share in common a significance for the wearer.
Such were the gems of wisdom from six panelists at the American Evolution panel on March 21, as they answered the question, "What would reconciliation and civility look like?" Each of the panelists shared a hope for racial respect and equality; each emphasized the importance of accuracy in the telling of history or individual stories; but each came at the question from a different angle and background.
The panel was part of "Faith Journeys in the Black Experience," March 20-21 at Virginia Union University in Richmond. The two-day event is part of "American Evolution: Virginia to America, 1619-2019," a yearlong, statewide commemoration of the 400th anniversary of significant events in Virginia in 1619, including the arrival of the first African slaves, the arrival of the first English women, and the first representative legislative assembly in the New World.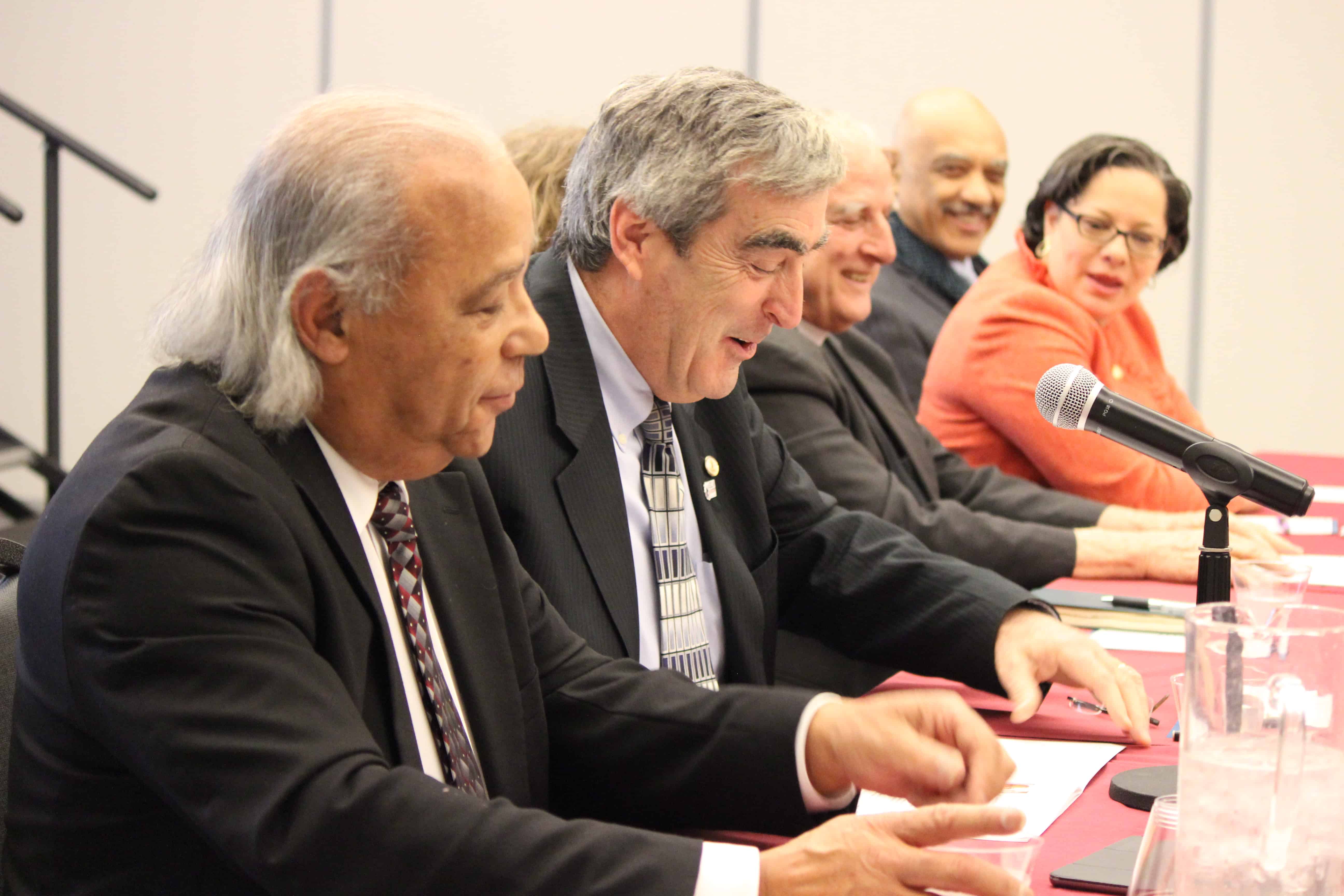 Panelists for the March 21 discussion on reconciliation and civility were Chief Stephen Adkins Sr. of the Chickahominy Indian Tribe; Fort Monroe Authority Executive Director Glenn Oder; Secretary of the Commonwealth of Virginia Kelly Thomasson; Rev. Ben Campbell, Episcopal priest, author and social advocate; Virginia Senator Jennifer McClellan; and William & Mary adjunct professor of government, Dr. Lenneal Henderson.
Gems of wisdom and insight included:
The way to achieve reconciliation and civility among diverse groups in Virginia, said Chief Adkins, is to "teach Virginia history – the unvarnished, unbiased, unabridged truth." He described historic tales and personalities whose truth has been distorted in the telling. He spoke of broken treaties and forced relocations, of Virginia's racial integrity laws to protect so-called whiteness. "Ignorance breeds all kinds of negative things," he said. "I believe an informed constituency would arrive at reasonable solutions to problems …
"Let's go back and get the story right. The prize would be the continued American evolution, migrating toward that more perfect union." The opposite, he warned, would be "continuing devolution, where people of color are looked upon as … obstacles to overcome."
Glenn Oder spoke from his perspective as executive director of the Fort Monroe Authority, whose history is inextricably tied to the early history of blacks in Virginia. Fort Monroe lies on Point Comfort, where Africans were first brought to the New World. During the Civil War, Fort Monroe was a Union stronghold, where a Union commander gave slaves shelter at the fort, refusing to return them to slavery.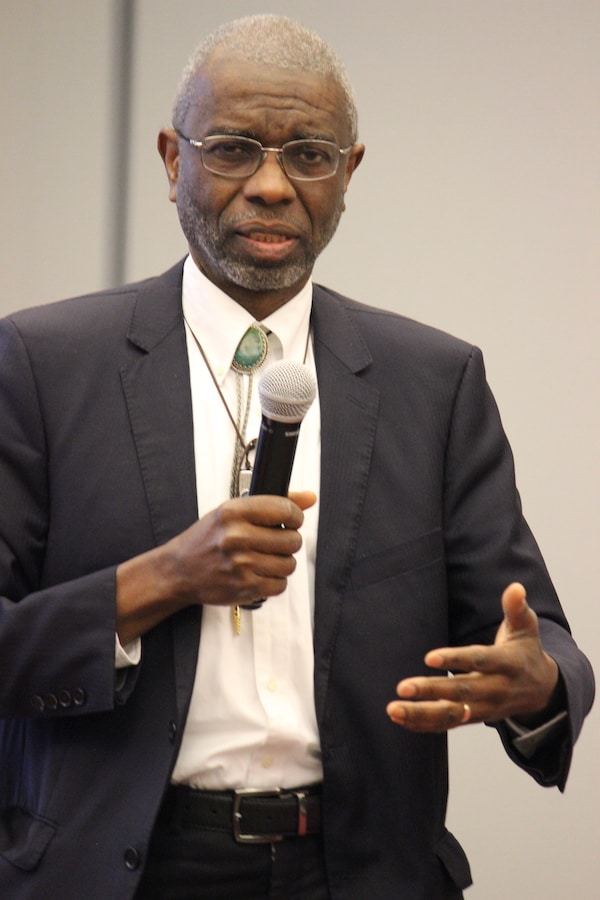 "It's our generational opportunity or responsibility to tell the history that hasn't been told … This is where it began, and it did not begin well." Fort Monroe's commemoration of the African landing will be held Aug. 23-25.
Kelly Thomasson spoke of boards in the commonwealth that represent Virginia in age, geography, gender and race, and of the process of executive pardons. "I see disparities," she said of her experience. "I see how our criminal justice system is failing our minorities. Adding to what the chief said: telling a true and accurate history is so important, but something I've seen in my job … it's not just telling history; but sharing stories of today is so impactful." In other words, seeing individual stories can help people better understand the issues. "When you make it personal, it clicks in a different way."
Rev. Campbell told of bringing to awareness Richmond's role in the slave trade. He reminded listeners that the city hosted the largest slave market on the East Coast. He told of the discovery of Lumpkin's slave jail in Shockoe Bottom. Repeating previous speakers' themes, Campbell told how Delegate Delores McQuinn and then-Governor Bob McDonnell "formed a relationship around our desire to get the story told. We're dealing with structural racism much deeper than personal relationships. We've got to tell the truth." He emphasized the need for people to talk with each other.
Campbell also shared insights into ways that local government has continued to support rather than combat inequity. "None of us are responsible for the past," he said, "but we can work for repair of the future – but we can't start from phoniness."
"Where do we go from here?" asked Senator Jennifer McClellan. "It's really important – we have to have an honest, complete answer to the question, 'How did we get here?'"
McClellan's historical summary echoed Chief Adkins' emphasis on the need for an unvarnished history: "In 1607 … a group of white men from England came to Virginia on a business venture to profit themselves … In 1619, the first representative democracy was created by those white men; the first women were recruited here to serve those white men; the first recorded Africans arrived here, to serve those men and, to a certain extent, their wives. All this happened when the power structure was being created for our state and country." McClellan's summary skipped to the Age of Enlightenment, with the ideals of equality for opportunity and the pursuit of happiness – for wealthy, property-owning white men. The American Constitution, she said, similarly applied to white, wealthy, property-owning men. "All in between has been a roller coaster of how we live up to the ideals, expand them to everyone. We've had some successes, and we've had some failures."
The senator described some astonishing regressions, sobering legal maneuvers that dashed the pursuit of equality while promoting the cause of the ruling class.
Today, said McClellan, "The bigger danger is race ignorance, people who … don't understand that structural racism didn't go away with the Civil Rights amendment … We will never heal if we do not have an honest conversation of the generations of trauma … Racism never went away – it went underground … The most dangerous thing is the person who … honestly believes that we are all equal but doesn't get that we weren't born on level playing fields." She equated the need for reconciliation as a need for therapy – and a corresponding need to talk about the issues.
Dr. Lenneal Henderson addressed his work with the U.S. Department of State in places in dire need of reconciliation and the importance of "co-creating a space in which a relationship can be developed," where "needs and conditions are jointly determined," of recognizing the divides across communities and generations. "Civility comes when there is agreement among all parties."
As Chief Adkins said, "An informed society bodes well for all of us and (creates a) bedrock for a free, thriving society."
Visit the American Evolution website for updated events throughout the year.