Repurposing Heirlooms: Family Memories Can Get New Life
| June 1st, 2018
---
Cutting apart an heirloom 1940s-era Queen Bess silverware set can bring on the nerves.
At the same time, crafting something new out of an old piece can revive vintage items that might otherwise remain stored out of sight.
After her mother-in-law's death about five years ago, Terry Rathbun repurposed parts of a family Queen Bess collection into pendants now worn by her husband's four sisters. The pieces had intricate, carved designs on handles that were incorporated into the jewelry.
"I cut pendants for each of his sisters from her silverware, to kind of look like angel wings," Rathbun said.
"It was really emotional when I gave them. I think that's the connection between the old silverware, and you've got memories around it. No one wanted to use the silverware, but pendants are something they could wear."
Rathbun is co-owner of Roots of Silver, a Liberty Lake, WA, business that regularly turns vintage silverware into hand-crafted pieces for sale. Items range from key chains and jewelry to wine glass charms.
She and her husband, Mark, are both 59. During her husband's youth, the Queen Bess pieces adorned the family's table for special meals, but trends today have moved to more casual, dishwasher-friendly dining. The pieces likely would have sat unused in a drawer, Rathbun said.
Repurposing different types of heirlooms, such as sewing a pillow from grandmother's lace tablecloth or creating art from old china, offers another path to preserving memories or a sentimental attachment.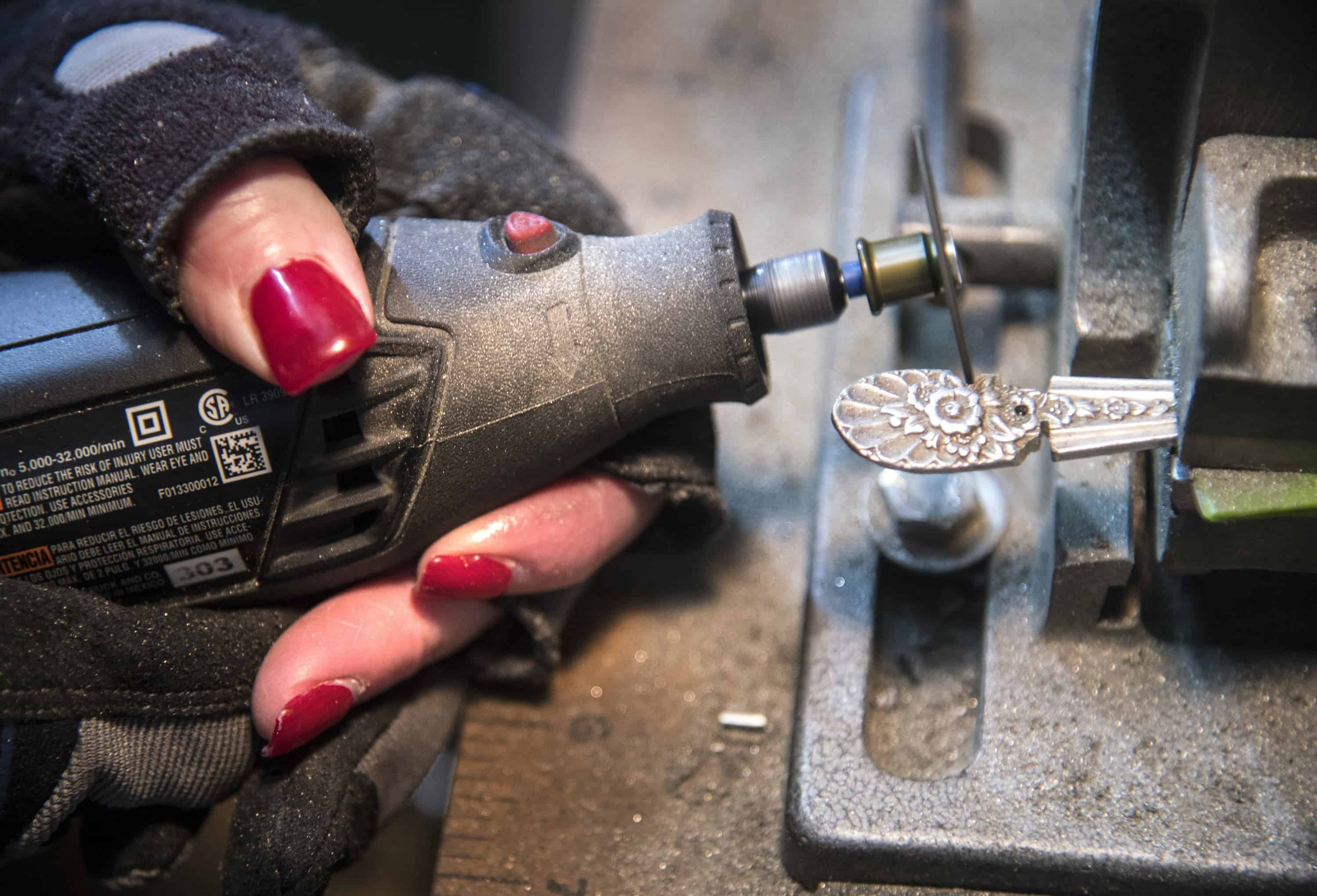 Transformed into something for everyday use, they're still a link to grandma, an uncle, or another loved one. It can also be therapeutic to create something new, said Spokane's DeAnne Wilfong, whose son died this past summer.
Her daughter-in-law had a friend make quilts and memory pillows from her son's old fishing shirts.
Wilfong said dealing with sentimental items often is the most difficult challenge when downsizing after a death or when cleaning out one's own closets.
"Repurposing adds a positive focus," she said. "It's so therapeutic and not only fun, but it's also repurposing with a purpose as we try to deal with sentimental things that we don't really have a way to use. It's an 'aha' moment, that I can make something wonderful."
Pianos often show up for free on Craigslist these days, and Pinterest provides plenty of creative reuse projects for them.
Rob Brooke, a Spokane-area hobbyist who restores vintage items, found an old upright piano to repurpose into a bar, just for fun. He has the piece set up for sale at Consign Furniture in Liberty Lake.
"I decided to make a bar out of a piano, so I went to Craigslist and found this for free," he said. "It was a heavy piano. I wanted to leave the harp in there because I think the harp is pretty cool."
He took out the keyboard to create horizontal space for storage, but reused the keys as decor. As part of the design, he built in storage for wine bottles and wine glasses. He also added some lighting.
"I know people are repurposing stuff like crazy," Brooke said. "I think it would be so great in a game room or man cave. I would love to have it, but I don't have a place for it."
At Roots of Silver, only a small percentage of pieces are custom orders for family members who want to repurpose heirloom silverware. Otherwise, Rathbun and business partner Anna Henry find pieces at vintage stores, estate sales and thrift shops to make items for sale.
Henry said when they do get family requests, often they make several specialty items out of the vintage silverware to be given as gifts to different relatives.
"We've made earrings for people," Henry said. "One transformation we made was for a woman to create writing pens out of her dinner knife pattern.
"It's a little nerve-wracking when someone hands you a family heirloom. We tell people sometimes the drill bit breaks, the cutting wheel will skip. There are mishaps that happen. People are wanting to hang onto the memory of it."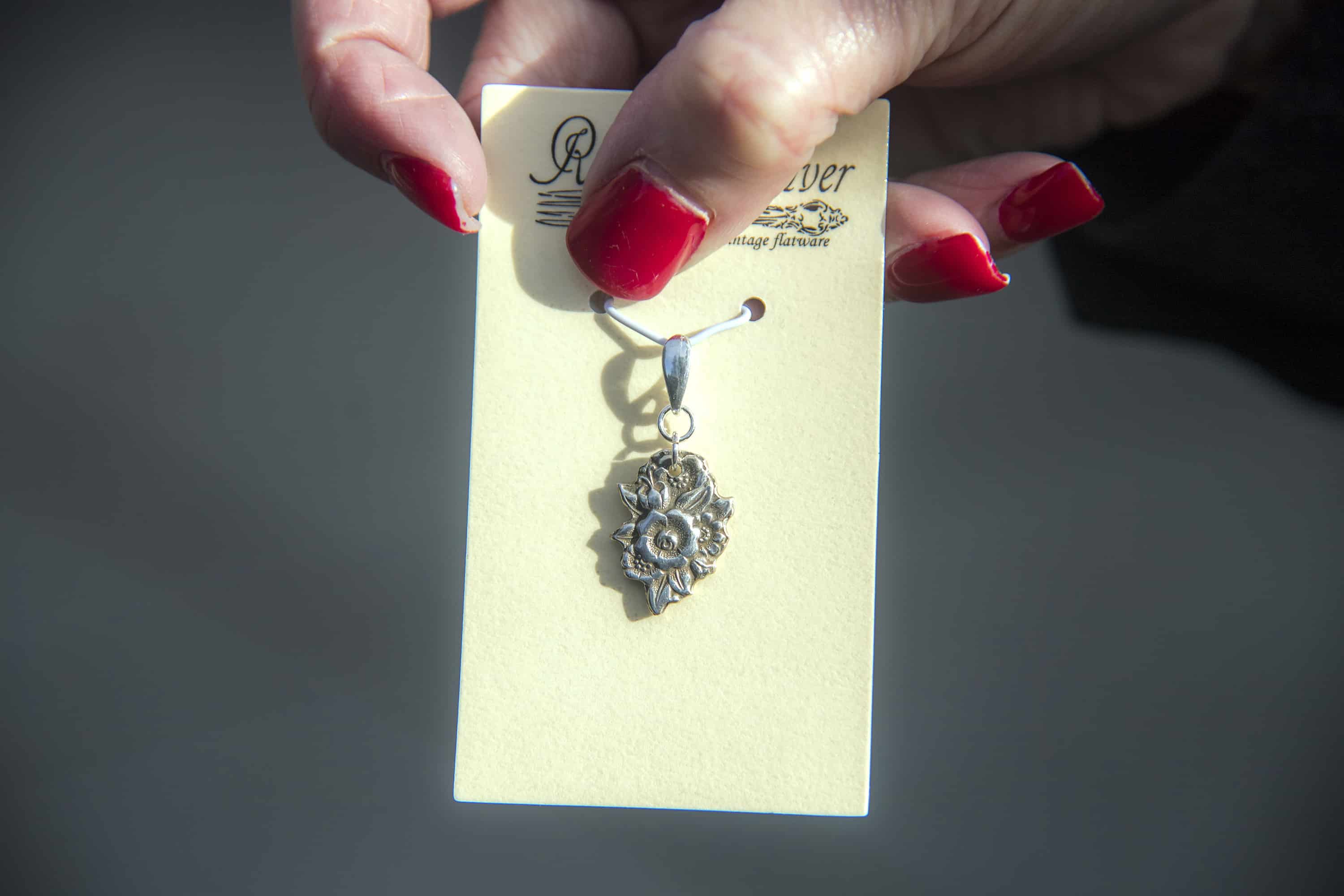 Tara Burke, who lives near Seattle, found Roots of Silver through the Etsy website, so she sent Henry and Rathbun pieces from the antique silver flatware once belonging to her paternal grandmother, Doris.
Burke requested earrings, remade from the ends of butter knives. She had the jewelry made for her aunt, a sister-in-law and herself.
"They turned out so well that my mom who isn't blood related to my grandmother wanted me to get a pair for her as well," Burke said.
"I think it meant a lot to my aunt too. It was a nice way to revive the memory of my grandmother because she's been gone for a while now. I think more than anything, it was a nice way to welcome my sister-in-law into the family."
Burke was only around age 7 when her grandmother died, and as an adult, she received a box from her dad with her grandmother's silverware. She sent half of it to her brother.
"I wasn't using the silverware, like most people aren't today, so I thought maybe I could have something made from the silver.
"My dad and my aunt always would talk about how she would bring out the silverware, and they'd have to clean it and polish it before people came over."
Jodi Hoffman's mother was downsizing and almost gave away some 80 souvenir spoons collected from years of travel. Hoffman grabbed the collection until she could think about what to do with them.
The silver spoons had different designs for states or attractions, from the Statue of Liberty to Disneyland. So she thought about turning them into smaller wine glass charms, and Hoffman handed the collection over to Henry and Rathbun.
"They took the top of the spoon that said the state or attraction and made wine glass charms out of them," said Hoffman, a real estate agent and Liberty Lake resident. "A lot of them were actually pictures of the state or attraction. Every charm was different."
As gifts, two sisters and her mom received 20 charms each, and she kept around that same amount.
"We had a girls' night out, and then I gave them their gifts," she said. "None of us wanted them really as the spoons, but you'd hate to see something mom collected for so many years with so many memories just donated or given away outside the family. This way, we can all enjoy them."
The Roots of Silver co-owners try to research history about family pieces, including a pattern's name and decade of manufacturing. Henry and Rathbun will include that information on a card packaged with the repurposed items.
At shows, they do hear people lament that they don't use the family's vintage flatware anymore.
"Our lifestyles have changed," Henry said. "We typically don't sit down for fancy meals with china and silverware. People don't want to keep the true sterling polished. I think people have guilt about getting rid of it and at the same time, they feel bad it's stuck in a drawer."
Rathbun has worked with decades-old flatware originally made in countries such as Poland and Sweden. Most of the pieces are silver-plated as opposed to solid sterling.
"We've done some sets with sterling that's pure silver, but you don't see that as often because it was really expensive."
Even inexpensive tangible items can get repurposed. Wilfong's daughter-in-law also made her a necklace that has some of the flowers from her son's memorial.
"I don't have to keep the box of dried flowers," Wilfong said. "I can keep this, and it's always close to my heart."
---
(c)2018 The Spokesman-Review (Spokane, Wash.)
Visit The Spokesman-Review (Spokane, Wash.) online at spokesman.com.
Distributed by Tribune Content Agency, LLC.