Review of 'Restorations' by Charles Strickler
| May 2nd, 2019
Richmond-area author publishes an action-packed adventure fueled by a classic Stutz Blackhawk car
---
Restorations

By Charles Strickler
Reviewed by Annie Tobey
Restorations, a new work of fiction by Virginia native Charles Strickler, hits on all cylinders for a ride that's as breezy and relaxing as a convertible on a pleasant spring jaunt in the mountains.
The book circles around a Stutz Blackhawk Boattail roadster, hidden in a barn for decades, discovered in closing the estate of two long-lived sisters. The car was purchased at the estate auction by Miles West, who soon discovered that his $66,000 restoration project was a real bargain. The 1928 speedster had been souped up, with extra oil tanks to create smoke screens and oil slicks and switches to turn off rear lights and drop nails. Of more value, however, were the hidden treasures that West and his mechanic friend discovered – old-world cut diamonds, gold coins and a cipher-filled journal.
Unfortunately, the car also came with a dangerous complication: an organized crime boss had been waiting for the reappearance of that very car, convinced that it held the key to the mystery of a sunken ship filled with gold, and he would go to any lengths to possess the car and its contents.
The cat-and-mouse plot that ensues is intriguing, fast-paced, not overly predictable. It provides a whiff of mystery that's neither too terribly far-fetched nor too easily-solvable, with sufficient suspense to keep the reader turning pages. Though accepting the story demands some suspension of disbelief, it's also believable enough to be entertaining.
Restorations presents the kind of escapism that's fun to settle down with – like a beach read without predictability or syrupy romance, sprinkled with humor. The protagonists are likeable, easy to relate to emotionally. The good-versus-evil conflict, which pleases a justice-loving reader, is made more pleasing by the bungling idiocy and greed of the bad guys.
The touch of romance in the book – especially as it restores the soul of the protagonist – is enough to satisfy the sentimental but not so extreme to discourage the reader who prefers the gunplay, shootouts and adrenaline.
---
Author Charles Strickler was born in Harrisonburg, Virginia. He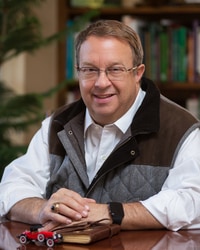 graduated from Virginia Tech and lives in Central Virginia, just outside of Richmond. He is active in the fight against Polycystic Kidney Disease through the PKD Foundation. Connect with him at CharlesStrickler.com.
Published by Köehlerbooks, Virginia Beach, 2019
Available in paperback ($16.95), hardcover ($27.95) and e-book ($7.49-$7.99)
---
As an Amazon Associate, Boomer Magazine earns from qualifying purchases from linked book titles.