Review: Round Barn Estate's Cream Wines
| September 15th, 2020
Like a bottle full of melted ice cream
---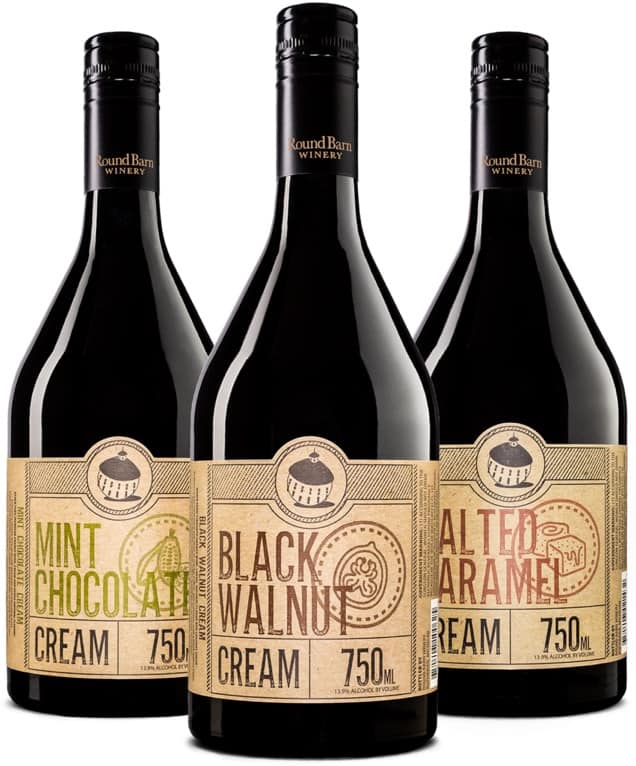 For an entirely new vino experience this season, sip and savor a bottle of cream wine from Round Barn Estate.
Located in Baroda, Michigan, this winery-brewery-distillery combo touts a variety of tasty products. Their cream wines, however, are among the most notable; like cream liqueur made with wine, each bottle has a unique (and dangerously delicious) flavor that makes it all too easy to forget about its 13.9% ABV.
The Flavors
Mint Chocolate Cream
Just when you thought nothing could get better than a Thin Mint – you discovered the secret of putting them in the freezer. And just when you thought nothing could get better than frozen Thin Mints – you discovered Mint Chocolate Cream Wine. The perfect mix of mint, chocolate, and booze, this creamy treat pairs well with ice cream, chocolate anything, and – Thin Mints.
Black Walnut Cream
Distinctive yet delectable, the Black Walnut Cream Wine has so many different flavor experiences in one bottle. With a velvety undercurrent of nutty black walnut, this cream wine also has strong notes of coffee, chocolate, toffee, and mocha.
Salted Caramel Cream
The savory salted perfectly balances out the sweet caramel, for that creamy, boozy, autumn-in-a-glass kind of taste. Enjoy this limited-edition delight whenever you can; Round Barn releases their Salted Caramel Cream Wine every fall, as they feel it pairs best with crunchy leaves and bonfires.
How Best to Imbibe
Want to get the most rich, delicious bang for your rich, delicious buck? There are many ways to enhance other products in your life with this wine-infused treat.
Coffee
Add a little buzz to your buzz: substitute a splash or two of cream wine for the cream and sugar in your daily java. (Or, hey, add a splash or two of coffee to your glass of cream wine, depending on the kind of day you're trying to have.)
I'd recommend Black Walnut for this specific endeavor, but really, you can't go wrong.
What Your Ice Cream Has Been Missing
Even better than [insert any ice cream topping here], these cream wines have just changed your ice cream sundae game forever. Drizzle over a scoop or two of your favorite flavor for maximum dessert experience: they're creamy enough to add an extra boost to the taste, but subtle enough not to overpower the original flavor. 
Alternatively? Throw a shot or two into a milkshake. You'll have more boys in your yard than you'll know what to do with.
Cocktails
Any mixed drink that calls for a cream liqueur can easily be replaced by your choice of cream wines. Give your White Russian a salted caramel twist; make it a minty mudslide instead; or just raid your liquor cabinet and let your imagination run wild (after all, they say alcohol increases creativity). 
Step One: Glass; Step Two: Pour
Or, simply pour, sip, and savor. These creamy dreams work perfectly well on their own: enjoy as an after-dinner dessert, fireside sipper, or pre-sweet-dreams nightcap. You can even replace that milk-and-cookie tradition with something a bit more … well, adult.
Where to Get Your Hands on Some
Order online here (distribution limited in some states per laws and regulations). Or pop into Round Barn Estates to say hey! They'd just love to hear what you think about their products.