Revisiting Early Outer Banks Lodging
| June 8th, 2020
Nags Head nights
---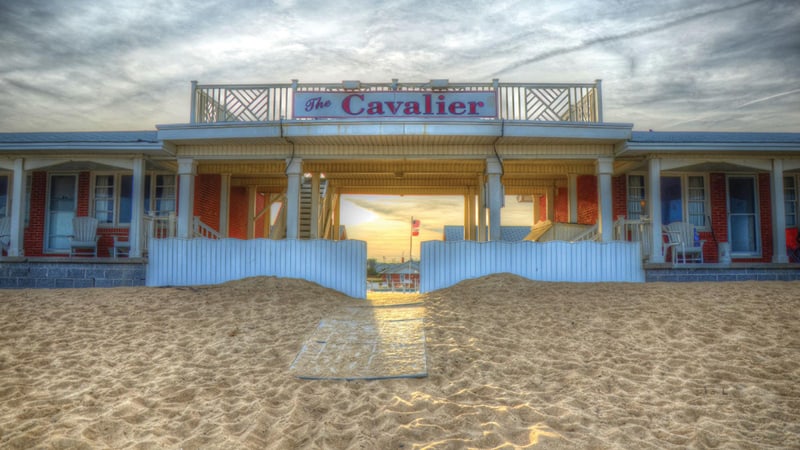 Nags Head was one of the first true tourist destinations in the United States. Beginning around 1830, wealthy plantation owners from surrounding counties began sending their families to the village to escape the malaria and oppressive heat of the interior. By 1840, there was a hotel on the sound side, with a grand ballroom, boardwalk to the beach and a dock for the steamships that plied the sounds.
The hotel didn't survive the Civil War. Confederate troops burned the building to keep it from falling into Yankee hands, but a travel tradition had been established that continues today.
A MOM AND POP ORIGINAL
Back in the 1950s and 1960s, when tourism on the Outer Banks was really taking off, a number of local families built motels by the sea, with an apartment for office and living quarters – the original mom and pop motels. Roy and Dot Wescott opened the Cavalier by the Sea (pictured above) in 1950 in Kill Devil Hills; the family still owns it. The rooms aren't fancy, but the motel is right on the beach.
A TOUCH OF OLD WORLD CHARM
Back in 1947 when the Wilbur & Orville Wright Inn was built in Kill Devil Hills, a fireplace with a roaring fire seemed just the thing to take the chill off a cool Outer Banks evening or the biting cold of a winter nor'easter. The lobby is still there. It has its fireplace, wonderfully comfortable furniture, wooden paneling and hot cider. The building is like nothing else on the Outer Banks, with a soaring roof that seems to suggest an airplane wing.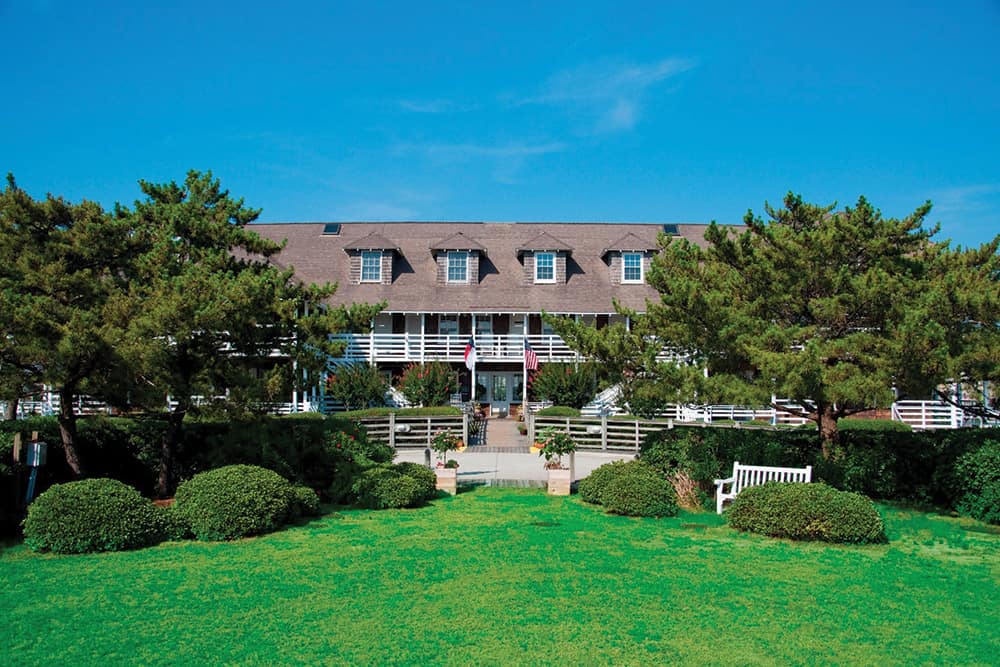 A TOUCH OF OLD NAGS HEAD
At one time the luxury seaside hotels of Nags Head were rambling wooden affairs. Opened in 1932, the First Colony Inn (pictured above) is the last one standing. With its wraparound veranda, wooden shingle siding and peaked roof, it transports guests back to a different time and place. Each of the 26 rooms has its own shape and feel. The building was moved in 1988 to save it from the sea. (On the National Register of Historic Places.)
---
Like nostalgia? Browse celebrity nostalgia on our website.
Or sign up for our monthly Nostalgia e-newsletter or other e-newsletters tailored for boomers!
---
WHEN STATION WAGONS RULED THE ROADS
When the station wagon was king, mom and dad sat up front the kids in the back; from there, the family cruised to the Outer Banks. Their destination – a cottage court, a tiny home before the phrase was invented – two small bedrooms, a shared bath, kitchenette and living room. Built in the mid-1950s, Sea Kove in Kitty Hawk is pretty much the way it was when that first station wagon pulled up. Generations of families have returned year after year.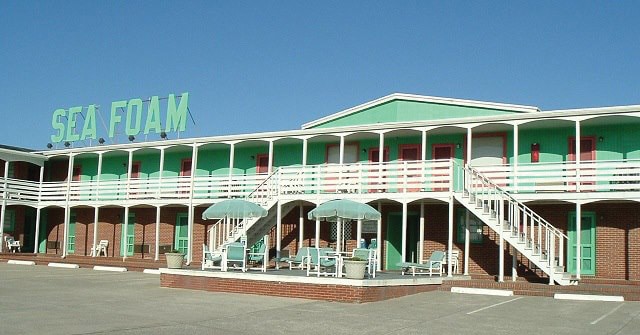 A TRUE CLASSIC
They don't get much more 1950s than the Sea Foam Motel (pictured above) in Nags Head. From the towering name "Sea Foam," spelled out in sea-foam colored letters on the roof, everything about the motel is reminiscent of a family vacation of years ago. Many rooms still have the original knotty pine paneling. The first section was built in 1948, with additions in 1951 and 1964. The in-ground swimming pool dates from 1948. (On the National Register of Historic Places.)
---
Kip Tabb is a freelance journalist living on the Outer Banks. His articles about the history of Coastal North Carolina and environmental issues have been published in the Outer Banks Voice, Coastal Review Online and BOOMER. KipTabb@gmail.com