Meal Ingredients Dropped at Your Door
| March 13th, 2017
Four meal delivery services focusing on fresh, convenient and healthy
---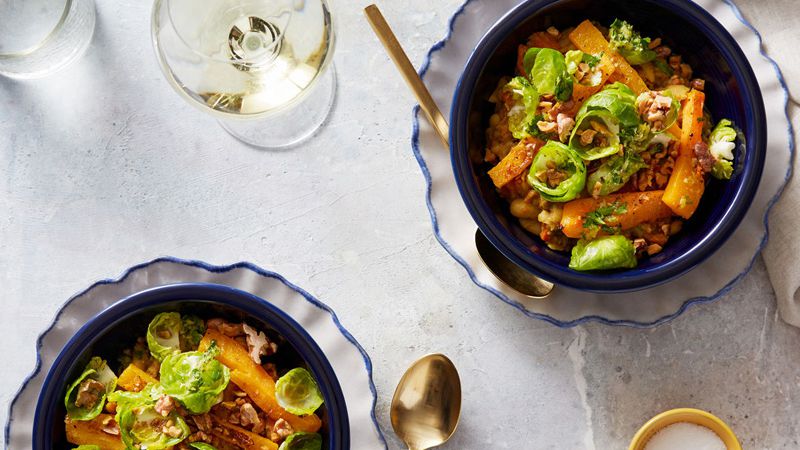 Are you having difficulty finding time to plan and shop for meals? Is it challenging thinking of and crafting creative dishes? Whether you're a busy parent, professional or retiree, meal planning can be daunting and time-consuming. BOOMER weighs the pros and cons of several meal delivery services that can spice up your daily eating habits.
One service, Personal Chef to Go, delivers pre-made meals – how easy is that!
Three others deliver pre-measured ingredients and chef-curated recipes – no waste, new tastes, but slicing, dicing and other meal prep steps still apply. All recipes are from scratch, meaning more prep time than frozen potpies or Hamburger Helper but much tastier fare. Recipes include nutrition information (including some pretty impressive, high-vitamin meals).
All four services are subscription-based, but none require up-front membership fees. With several days' notice, you can skip or cancel at will.
NOTE: On April 15, 2019, Kroger Mid-Atlantic announced the addition of Home Chef retail meal kits at more than 30 stores in the grocer's Mid-Atlantic division, including the Richmond area. Each week's rotating retail menu showcases a variety of classic meals made from fresh and pre-portioned ingredients, including Home Chef Express meal kits that can be prepared in 15 minutes or less. Each meal kit is designed to serve two and starts at $8.50 per serving. The kits are also available for pickup and delivery at participating store locations.
---
Virginia business delivering pre-made, heart-healthy meals nationwide, planned and prepared by chefs. Typical conservative entrées include meat, chicken or fish with a vegetable.
• Meal plans: Sized for families, couples or singles; lunch and dinner or just dinner; automatic delivery every week or every other week. From about $11 per serving, modest shipping fee.
• Pros: Tasty, chef-made meals using fresh, natural ingredients delivered to your door. Simply heat and eat. Oxygen-free packaging keeps refrigerated meals fresh for up to 12 days, or freeze for longer shelf life.
• Cons: Menus rotate through a nine-week cycle, but flexibility is very limited. Fee for special dietary requests (not all can be accommodated) and no modifications due to taste preferences.
---
Cosmopolitan, mildly adventurous recipes with fresh ingredients, including hormone-free meat and sustainably sourced seafood.
• Meal plans: Two-person plans with three meals per week (six meals total) or the family plan of either two or four four-person meals per week. From $8.74 per serving, shipping included.
• Pros: Ingredients include a mix of meat, seafood and poultry or you can modify your preferences, including pescatarian and vegetarian. Optional wine delivery service pairs wines with Blue Apron meals, and online market sells kitchen tools and pantry products.
• Cons: No flexibility in choosing specific recipes. Allergen information available, but Blue Apron doesn't guarantee accommodation for allergies.
---
Seasonal farm-fresh ingredients accompany creative, mildly adventurous recipes, typically including protein and two sides or pasta dishes.
• Meal Plans: Three plans – classic, veggie and family – serving two or four people, three to five meals per week, depending upon the plan. From $8.75 per serving, shipping included. Classic plan typically includes fish or meat with veggie and starch. Family plan uses kid-friendly ingredients.
• Pros: Detailed website and app include extras such as cooking videos and supplier stories. Ingredients are delivered in separate packets, thus will accommodate special dietary requirements.
• Cons: Little flexibility – choose specific recipes only in the classic plan.
---
Providing organic, non-GMO and sustainable ingredients for creating delicious, adventurous dishes.
• Meal Plans: Serving either two or four people, shipping three recipes weekly. $11.49 per meal, modest shipping fee.
• Pros: Flexible dietary options include meat, vegetarian, Paleo, breakfast and gluten-free. Customers have the option to modify each shipment by choosing among all recipes weekly. Can schedule recipes or skip deliveries up to six weeks in advance.
• Cons: More expensive because of higher-priced organic ingredients. Customers can order only three recipes currently, but the option for ordering more is in planning.
UPDATED JULY 22, 2020
---
And hey! Click here to check out this  review on other meal delivery services!