Richmond Region Tourism Honors Officials, Groups for Supporting the Area
| May 13th, 2016
May 12 Richmond Region Tourism awarded several individuals, such as Gov. Terry McAuliffe, and organizations at the Virginia Historical Society for supporting the area and encouraging visitors to travel here.
---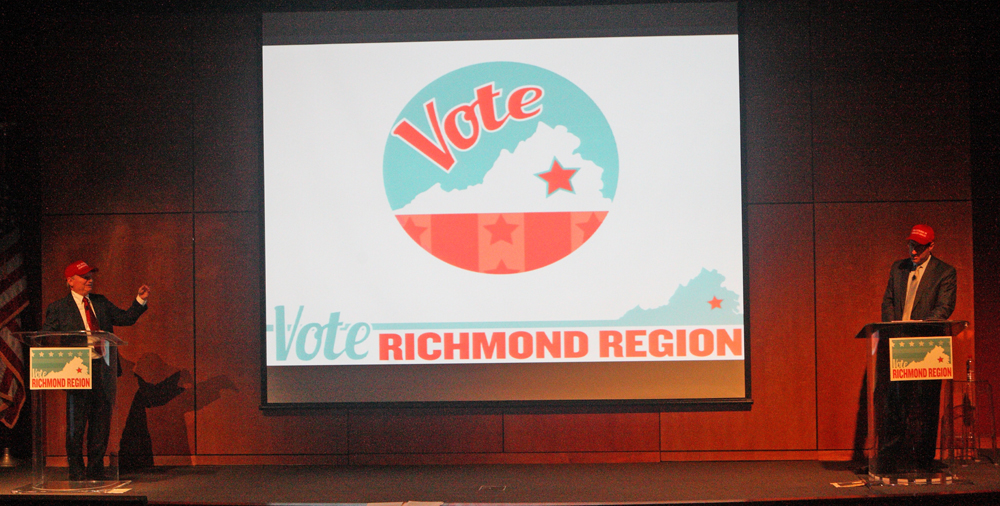 I love Richmond, Virginia, so anyone who promotes our city has already earned my affection. I can't always know exactly who that may be, but Richmond Region Tourism has done the vetting for me, honoring individuals and organizations who have been working hard to share the glories of our region with the world.
The 2016 I Am Tourism awards were presented at the Virginia Historical Society on May 12, in a presentation that was as upbeat and entertaining as the city itself. Richmond Region Tourism President and CEO Jack Berry served as primary emcee, weaving the presentations with allusions to the more humorous aspects of this year's presidential race, posing as candidate for a fictitious third party – "the Travel Party."
Berry was supported by NBC 12's Andrew Frieden and by CEO of Shamin Hotels and Chairman of the Richmond Region Tourism Board Neil Amin.
Berry told the audience that repeat visitors were up 15 percent last year and pointed out how tourism bolsters the economy, generates jobs and supports the businesses that make living here so awesome.
Amin reminded us that our local culinary scene, arts and outdoors have been praised in a multitude of national and international media outlets, including American Express and Travel + Leisure.
So who deserves our hugs, kisses and trophies for their work in supporting Richmond region tourism this year?
This year's Tourism Impact Award, recognizing those who have made long-term, significant contributions to the tourism industry over several years, went to five recipients who were instrumental in making the UCI Road World Cycling Championships a success: Wilson Flohr, CEO, Richmond 2015 (and a 2015 Boomers & Shakers award recipient); Thomas F. Farrell II, president and CEO of Dominion Resources; Richmond Mayor Dwight C. Jones; U.S. Senator Mark R. Warner (award received by Keyanna Connor); and Virginia Governor Terry McAuliffe.
Chesterfield County made its residents proud by winning three awards: The Chairman's Award for leadership in supporting and promoting Richmond Region tourism was earned by Jay Stegmaier, Chesterfield County administrator. Sports Tourism Award (MVP) went to Mike Golden, former director of Chesterfield County Parks and Recreation. And Tourism Leadership Award went to Jim Perdue, assistant director of Chesterfield County Parks and Recreation.
Restaurant Partners of the Year were L'Opossom and Maggiano's Little Italy. Dedicated Partner Award went to Center of the Universe Brewing Company, brewers of Chin Music amber lager, served at Richmond Flying Squirrels games and The Thirsty Tour Guide IPA. Attraction Partner of the Year was earned by Lewis Ginter Botanical Garden. And Hotel Partner of the Year went to Hilton Richmond Downtown.
Two surprise awards went to individuals who had shone as stellar representatives of Richmond in their positions in the hospitality industry. The Rising Star Award went to Adrian Fleming of HYATT House Richmond West and Customer Service Award to Bobby Cicconi of Embassy Suites by Hilton Richmond.
As Amin said of all of these winners and the rest of us in the Richmond region: "Our people are our biggest assets."