Riedel Wine Glasses
December 23rd, 2019
Just when you thought wine couldn't get any better …
---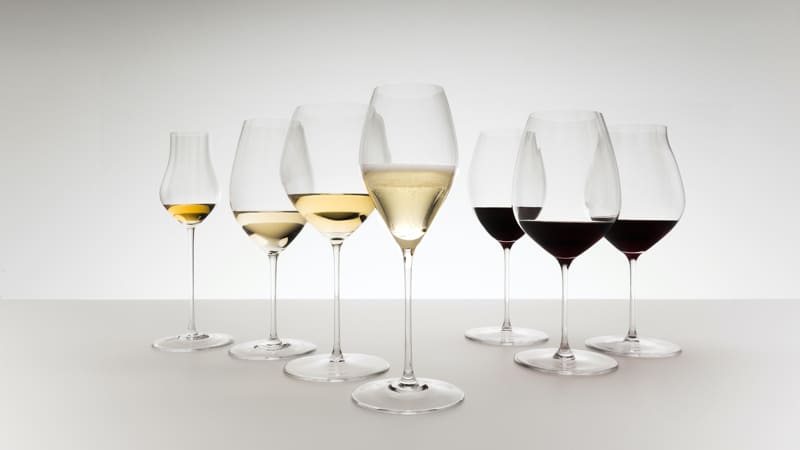 Makers of glass products for centuries, the 11th-generation Riedel company added "wine glasses" to their repertoire of products over 60 years ago … and the world of wine has only gotten better. This family-owned company has figured out how to perfect the wine glass, giving vino drinkers a more deliciously enhanced experience than we even knew possible.
A WINE GLASS IS A WINE GLASS IS A WINE GLASS. RIGHT …?
Riedel is eliminating the "one-size-fits-all" premise of wine glasses, with varietal-specific glasses designed to complement corresponding wines, bringing out the unique bouquets and tastes that the winemaker intended.
From the shape, to the size – even to the way the rim opens at the top – every varietal-specific glass works to bring out the intentional aromas and flavors of each wine. (Think: floral and fruity, dark and chocolatey, sweet and tannic.)
The glasses are thin, fine, and lightweight; and if you look closely, you can see one of the more unique aspects of these Riedel glasses: the optic ridges – subtle but visually pleasing "waves" designed to allow for more aeration, to enhance aromatics and tastes.
A GLASS FOR EVERY GRAPE
Just like every person has their own characteristics and personality, so too does every wine. As such, Riedel has designed wine glasses to pair with certain grape varietals, ensuring that each wine has its best match.
I got the opportunity to sit down with a set of Riedel Performance glasses – the basic "must-haves" of Riedel glasses that come in seven distinct varietal-specific forms – and their corresponding wines to see the differences demonstrated up close and personal.
I found, for example…
The Oaked Chardonnay glass. Though this glass has many characteristics of the average red wine glass (wide, deep, bulbous), don't even think about pouring a red in here. The characteristics of this glass encourage a Chardonnay's rich, floral characteristics to shine through, while muting that sharpness that often turns people off of this grape varietal.
The Sauvignon Blanc glass. This small but mighty glass packs just the right punch for a Sauvignon Blanc. Its narrow shape is designed to capture and hold the fruity, floral notes of a Sauvignon Blanc while capturing the aftertaste onto your tongue: this grape is at its best in this glass.
The Pinot Noir glass. The flared lip at the top of this glass is not just there to make it look cool (although it does do that, too). The lip works as an "acidity bumper," eliminating what can be an acetous taste of Pinot Noir while enhancing its flavor like, say, what marijuana does for Oreos.
The Cabernet glass. The best part of a Cabernet is its rich flavor profile. The glass works to enhance those chocolatey, leathery, dark fruit components while balancing the acidity and tannins that this wine often brings to the table.
You can also get Riedel varietal-specific Performance glasses for Syrah/Shiraz, Champagne, and Riesling. The fine crystal glasses are lightweight, with a wide base to balance the elegant tall height. And each different Performance glass is the same height, to add elegance to the dinner table.
The Riedel website provides a few other varietals that work well in these specific glasses. Refer to the wine guide (look under "Popular Varietals") or their app (Riedel Wine Glass Guide) to best decipher.
THE WRONG GLASS?!
Drinking wine in the "wrong" glass is like wearing an unflattering sweater. It still works as a sweater, technically, but it doesn't look as good on you as one that better suits your body type.
Plus, anytime someone puts the wrong wine into its incorrect Riedel glass, an angel loses its wings.
Okay, just kidding (probably), but the flavor profile will immediately change (like magic). It becomes less pleasant, and the flavor is muted and more acidic.
Looking for a good wine that Riedel glasses just love? Allow me to shamelessly recommend Robert Mondavi wines: straight from the vines of Napa Valley, this winery has produced fresh, flavorful wines since 1966.
I SIMPLY MUST KNOW MORE!
Find every type of Riedel wine glass under the sun at their website, or anywhere else luxury wine glasses are sold (like, you know, Amazon). Pour, sip, and enjoy – for the kind of experience that just might make you think, "I didn't even know wine could taste like that!"