RVA Osprey Cam Gives Bird's Eye View
| April 24th, 2017
---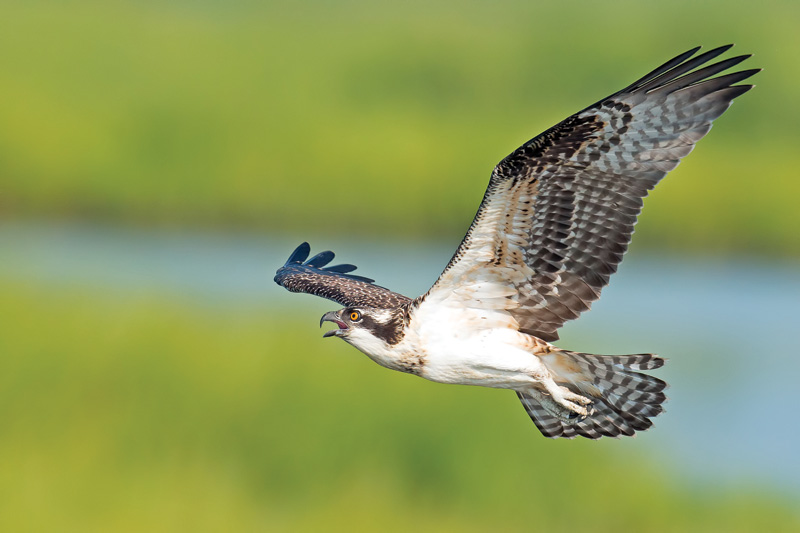 Imagine having a front-row seat to view birds of prey in their natural habitat – now a pair, soon their eggs and chicks. Sit back and relax as you watch the ospreys nesting on a Richmond-Petersburg Railroad bridge piling on the James River, between the new T. Tyler Potterfield pedestrian bridge and the Manchester Bridge.
It can be challenging to distinguish among the birds of prey that make their home in the area – bald eagles, hawks and ospreys. With fish as their preferred diet, ospreys are usually found near water. They can be identified by their white underparts and by the distinctive stripe on their faces.
The osprey webcam project has been in the works for several years, but the solar-powered webcam was installed in 2017. The camera provides 24-hour footage so you can keep tabs on the lives of these majestic local predatory birds, with additional features in the works. Andy Thompson and Ryan Abrahamsen, founders of RichmondOutside.com, installed the camera set-up with assistance from local partners in order to showcase the city's natural wonders.
"We were always amazed by the natural wildlife that lives and thrives in downtown Richmond, so we love the idea of showcasing the wildlife but also that it is in the downtown area," Thompson says.
In addition to the webcam, RichmondOutside.com offers information on area destinations, trail maps, river and trail conditions, outdoors-related local news and more.
The live stream will be available for as long as these migratory birds are nesting here in Richmond. See the action for yourself here.