Sampling the Luxury on My Trip to Hong Kong
| March 15th, 2019
Like a crazy rich American in Asia
---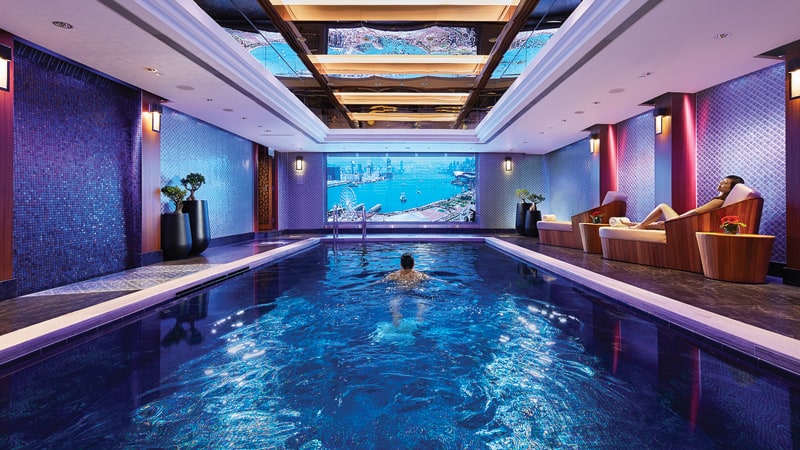 If you're investing time and money in traveling halfway around the world, you don't want jet lag as a companion. After all, how can you acquire memories of exotic destinations if you're sleepwalking through the city? On a recent trip to Asia, my air and ground accommodations made the visit abundantly memorable.
THROUGH THE AIR LIKE A HOT KNIFE THROUGH BUTTER
Cathay Pacific airline's business class helps keep jet lag at bay. The 14-hour direct flight from Dulles to Hong Kong traveled north, over Greenland and the Arctic Ocean – not that I could see the expanses of ice, because the Airbus A350-1000 left after dark and landed just before sunrise.
The timing worked well, corresponding perfectly with bedtime. Though sleep on a plane rarely comes easily to me, Cathay Pacific remedied that problem. The comfortable airport lounge ensured that I began the flight relaxed and satiated. My seat stretched out flat to make a bed, with a privacy screen and handy storage for incidentals. The food, including Chinese and continental cuisine, was far above typical air fare, with beverage service to match. Service was stellar, engine noise was minimal and provided extras included socks and a sleep mask.
Admittedly, the unlimited food, beverage and entertainment tempted me to stay awake. Between the flights to Hong Kong and back, I discovered and binge-watched season one of Killing Eve and caught Crazy Rich Asians, but I also slept for glorious, uninterrupted hours on end.
A TASTE OF HONG KONG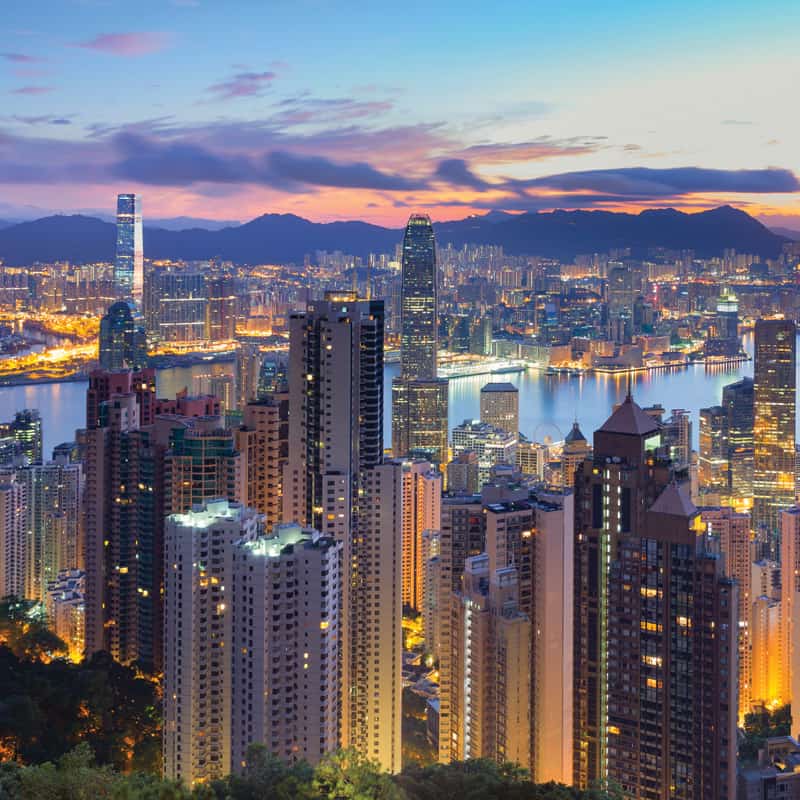 I recalled Hong Kong from a 1980 Asia trip, flying into the airport for a layover – I saw the city stacked with buildings and learned that its population density is among the highest in the world. On this trip, I discovered that there's so much more to Hong Kong.
I had only two full days to explore, but nonetheless I experienced the pulsing yet controlled pace of the city and natural areas nearby. With home base at the Mandarin Oriental hotel just two blocks back from Victoria Harbour (and a guest room with picture window overlooking the scenic harbor and Kowloon), we were smack in the middle of the bustle.
Elevated walkways make exploring the city by foot safe and convenient. And explore I did! I jogged the length of the Waterfront Promenade, enjoyed the waterfront's special events and the giddy participants; strolled through Hong Kong Park's flora, fountains and falls, botanical gardens and tea museum and through Statue Square; shopped; dined; and ogled at astounding architecture, from the historic legislative council building to stunning contemporary buildings with unexpected angles and curves.
The creative architecture was most brilliantly illuminated on the Aqua Luna sunset cruise. Our midstream voyage brought more buildings into view on both sides of the harbor and showed off the dazzling nighttime illumination: dozens of skyscrapers using lasers, LED screens and whole-building lightshows of bright pulsing colors and fantastical animated images.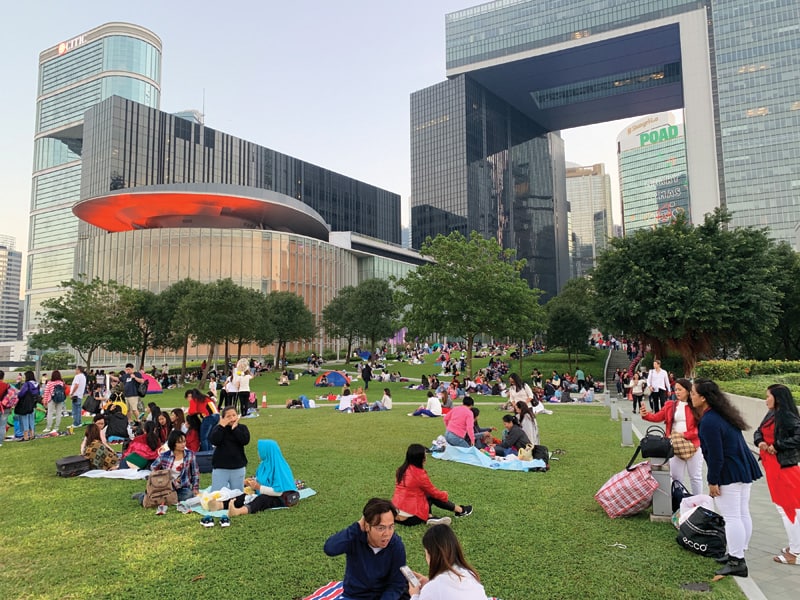 A daytime cruise on a traditional sampan boat took us to Hong Kong UNESCO Global Geopark, the Sai Kung Volcanic Rock Region and surrounding sights, for a natural face of Hong Kong. Our knowledgeable guide showed us hexagonal rocks formed at the edge of the ancient caldera, as well as other natural formations, flora and fauna. Though not on our itinerary, the area also offers scuba diving, fishing and other watersports, hiking and golf. And before leaving the area, we stopped by Sai Kung Bakery for a fresh, warm, slightly sweet, crusty-on-the-outside-but-soft-on-the-inside pineapple bun.
By retreating to overnight lodging at Mandarin Oriental, I was able to rest completely, in the metaphorical lap of luxury, and better stave off jet lag. The spacious room was like a big fluffy pillow, with thoughtful touches to enhance guest experience. Relaxing there was quiet, restful and sumptuous. The extensive breakfast buffet at Clipper Lounge provided the opportunity to sample a wide array of traditional Asian foods (or continental cuisine, had my palate felt homesick).
But, no, homesickness and jet lag were not among my companions, and I'm ready for a return visit.
---
THE HOSTS FOR MY ASIAN TRIP
Cathay Pacific
Cathay Pacific offers the longest nonstop air route to Hong Kong and the Washington, D.C. region, at 8,153 miles. Direct flights leave Dulles on Tuesday, Wednesday, Friday and Sunday mornings at 1:15 a.m., arriving in Hong Kong the next day at 5:10 a.m. From there, passengers can connect with every Cathay Pacific flight across Asia, including Bangkok, Singapore, Kuala Lumpur, Jakarta and more than 20 gateways in mainland China.
Mandarin Oriental, Hong Kong
In the heart of the city, Mandarin Oriental's flagship hotel offers 501 beautiful rooms and suites combining traditional Asian elements with intelligent design and technology, and polite and oh-so-accommodating service throughout the property.
Dining opportunities are varied and abundant at the hotel: 10 options include European, Cantonese and international cuisine, three Michelin-star venues, a craft cocktail bar, 50-whiskey bar and The Mandarin Cake Shoppe. Most recommended: Michelin-rated Man Wah and cocktails at the 25th-floor M Bar (managed by Slamet Haryadi, winner of foraged-ingredients Hernö Gin Cocktail Awards 2018), overlooking the city skyline and harbor.
Other services include a spa, salon, pool and fitness center.