A Christmas Story for the Whole Year
| May 4th, 2021
'Santa and the Cotton Tree' explores traditions and family love
---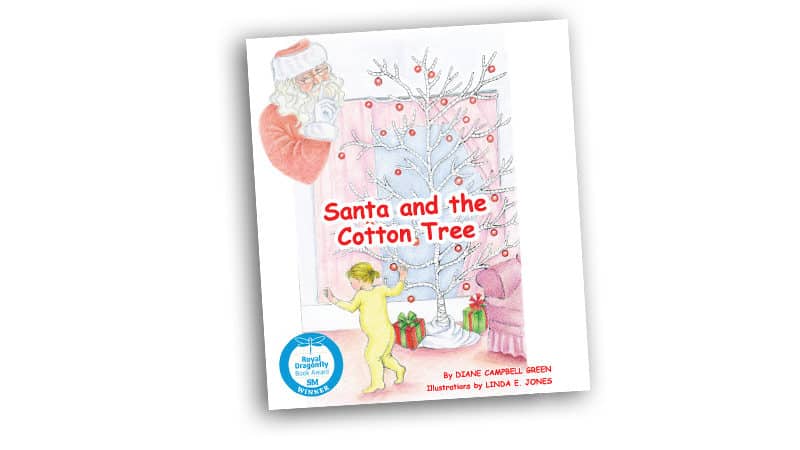 What's the first thing that comes to mind when you think of Christmas? Is it family? Or perhaps the traditions that have been handed down through the generations? In the book Santa and the Cotton Tree, written by Diane Campbell Green and illustrated by Linda E. Jones, this fictionalized story explores a family's appreciation for traditions and for their ever-growing love for each other that can be celebrated year round.
Santa and the Cotton Tree sets the wintry scene of the holiday season in Yardley, Pennsylvania, in 1963. The story takes place on Christmas Eve with Jim and Jackie Chalmers decorating the house for the upcoming holiday celebration. Normally on Christmas, individuals that celebrate this holiday decorate a Christmas tree that will be on display until the end of the holiday season. The Chalmers family decide to celebrate with a "cotton tree."
Cotton trees begin with sassafras trees, whose branches are carefully wrapped in cotton then accessorized with colorful lights, ornaments, beads, and tinsel. Historically, cotton trees were used during the era of World War II, specifically in German or Dutch cultures, due to the low price of cotton and the accessibility to sassafras trees. Citrus-scented sassafras trees grow wild and plentiful in Eastern Pennsylvania.
The tale of 'Santa and the Cotton Tree'
Once Mr. and Mrs. Chalmers hide the cotton tree from the rest of the family, their four children, Becky, Billy, Jimmy, and Susie, hatch a plan of their own: to visit Santa. Now, this is no ordinary visit for these four impressionable minds – this is going to be Susie's first time meeting the mysterious, red-suited man from the North Pole. The four children sneak out to begin their journey to the florist shop, or, as Becky calls it "Santa's House."
This story is set in the early '60s, without smartphone technology to keep track of, or simply text, the children. Jackie and Jim Chalmers begin frantically searching for their children by going around to the nearby neighbors. Luckily, the family is reunited just in time for Santa to not only deliver presents but also to unveil the cotton tree in the Chalmers' living room.
This family-friendly story holds much more value than a normal Christmas book because it presents a moral that can be practiced throughout the year. The theme of Santa and the Cotton Tree is unity: siblings caring for and teaching each other, parents making great efforts to preserve the traditions they learned as children, and neighbors acting together to protect their young ones.
Personalized memories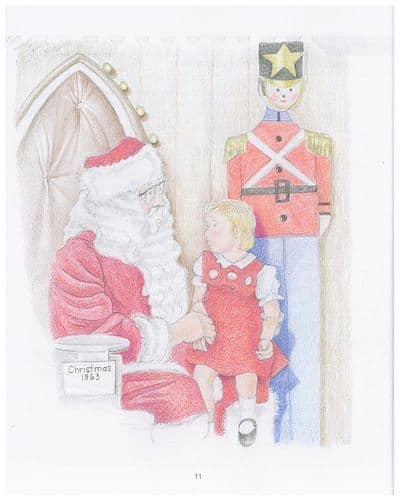 Personally, my family traditions included things like my father reading to me every night, which is what this story reminds me of most. I have continued this practice by reading to my niece.
I found Santa and the Cotton Tree on Amazon and after reading it to my niece, I was hooked, and so was she. I recommend this book to any and all who are looking for a "Christmas book" that can be meaningfully read anytime of the year.
I'm most excited to know that the story of Becky Chalmers and her family doesn't end with this book, but the author and illustrator duo of Diane Campbell Green and Linda E. Jones will be releasing more stories pertaining to this lovable family. I cannot wait to share them with my family.
---
Pat Schlitt is a graduate of the University of Tampa and currently working as a life insurance agent in Vero Beach, Florida. Pat is a Florida native and has just recently stumbled upon Boomer Magazine after being shown the publication from their father. Pat enjoys reading as many books as possible and fiddles in creative writing on the side.
---
For more like the Santa and the Cotton Tree review, wander over to the Boomer Book department.
---
As an Amazon Associate, Boomer Magazine earns from qualifying purchases of linked books and other products.