Scientific Advances in Footwear
| January 23rd, 2020
If the shoe fits...
---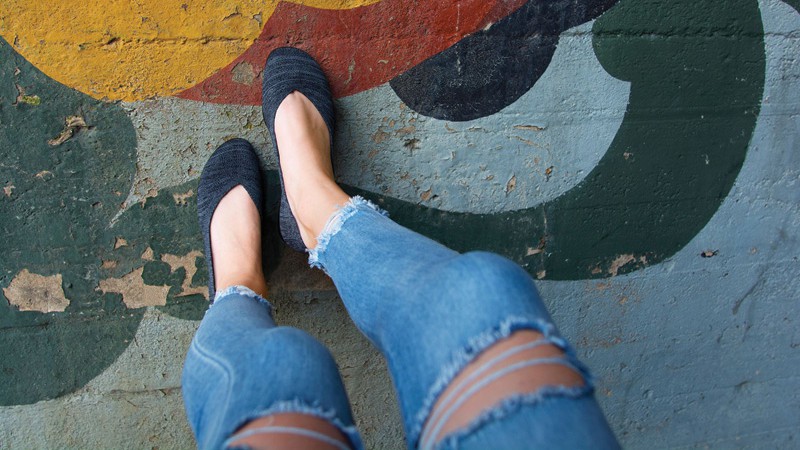 In the mid-1980s, Charlottesville-based physician-researcher Dr. Casey Kerrigan was at Harvard Medical School studying the effects on joints of walking and running. There, she came across an alarming statistic: older women were twice as likely as men to develop osteoarthritis of the knees.
"The condition is caused by degenerating cartilage and leads to more demobilization among elderly American women than any other single disease," says Dr. Glen Wilensky, a podiatrist at The Podiatry Center in Glen Allen. Limited mobility increases risk of obesity, diabetes, cardiovascular disease and depression. "Developing arthritic knees is often the beginning of a downward spiral."
Kerrigan discovered physiological differences weren't causing the problem. Studying lifestyle elements, she realized, "The culprit was bad footwear."
She subsequently became the world's first doctor to study the effects of shoe design on ankles, knees and hips. Kerrigan's work led her to found the Gait and Motion Laboratory at Harvard in 1992.
INDUSTRY-IMPACTING RESEARCH
"Nobody had studied the effects of footwear outside of the foot itself," says Kerrigan. "Our research showed that, while that's certainly important in terms of preventing problems later in life, what really counts is the effect shoes have on your joints."
Put simply, poorly designed shoes work against the body's natural motions and create harmful torsion in leg joints, says Wilensky. Over time, rates of cartilage deterioration increase. The effects are amplified for people suffering from obesity, diabetes or mobility-limiting conditions.
Kerrigan partnered with the University of Virginia to develop new medically approved standards for shoes in 2002. Advances in technology and shoe-focused research have ushered in significant improvements in healthy footwear.
Kerrigan says mainstream brands have been slow to embrace changes – updating factories is expensive; but more and more companies are entering the market. Some pair in-store biomechanical evaluation labs with software and 3D printing techniques. This brings customers customized footwear options that, 15 to 20 years ago, seemed like science fiction.
"We've come a long way since I was a graduate student studying at the New York College of Medicine in 1992," says Wilensky, who specializes in diabetic foot care and biomechanical evaluations. So he advises patients – and anyone else who will listen – to take advantage of science-backed fitting techniques and shoes. "Believe it or not," says Wilensky, "healthy footwear is the first line of defense to ensuring good mobility later in life."
LOCAL SOURCES FOR SCIENCE-BACKED SHOES
Longtime Atlanta cobbler turned entrepreneur Ray Margiano opened the first Foot Solutions store (FootSolutions.com) in 2000 after being shocked by research like Kerrigan's. His idea? To use medical technology in stores to help customers select shoes that were right for their bodies. Twenty years later, the franchise has expanded. As a result, it is now the largest purveyor of health-and-wellness-based footwear in the U.S.
"The goal was to make it easier for people that are 40, 50 and above to get healthy, top-quality shoes that don't require a prescription, nor cost an arm and a leg," says Margiano. "I realized that a lot of people in that age bracket, they're experiencing aches and pains that can be alleviated simply by changing shoes."
Customers visiting the Henrico location will notice the difference immediately: Foot Solutions is staffed by licensed pedorthists. They aren't doctors and shouldn't be consulted for acute conditions, says Wilensky. But they do spend 1,000 hours being trained by medical professionals; they can diagnose foot-related health issues and treat them with footwear.
MEASUREMENTS MATTER
"Most stores measure the length and width of your foot, and that's that," says co-owner Sanjay Kharidia. Meanwhile, at Foot Solutions, a fitting begins with questions about existing problems; say, persistent lower back pain or an achy heel. Subsequently, the associate physically examines a customer's foot to look for sources of pain and physiological anomalies and assess its shape. Next, they perform a "gait analysis" using touch-sensitive footpads, sensors and computer software.
"We want to have a full picture of a customer's unique [physical makeup], problems and needs before making recommendations," says Kharidia. The store carries everything from loafers to running and dress shoes, and can fill podiatric prescriptions. Further, staff pedorthists modify shoes and craft personalized arch supports and inserts onsite. "My customers are going to walk away with shoes that are a perfect fit," says Kharidia. "No ifs, ands or buts about it."
MAKING THE SHOE FIT
In 2010, Kerrigan left her post as the director of UVA's Department of Physical Medicine and Rehabilitation to found OESH (OESHshoes.com).
The move followed a series of consulting jobs with major brands. "I'd published a paper in 2009 that showed traditionally designed athletic shoes actually increase the instances of stresses and strains in muscles, ligaments, tendons and joints," says Kerrigan, a mother of three college-age women athletes. As a result, companies hired her to suggest fixes. "But they did nothing. I realized that, if I wanted my daughters to have access to shoes that weren't systematically creating injuries and destroying their joints, I was going to have to make them myself."
Kerrigan located a storefront in downtown Charlottesville. consequently, she combined her savings with funding from the National Science Foundation to launch OESH.
"The goal is to push the technological envelope, show the industry what's possible and stay at the cutting edge of innovation," says Kerrigan.
OESH offers women's sandals, flats, clogs and sneakers, plus men's sandals. They also have running shoes in development.
Customers can order online or visit the shop for a custom-fitting using equipment and software Kerrigan developed in partnership with UVA's Mechanical and Aerospace Engineering program. Similarly, the biomechanical assessment includes a treadmill session monitored by an array of sensors and cameras. Kerrigan uses the data and computer software to customize a digital model. Soles are fabricated onsite from recycled materials using 3D printing technology and a weaving machine that creates and attaches uppers.
Whether you need to address existing problems or simply ensure mobility for years to come … The right shoe is the soul of the solution.
---
Eric J. Wallace is a career journalist whose writing has appeared in more than 40 media outlets, including Backpacker, Gastro Obscura, Virginia Living and Modern Farmer.