'Something I Keep Upstairs' Book Review
| August 17th, 2020
Psychological fiction blends wit with suspense
---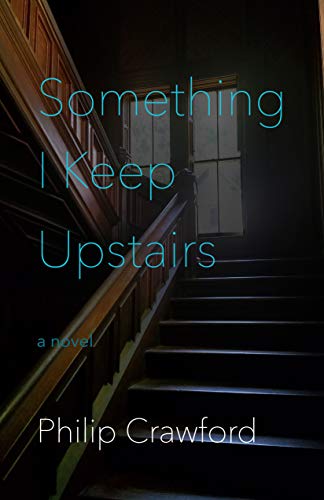 The concept seems grim. The cover is dark. Yet the quirky but winsome and witty protagonist keeps this murder mystery light. Author Philip Crawford, former reporter and editor, weaves an engaging story in Something I Keep Upstairs
, psychological fiction that blurs the distinction between who qualifies as mentally ill.
WHAT TO EXPECT …
The protagonist and narrator, Coleman Cooper, sets the stage with his botched suicide. Thanks to time limits at the mental hospital where he resides, he transitions to a new mental hospital, the Buchanan Institute, in a new town, Pierrevert, Maine – where the townspeople are abuzz about the recent murder of a prominent attorney. More seemingly unrelated murders follow in this sleepy little town, which hadn't seen a homicide in decades.
Coleman settles in to his new home, with a new therapist, new friends, and even a surprising, well, girlfriend. (Although the seductive, color-coordinated Cheryl probably would not have used the term "girlfriend" to describe their relationship.) And Coleman's job as a bartender gives him access to local gossip, a music mentor, and the colorful characters that populate Pierrevert.
Although most of the book is seen through Coleman's first-person narration, occasional chapters are excerpted from a fictitious nonfiction book, The Maine Murders: What Really Happened in Pierrevert. The book was written by Hayley Blossom, a British reporter who roams Pierrevert looking for news. The chapters – and the reporter – serve as useful, nonintrusive sources of background information.
A LOW-STRESS MYSTERY
Don't pick up Something I Keep Upstairs looking for a whodunit that drops shaded clues as to the murderer's identity. The reader gets only minor glimpses into the town detectives, local media or amateur sleuths as they investigate the crimes. It doesn't offer a One Flew Over the Cuckoo's Nest critique of mental health hospitals. It doesn't delve deeply into the psychological lives of the characters, excepting Coleman Cooper, who has a challenging past to overcome.
Instead, Something I Keep Upstairs offers a pleasurable read without requiring depth of thought. It gives you a likeable protagonist along with a colorful mix of admirable characters and a few despicable ones. And it provides a satisfying conclusion that's perfect for the optimistic reader – or for an escape from the stresses of 2020.
Published by Provençal Press, July 28, 2020
Available in paperback (257 pages) and e-book
---
Browse the Boomer Book Review department for more tailored reviews.
---
As an Amazon Associate, Boomer Magazine earns from qualifying purchases from linked book titles.