Spiced Catfish Tacos with Pickled Shallots and Chipotle Crema
March 26th, 2019
Cook, assemble, eat, repeat
---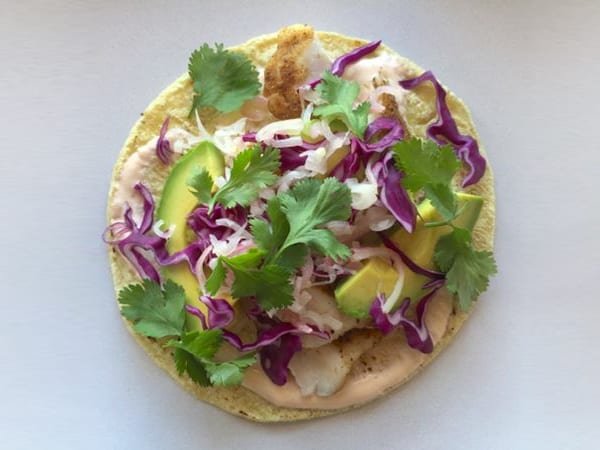 Chef Nathan Lyon, chef, author of the cookbook Great Food Starts Fresh and Emmy Award-nominated culinary host for Good Food America improves upon the traditional seafood taco. The recipe pairs seasoned catfish with avocado, cabbage, pickled shallots and a dollop of chipotle crema. Finish with cilantro and a squeeze of fresh lime for a light and flavorful dish.
Serves 4
---
8 corn tortillas, warmed through
2 avocados, pitted and sliced
½ cup shredded purple cabbage
1 cup fresh cilantro leaves
2 limes, quartered
Pickled Shallots
6 tablespoons water
2 tablespoons granulated sugar
¼ teaspoon kosher salt
¼ pound shallots, peeled and cut into 1/8-inch slices
½ cup + 2 tablespoons distilled white vinegar 
Chipotle Crema
¼ cup organic sour cream
1 ½ teaspoons adobo sauce
1/8 teaspoon kosher salt
Catfish
1 pound catfish filets (approximately 6)
2 teaspoons ground cumin
2 teaspoons ground coriander
1 ½ teaspoons kosher salt
Place shallots in a medium bowl. Heat water, sugar and salt together in a small saucepan until sugar and salt are dissolved. Pour over shallots and add vinegar. Stir together. Let sit until taco time!
Combine all chipotle crema ingredients together in a small bowl. Mix well. Remove catfish from the refrigerator and pat dry with paper towels. Mix the cumin, coriander, salt and pepper together in a small bowl. Evenly coat the catfish with the spice rub on all sides. Discard any excess spice rub.
Place 1 tablespoon of butter in a large sauté pan over medium-high heat. Heat until the butter bubbles up, turns brown and perhaps even smokes, approximately 2 minutes. Swirl the pan so the butter coats the bottom of the pan.
Gently add three of the catfish filets to the pan. Cook for 2 minutes. Flip and cook for an additional 2 minutes.
Remove filets from pan and transfer to a paper towel lined sheet tray or plate. Wipe the pan clean with a paper towel and repeat the process with the remaining fish. Flake the fish into bite-sized pieces. 
Assembling the taco
Smear a dollop of chipotle crema on a corn tortilla. Top with a few slices of avocado. Add some catfish, cabbage, pickled shallot and cilantro. Finish with a squeeze of fresh lime. Eat. Repeat.
Watch Chef Nathan Lyon create spiced catfish tacos during his presentation for Clean Eating magazine!