'Keep on the Sunny Side'
March 17th, 2023 | Sponsored Content
Swift Creek Mill Theatre presents the life and music of the legendary Carter Family
---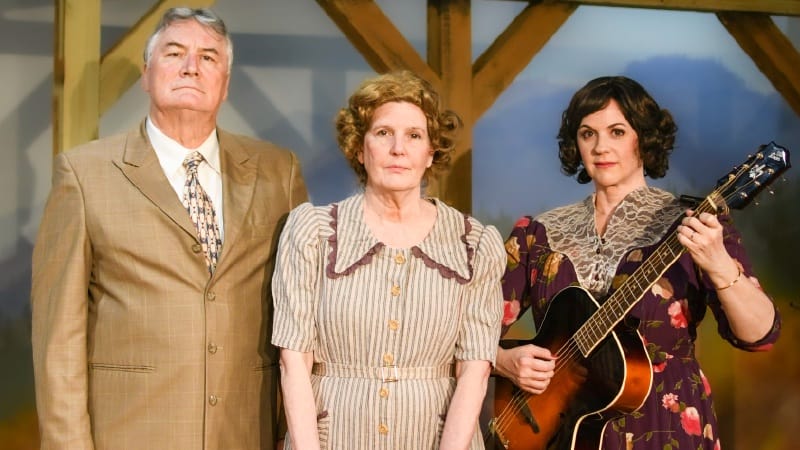 The legendary Carter Family from the hills and hollows of Appalachia have had a profound influence on American music, from bluegrass, Southern Gospel, country, and folk revival, to pop and rock. Their story embraces more than just music – the family lore also shaped a rich legacy. The music and the stories are part of "Keep on the Sunny Side," playing at Swift Creek Mill Theatre.
A rich backstory
In 1927, a musical trio from Clinch Mountain's Poor Valley in Virginia traveled to Bristol, Tennessee. There they became part of the historic, groundbreaking Bristol Sessions, a two-week project to record regional musicians.
The trio – A.P. Carter, his wife, Sara Carter, and their sister-in-law Maybelle Carter – went on to success in performing and recording, and in influencing the development of American music.
"They tapped into universal truths of human life," Ted Olson, professor of Appalachian Studies and Bluegrass, Old-Time and Country Music Studies at East Tennessee State University, told Caitlin Sullivan in "The Appalachian Voice." "Their message was that tradition, family, place, and music matters. They were proud of who they were and where they came from."
In 1979, A.P. Carter's daughter, Janette Carter, opened the Carter Family Fold, a performing venue and museum near the family's original home, to honor the Carters' legacy. In 2002, the Barter Theatre in Abingdon, Virginia, premiered "Keep on the Sunny Side," which also honors this important family. The play shares the story of America's First Family of Country Music, their songs, and the historic Bristol Sessions.
"Besides the love story between A.P. and Sara, beyond that, you have this father-daughter connection between A.P. and Janette, which is very powerful. The Carter Fold exists today because of that father-daughter connection," playwright Douglas Pote told Marci Gore of the "Kingsport Times News." "When I first wrote the play, the only reason I really wrote it was to bring the songs to a wider audience. But, along the way, I just found a very, very beautiful story."
Rita Forrester, Janette Carter's daughter, took over operations of the Carter Family Fold after her mother's death in 2006. "She got to see ["Keep on the Sunny Side"] many, many times," Forrester said. "The first time she and I saw it, Dr. Pote sat between us and he held one hand of hers and one hand of mine and we both cried from beginning to end. It never failed to move her."
Since 2002, the play has been performed many times at the Barter Theatre, at the Carter Family Fold, in a national tour, and at other theaters throughout the country – including Swift Creek Mill Theatre in 2101.
When A.P. Carter convinced his wife Sara and his sister-in-law Maybelle to record with him at the Bristol Sessions, he had no idea he was about to change his life – and the world – forever. At "Keep on the Sunny Side, you can see their story and tap your toes to Carter family favorites like "Bury Me Under the Weeping Willow," "Keep On the Sunny Side," "Wildwood Flower," and "Will the Circle Be Unbroken."
Swift Creek Mill Theatre
Swift Creek Mill Theatre opened in 1965 inside one of the oldest landmarks in the nation. The 300-plus-year-old grist mill, while repurposed for the theater, retains its historic charm and character. The building is ADA accessible.
The Mill offers pre-show dinner, too, with menus inspired by the performances, for an easy pleasing evening of dinner and a show.
"Keep on the Sunny Side"
April 1 to May 6, 2023
Swift Creek Mill Theatre, 17401 Route 1, South Chesterfield, VA
To purchase tickets, go to SwiftCreekMill.com or call 804-748-5203.