Historic House, Fresh Designs
September 5th, 2023 | Sponsored Content
The Richmond Symphony League 2023 Designer House
---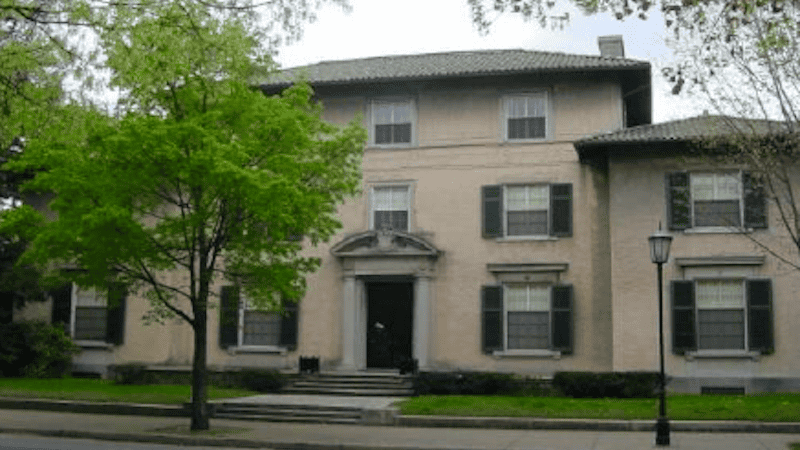 A historic house on Monument Avenue will be open to the public for the first time beginning Sept. 11, 2023. The Richmond Symphony League's 19th Designer House showcases the Taylor Estate, a 107-year-old house with rich roots. The event represents an appreciation for history alongside continuing support for the Richmond Symphony.
The house was designed by renowned Richmond architect W. Duncan Lee in the Italian Renaissance Revival style. Prominent landscape architect Charles Freeman Gillette designed two gardens, one of which remains. It was built in 1915 for Jaquelin Plummer Taylor and remains part of the Taylor family estate.
The last of the family to live in the home, Helen Marie Taylor (1923-2022), was a vocal supporter of history, tradition, and the performing arts. In her hometown of Waco, Texas, she established a museum that showcased local history. She gained the attention of Richmonders in 1968, when she stopped asphalt machines from paving over the original paving blocks on Monument Avenue. In the Taylor family's generational home of Orange County, she supported the James Madison Museum and Montpelier, James Madison's estate.
Taylor also restored and refurnished the family's historic house built in 1722, Bloomsbury, which she received as a gift from her husband. Now, decades later, her home on Monument Avenue is being refurnished – to benefit the Richmond Symphony.
As with earlier RSL Designer House events, talented interior designers have been diligently working to transform the space, inside and out. Designers include Janet Brown Interiors, Arts Style Design RVA, Casa Amada Design & Interiors, Ethan Allen-Richmond, Kendra Taylor, Glavé & Holmes Architecture, M. Turner Landscapes, and many more. The transformation gives the public the chance to view the original historic home alongside the creativity of the designers.
Designer House daily tours extend from Sept. 11 to Oct. 9, 2023. Each Thursday, guests can also enjoy four Thirsty Thursdays, featuring appetizers, beverages, and live music by Steve Bassett, George Turman, Susan Greenbaum, and Grey Garrett.
A pairing of history and creative contemporary designers in support of a vibrant local organization – what can be more Richmond than that?
2023 Richmond Symphony League Designer House
Sept. 11 to Oct. 9, 2023
Thirsty Thursdays: Sept. 14, Sept. 21, Sept. 28, and Oct. 5
At the Taylor Estate, 2325 Monument Ave., Richmond, VA
Learn more at www.RichmondSymphonyLeague.org
---
Read about the 2018 Designer House, Holly Lawn